How to use multiple device in one store

Recommended

for first time user iREAP POS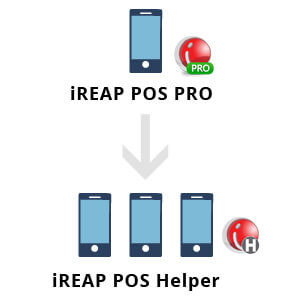 Prerequisite: One iREAP POS Pro application installed for one store, WIFI or HotSpot sharing is required, since the Helper and iREAP POS Pro must connect to the same WIFI / HotSpot.
Download and Install iREAP POS Helper from Google Play Store
Before using the Helper, we need to start Multi Device Server on iREAP POS Pro master device. Open iREAP POS Pro apps, and login with your username and password. Please follow the steps in the pictures below to start the Multi Device Server:
Take a note on the IP Address shown on the last screen
Open iREAP POS Helper, then open the Setting menu, fill in the IP Address on step 3 to the master device ip address field.
Tap Save, and the Tap the Back Arrow / button, then the Helper will connect to the Master Device and prompt the Login screen is success
Login with your username and password. Do the transaction as usual.
Note: all transaction data entered on iREAP POS Helper will be stored on iREAP POS Pro master device, iREAP POS Helper do not store any data and cannot work if not connected to iREAP POS Pro master device.
iREAP POS : iREAP stand for Integrated Retail Application, is an application designed and developed to help you managed and run store operation, consists of Point of Sale / Cashier system and inventory control system.