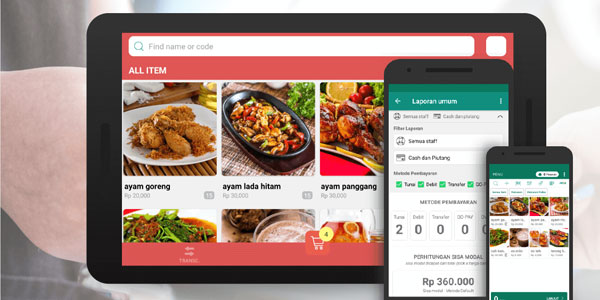 Following its name, Smart Cashier is a Point of Sale application that is intended to facilitate business people to manage transactions that occur at the cashier's desk.
Also read: Android Cash Register Application Makes It Easy for You to Manage Your Business Better.
Before using it, there are some features you need to know from Kasirpintar.com such as:
Cash drawer that is open at the time of the transaction

Kasirpintar.com has developed cash drawers for various brands. Thus, you will no longer have difficulties when opening it because the drawer will automatically open during the operation.

Practical and certainly no hassle when you are looking for a Point of Sale application.

Lock and unlock details on the transaction receipt

Cashiers handling the Point of Sale application can access receipt details. If the detailed report is deactivated, then you allow staff to see information on the arrival.

This Smart Cashier feature should be utilized to improve security.

Synchronize images from the device to the cloud system

In the latest development, Kasirpintar.com has provided a new feature for synchronizing images from specific tools to the cloud system.

This means that you will not be bothered when moving images because everything can be done simultaneously.

Tracking products purchased from suppliers

Furthermore, Kasirpintar.com allows you to track distributors or suppliers who already supply products to the store. So, you will not be inconvenienced when you want to restock goods or find a supplier who wants to be contacted for particular needs.

Check revenue and profits.

The next Smart Cashier feature that you can use is checking income and profits. The trick is to track every transaction that takes place. Data in the form of the number of transactions will appear along with the profits you receive in a certain period.

Display price and product details on a transaction

Finally, Smart Cashier allows you to see price details based on their type. This feature will make it easier for cashiers and you as a business manager when evaluating.

Not only that, but you will also avoid some mistakes because of miscalculations.
Use Smart Cashier and iREAP POS for transactions
Are you sure you will use Smart Cashier? Before making a decision, it's a good idea to compare the application with similar platforms such as iREAP POS.
The years of experience that Ireappos has carried shape it as a Point of Sales platform in Indonesia.
You are not only facilitated during transactions but also store data online on an available cloud system.
Besides, you can manage incoming data via an Android-based smartphone. You can directly download it on the Google Play Store to find out how the Point of Sales platform works.
By knowing the features of each application, you will more easily determine which platform suits your needs.
Smart Cashier or Ireappos? The final decision is back in your hands.