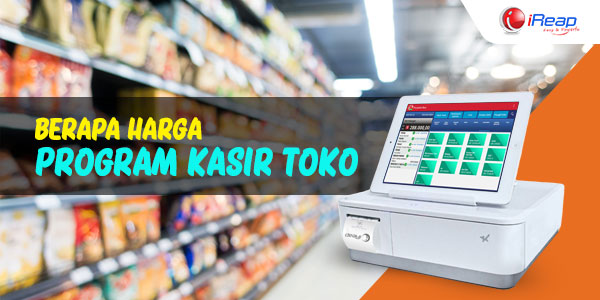 Already many stores use the cashier program, known as the Point of Sale or POS system. The reason is, this application will provide experience to control the business efficiently, especially transaction problems.
But the question is whether the price of the store cashier program is expensive?
Actually a problem the price of the cashier application depends on needs. The reason is, every business must have different system requirements. Of course, every feature is tailored to your budget and store needs. But there are some features that should not be ignored from this cash register system.
Also read : Tips for Success Before Starting a Grocery Business
Here are some features of the store cashier program that should be known:
Fast and automatic
The use of the cashier program must certainly be able to shorten the queue. That is, everything can be done, especially the problem of transactions without the manual method. If you still use the manual method, it's not a good system.
Inventory management
A good cashier program will have good inventory management. Of course, this has a meaningful contribution to the store. With this feature, you can find out directly the inventory of goods. This also helps with ordering. It makes no need to bother to check items manually which is a waste of energy.
Consumer data
The price of the store cashier program that is not cheap should be able to exceed the manual cashier system. This means not only tracking goods but can provide more data. Starting from which products consumers are interested in and which are not. This will help in marketing strategies to increase sales and profits later.
Automatic stock of goods
The cashier system must now also be connected to suppliers. So when there is a thinning stock of goods can directly contact the supplier quickly. This will help make deposits faster and easier. Consumers do not need to be disappointed anymore because the goods do not exist, especially pre-orders. Goods must also always be there.
Safe and convenient for consumers
The most important feature is the safety and comfort of consumers, especially protecting consumer identity. This is usually associated with credit cards. It not only avoids crime but also increases consumer confidence.
Sales report and analysis
All cashier systems are now equipped with sales report and sales analysis features. This helps in making reports correctly in accordance with the data, ranging from cash in and out, financial statements to the amount of goods.
Directly connected to various transactions
A good store program will help consumers buy products very easily. The program should be connected to the offer. That way, when struck on print, the transaction is written in detail, such as if there is a discount or promo.
The various features above are indeed mandatory in the cashier program of your choice. That way, you don't have too much to lose with the price of the store cashier program which is pretty decent. Download the store cashier program to control your business efficiently via the button below.