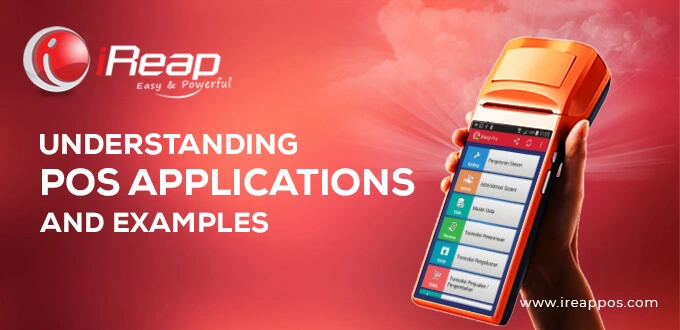 What is a POS App?
The POS or Point of Sales application is an application that can help business owners and retail businesses carry out buying and selling transactions more efficiently. Usually, POS applications are also called cashier applications or POS cashier applications.
Simply put, the POS or Point of Sales application is a tool that makes it easy for customers to make payments to you as a business owner, especially if your business is in the retail sector.
Why Do Retail Businesses Need to Use a POS App?
If your business has been running all this time using a manual recording system or a conventional cash register, then it's time for you to use a POS application.
Especially if the retail store you manage has started to grow, has many customers, has hundreds to thousands of products, and has a large number of daily transactions.…
Why do retail stores need to use a POS system or POS application? The reason, of course, relates to the effectiveness and efficiency of business operations. Some of the benefits that you will get when you use the cashier application or POS application include:
Effective and fast in saving product/item prices.
The income, expenses, and profit recordings are more detailed and complete.
The POS application will automatically record incoming and outgoing goods so that data on the stock of finished goods is more accurate.
Save budget because you don't need to recruit a special team or employee to manage the 3 points above manually. Because you can make this POS application and manage how it works yourself.
Types of Retail and Small and Medium Enterprises that Need to Use POS Applications
If you ask, what types of retail businesses and small and medium businesses need a POS application to increase business productivity? Well, here are some types of retail businesses that should use a POS application or cashier application:
Mini markets, stalls, grocery stores, and online stores usually have a variety of products and quantities.
Coffee shops, food stalls, fast food restaurants, culinary depots, culinary franchises, bakeries, cake shops.
Retail stores with fashion products, clothing stores, shoe stores, eyewear, and other types of fashion retail stores.
Barber shops, clinics, salons, and beauty services also require a cash register app.
Professional services: photographer, digital marketing services, content writer services, and so on.
Tips for Choosing a POS Application for Retail Business
If you are interested in starting to use a POS application for the retail business that you manage, then make sure you follow these tips for choosing a quality POS application:
1. Choose Cheap and Quality POS Applications
Low prices are not necessarily cheap and poor quality. In this digital transformation era, many application developers can provide quality products at affordable prices.
For that, make sure you choose the POS application that suits your needs; the application price is low and can simultaneously manage a store with many branches.
In addition, make sure the application you buy has a warranty and after-sales service (assistance in application installation and installation, software upgrades, and application usage guidance for new customers).
2. Completeness of Features and Technical Support
When choosing the cashier application or POS application that you want to use, find out as much as possible about the exclusive features in the cashier application, such as:
Management and management of goods stock/inventory.
Customer database management (customer management).
Employee management/management.
Recording of sales transactions.
Application's ability to provide detailed financial reports, including data related to the profit and loss of your business.
Can the cashier application work in multiple branches (if your business has several branches in different locations)
Integration of the cash register application with other supporting applications.
The next thing that is also important for you is ensuring technical support is ready to help you when problems occur.
This means there are problems here; for example, settings errors in the application, crashes, data errors, and so on. Technical support (after sales or customer service) must be easy to contact and can give cashier application users a sense of security and comfort.
3. User Friendly and Easy to Use POS Application
If it's your first time using a POS application, it's natural that you are confused and need intensive training or independent training.
This means that you (and your employees) need to learn to use the app well. So that the process of adapting to the cashier application is faster, choose a cashier application or a POS application that is user-friendly and easy to use.
4. Can Work Online (Cloud) or Offline
In running a business, customers can come at any time with an arrival time that you can't necessarily predict.
So, a POS application that can work online or offline is the right choice to support smooth business operations.
POS applications that work online make it easier for you as a business owner to check sales reports from several locations without coming directly to each store.
5. Automated Process for Providing Financial Reports
When choosing a cashier application or a POS system (POS application), ensure the application can automatically provide detailed and complete financial reports.
This will make your work more efficient in running a business. You no longer need to spend time and energy to recap sales or manually calculate inventory every night.
Sample POS Application
As you have read above, is there a POS application with various advantages and conveniences? Of course, there is, please. You can use the cashier application or the iREAP or iREAP POS POS application.

What is the iREAP POS cash register application? So, iREAP stands for Integrated Retail Application. iREAP is an application that can help you manage and run retail and store business operations using a POS system (Point of Sales) or a cashier system while also having the ability to manage stock and record transactions.
Features of iREAP POS Cashier App
The excellent features that are already available on the iREAP POS cashier application you can see in the infographic below: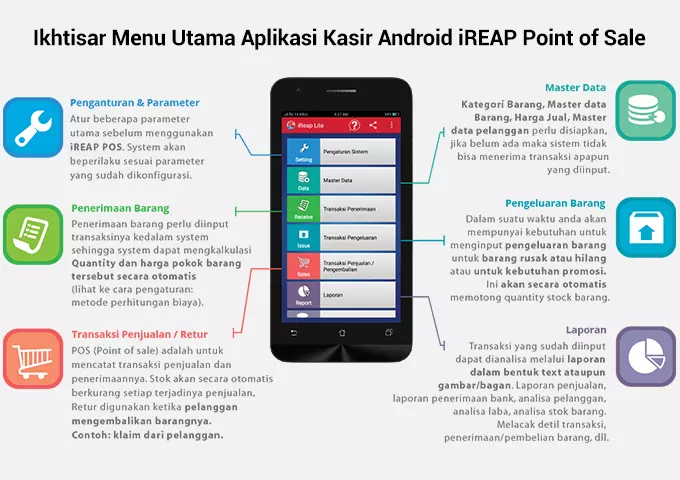 Many businesses have been helped by the iREAP POS application, either using iREAP POS Lite, the free cashier application, or the paid version for IDR 41,000/month.
Some testimonials from retail businesses who have used iREAP POS:
Regina Shoes
"The iReap Pro Android Cashier application really helped me and the staff at Regina Shoe to update sales and stock and was also able to increase the productivity and performance of our staff.
What used to be manual took 1 month to restock goods, now we can do realtime restocking of goods in our branches."
Sutan Mangkuto's Shop
"The iReap Pro Android Cashier application helps register realtime at the cashier. I can monitor the raw materials used when cooking in the kitchen.
With iREAP I can monitor the restaurant not only when I'm in the shop, but when I'm not in the shop I can still make sales even until the shop closes in real time."
Spex Symbol
"The iREAP POS PRO Android Mobile Cashier Application is very helpful in the modern retail business because it provides Speed, Accuracy and Convenience."
Rakuni
"IREAP POS helps increase sales and profits by optimizing stock. We easily monitor our more than 10 stores spread out. Real-time sales reports and up-to-date stock of goods, making decision making fast and accurate."
The POS or cashier application is handy to support smooth operations for retail businesses. Have you used the POS app? If not, you can try it by downloading the POS application here.