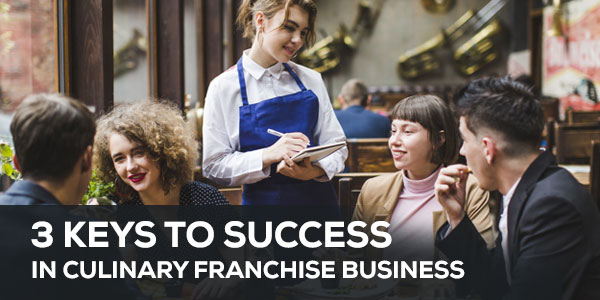 Culinary business is an attractive business and always a concern. The vast territory of Indonesia and its dense population makes many culinary businesses ogled by business people because of its extraordinary potential. Culinary business can be said as a magnet that has a strong appeal for business people. The culinary business also always promises huge profits if it is managed seriously.
Talking about the key to success in the culinary business, there are 3 (three) things that must be considered by all business people, namely 'a brand that is unique and always innovating' and 'standardization of service' and last but not least is to use 'information technology' such as the use of cashier system / POS system / Point of Sale system that can easily record sales transactions, even raw material stock.
Here's an explanation of the 3 keys to success in a culinary franchise/franchise business that you need to know:
1. Unique Brands & Always Innovate
In order for potential customers to be encouraged to come and want to try the food you sell, a brand must look 'attractive'. Some factors that can make an interesting culinary brand include a unique interior, a type of food that makes me curious, how to serve unique food, and many other things that can be developed into a uniqueness. In addition to being unique, a culinary brand must always innovate – both in terms of the type of food and the way it is served.
2. Service Standardization
Many things must be standardized so that the culinary business can develop quickly and provide good results for business people. Some standards that must be considered, among others: quality of service, cleanliness, the appearance of officers, how to communicate to customers, quality and taste, and other supporting aspects such as atmosphere, music, and many other things.
Talking about service standardization, the ultimate goal is for customer satisfaction. Without standardization, business people will never be able to provide the best and quality service to all customers.
There is an interesting story that I want to share with you. Last week, I ate at a Japanese restaurant with my family. I chose the restaurant because the ramen for sale has a good taste and a cozy restaurant atmosphere. This is the third time that my family and I have eaten at the restaurant.
When I first came and the second, I was still satisfied. But when the last arrival, I was really disappointed and finally decided not to come again to the restaurant. Here is the full story:
At that time the restaurant was quiet. My family and I have ordered food and drinks to be assisted by an officer. After waiting for about 15 minutes, the food was finally delivered to the table by serving which made me less interested in eating.
The officer's thumb with an unclean nail enters the inside of a bowl that contains ramen. The food served is also not according to my order. Of course, I asked why the food I ordered was wrong and the clerk just said 'that is so'.
And a few moments later I heard the clerk and the kitchen were arguing with my order. At that time there was an owner/manager who was at the restaurant (was busy making a report with his computer) but pretended not to know about my complaint. My food was not replaced and there was no apology from the restaurant.
Many things can be analysed from the events that I experienced, namely that the officers were not well trained to serve customers; the standard of appearance and cleanliness of the officers has also never been observed; the way of recording orders that are not standard so that it causes wrong communication to the kitchen; owner/manager who does not understand in handling complaints; and many others.
From the above incident, I can conclude that the restaurant does not have Standard Operating Procedures (SOPs) that are standard or may already have SOPs but have never been properly socialized to all employees.
If the owner of the restaurant above does not immediately rise and make changes, it is certain that the restaurant will immediately close down because it was left by a disappointed customer.
My message for business people, immediately makes a good and correct SOP so that your business can run better and be able to provide satisfaction to customers. Thus, the culinary business that you manage will be able to compete in the midst of increasingly fierce competition.
3. Use of Information Technology
The availability of information technology is now very diverse and very easy to obtain. The use of the cashier system at the time of sale is a necessity, by using the cashier system you as a business owner or franchisee brand owner can easily analyze the development of your business at any time, quickly and easily, without having to wait for your team to prepare a report.
Not only sales, but many cashier application systems are now very capable by providing stock calculations, especially raw material stocks. Thus, your SOP can run with the help of a cashier system or POS (Point of Sale) and stock where you can automatically have control of the stock based on recipes that have been made for each menu.

At present the use of the cashier application / POS (Point of Sale) can be easily adapted quickly even in minutes you can use this POS system. Especially now the cashier application system has been widely available on mobile or mobile platforms for free or at very affordable prices. By only using an Android device you can already record activities in the store.
Thus the explanation of 3 keys to success that need to be considered to start building a Franchise / Culinary Franchise Business, hopefully, this article is useful.
Written by,
Djoko Kurniawan | Konsultan Bisnis Franchise, Marketing & Service Excellence
www.djokokurniawan.com