Published 04 Juni 2020
How to Create Sales Transaction with Payment Method Credit Sales
Recomended

for first user iREAP INVOICE

iReap Invoice is a simple and easy application to create invoices and helps you monitor invoices that are due so that you will be able to bill promptly and increase your business cash flow.
This application can be integrated with iReap Pro as a recording credit sales, where sales transactions created in iReap POS Pro with payment method 'Credit-Sales'—not cash or other types of direct payment.
Besides, iReap Invoice can also be used to monitor Sales Tempo payments from the Consignment Counter. For example, You open a Fashion Counter in the SOGO Department Store, you can record sales at IREAP POS Pro, then enter the payment method SOGO (Credit Sales). On the WEB Admin, you can monitor bills to SOGO as a whole your counter or per counter. This will be even more useful when you have a counter in a different department store.
Here step by step to create Sales Transaction
Login into iReap POS Pro in your Device

Select menu Sales Transaction

Click button + to Add Sales

Select Customer and Insert Items

If you already input Customer and item, then, select Others

Choose payment method Credit Sales (Note: You can name the payment method what you want, but you must set up with payment type Credit-Sales. If you didn't find Credit Sales on your Payment Method, you can create it How to Add payment method Credit Sales)

Select Confirm Payment if you want to finish it. (Note: You can change due date for A/R Invoice)
Here step if you want to check the A/R Invoice has been created from Sales Transaction
Login into iReap Invoice in your Device

Select menu A/R Invoice

Search Document Number as same as iReap POS Pro
Here if you want to check to Web Admin
Open login page pro.ireappos.com/login

Log in using your account email (Admin)

Select menu Sales Report > A/R Invoice and Search your document sales
Yay! You found it all. Congratulation! A/R Invoice for the sales transaction has been created successfully!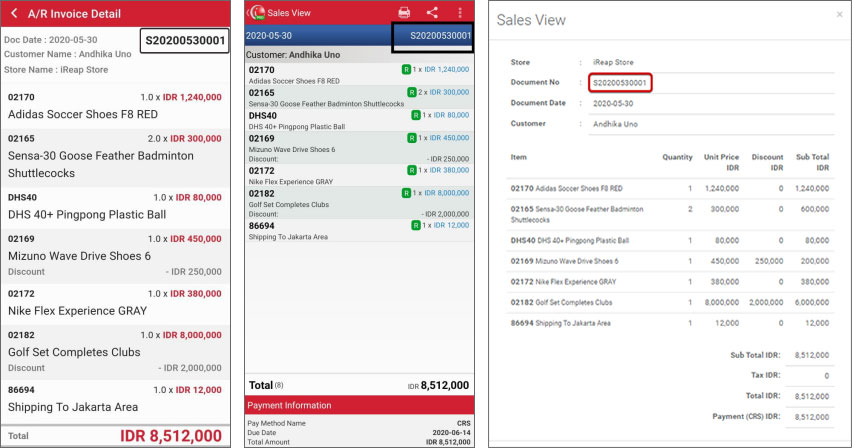 Related tutorial for iReap Invoice:
How to Create Sales Transaction with Payment Method Credit Sales
iREAP POS : iREAP stand for Integrated Retail Application, is an application designed and developed to help you managed and run store operation, consists of Point of Sale / Cashier system and inventory control system.