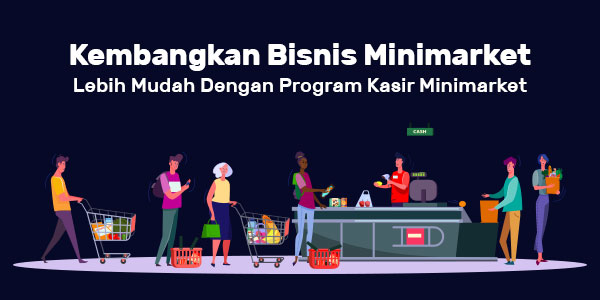 Minimarket provides lots of items that you need. Starting with food and drinks to other needs, such as soap, detergents, toothpaste, and so on. If you face a large number of customers it will be very troublesome, especially in the cashier section which if not working quickly will create a very long queue. This minimarket cashier program can be the right solution to ease, facilitate, and speed up your work.
Also read: Simple Cashier Program – 5 Top Must-Have Features
Where payments can take place quickly and neatly and avoid the accumulation of customers who will pay for groceries. Use Android cash register machines are now increasingly using and this is increasingly being followed by other business people.
Cashier Program Determine the Smoothness of Your Business
The use of the cashier program at your convenience store will be very supportive of the smooth running of your business trip. Where this technology allows you to be able to manage stock or inventory of goods in minimarkets very well. So you can provide a good inventory of goods needed by customers.
Also read: 5 Benefits of POS Cash Register that You Need to Know
The minimarket cashier program will support the security of your data. That way, the data will not be easily published or known by other parties. Because data security in a business is important to avoid irresponsible and potentially harmful business that you build.
So with the cashier program, you will not waste time doing stock records and you can also provide strong control over your minimarket to make it easier to make better developments.
Select Your Minimarket Cashier Application Software
Currently, you can use the cashier program for your convenience store, one of which is iReap Post which allows you to be able to run your business online and also make payments with various types of payments. So that it will be easier for customers to make payment transactions in accordance with what they want.
You will also be faster to do barcode scanning which can then display the calculation results accurately. Where this will automatically speed up the service you provide to customers without having to wait long. This minimarket application is also able to calculate prices more precisely adjusted to the number of products purchased by customers.
The cashier application software for your convenience store must naturally have features that are important to your business. Where later these features will greatly assist you in managing the operations of the minimarket business. And the thing that is no less important is the ease for you to be able to access these features. So that your work will also be easier and faster because you can operate it.
So, don't hesitate to use the minimarket cashier program that will smoothen your business going forward. Work is easy, services are also increasing.