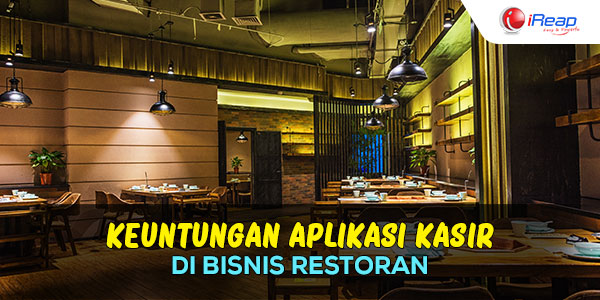 The cashier's position is critical in various businesses. The restaurant business is no exception. Besides being used to count incoming cash, it turns out that the position of the cashier can be one of the most profitable positions and more than the position of the recipient of the money if you use the free quality restaurant cashier application.
Restaurant cashier applications can be used to generate exciting and profitable information for restaurant business processes if the type of application used is right.

One type of cashier application for restaurants that you can find is the cash register application from iReap. Why is the restaurant cashier application from iReap the best?
Also read: Benefits of Cashier Software for Restaurant Businesses
Advantages of the Restaurant Cashier Application
The following are the benefits that you will get if you use the restaurant cashier application from iReap.
1. Restaurant performance is guaranteed
One of the advantages of using the restaurant cashier application from iReap is that restaurant performance is guaranteed.
For those of you who have a restaurant that is quite large and has many branches, it will always be challenging to do daily control of the restaurant that you have.
By using the restaurant cashier application from iReap, you will be easier to check the performance of your restaurant.
Checking performance by using the free restaurant cashier application can help you to check every day that is difficult to do without using this cashier.
This is because the cashier application owned by iReap is a cashier application with a centralized data position. With centralized data that is owned by a specific restaurant, it causes the restaurant cashier application to be easier to see its performance every day.
2. Bank prescription for storage checks and benefits
Furthermore, the advantages possessed by the iReap restaurant cashier application is regarding the recipe bank features it has. This restaurant cashier application is a cashier application that has a recipe storage feature.
This recipe contains ingredients that will be used in restaurants. Each element used in a menu will be counted separately. This causes the free android cashier application from iReap to give you useful information for your restaurant, right?
With this feature, it will be easier for you to get information about how much capital is used in a day and how much profit you get after the sales value is subtracted from the capital spent.
3. Full features from order to cashier
As mentioned earlier, the cashier application from iReap is an application that can store recipes. This feature will be used later when consumers place an order. So from ordering to cashier features, everything can be obtained from the free iReap restaurant cashier application.
Because the system used is complete, the restaurant's performance becomes more controlled and more comfortable to fix when there is a problem, right?