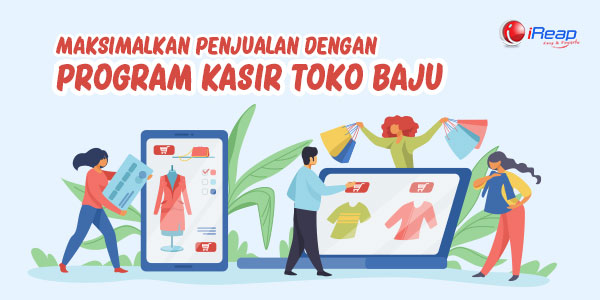 Of the various technologies that exist today, the clothing store cashier program is a prima donna. The reason is, this program helps clothing shop owners to increase profits. So no wonder that many business people are starting to be interested in trying it. Not to mention the variety of interesting features provided, such as the following.
Controlled management with only one program
Cashier application helps entrepreneurs in managing it in one place for work efficiency and profit. As a result, do not need a lot of energy and time in checking the operation of a clothing store every day.
All clothes shop business will be easy to do, starting from stocking goods, managing stock, producing raw materials to analyzing stock turnover. That way, you can do something more important. Certainly, just one program will help reduce operational costs.
Financial statements are automatically generated
Another feature offered by the clothing store cashier program is automatic financial reporting. Usually for financial statements require a long time. Well, the cashier program will help you.
Financial reports are made from sales, risk stocks and inventory data so mistakes can be minimized. Automatic financial reporting also reduces the risk of fraud.
Control of the business can be done in full
Cashier programs specifically created for clothing stores not only provide convenience in product or business management, but also as a whole to HR management. Monitoring employee attendance does not need to be done anymore. Because, already in a package with the cashier program. This will facilitate the calculation of employee salaries later.
Sales increase because customers are noticed
Sales can increase because of customers. This relates to the variety of loyalty that can be given to customers. Cashier programs for clothing stores can group customers to get certain loyalty, such as promos, discounts or attractive loyalty points. You can also add customer data.
However, customer satisfaction is number one. With this cashier program, it will be easier to determine loyalty for customers. This is to keep customers shopping at your store. Can be a marketing strategy so that sales profits will increase.
Help determine the marketing strategy
Not just a day-to-day operational problem, this program is more designed to help marketing strategies with a variety of data that can be analyzed. For example, the loyalty program provided, which customers like or when the best time the store is busy – busy.
If you have been preoccupied with daily operations, the clothing store cashier program will help with management as well as marketing. But pay attention too the price of the cashier application before using it.
Download the cashier clothing store program for your Android smartphone via the button below.