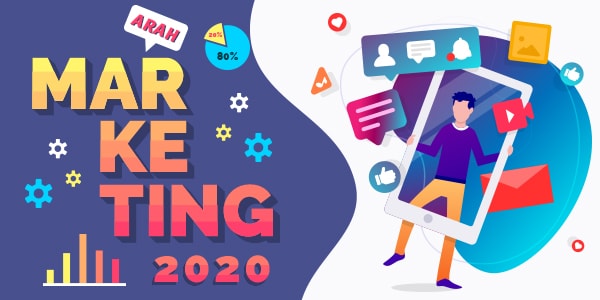 Marketing is always an exciting topic, and almost all seminars about the marketing world are always filled with participants. Every year there is a new trend in the marketing field following the development of the customer's character in the previous year.
If a business person can catch the trend that will occur, his business will likely be able to develop even better.
Summary of 2020 marketing trends
For the beginning of 2020, I want to write down some marketing trends that I believe will roll in 2020. Several trends have occurred in 2019 and will continue in 2020.
ChatBots Will Be More Popular
A chatbot is a computer program with artificial intelligence (AI) that can interact with one or more people in audio or text form.
Chatbots with artificial intelligence can interact like humans in general. This chatbot is usually used to serve questions related to the information sought by users.
Of course, chatbots will not be able to replace human functions as a whole, and chatbots are not able to answer complex things. Chatbots will significantly assist the customer service process because they can provide interactive answers quickly when customers need assistance.
The chatbot will also help increase sales figures because of its ability to provide suggestions about superior products and offer related products that suit customer needs according to historical data.
Influencers Are More Wanted
Influencers have a large audience or followers on social media, and they strongly influence their followers, such as artists, celebrities, YouTubers, bloggers, and others.
In 2019, influencers will be the choice of many brands to communicate or campaign for products to be increasingly recognized by the target market. Influencers can help a brand enter the community and be more trusted by the target market.
Many brands are growing because of the support of influencers. However, the proper influencer selection technique is also crucial because if you choose the wrong one, the brand will not get much benefit.
So a brand must choose an influencer that matches the brand's character and know who the influencer's followers are.
Videos Get More Likes
Surveys show that customers prefer watching videos to understand a product to read text explanations. From my observations, many brands have become significant because they have exciting videos uploaded to many channels in cyberspace.
A video that successfully attracts netizens' interest has a suitable theme, interesting video tricks, and the proper storyboard.
Of course, making a video with a duration of 1 minute so that it can be exciting and understood by the target market is not an easy job. Still, it can be done if you think about it deeply with the support of a reliable team.
Dear readers, those three trends are being talked about a lot and hopefully can provide new insights for those who may not have heard of them. Of course, you have to be wise to follow these trends according to the capabilities and needs of the brand.
Written by,



Djoko Kurniawan
Senior Business Consultant | UMKM Expert
DK Consulting Group Jakarta
Email: info@djokokurniawan.com | IG: djoko.kurniawan
www.djokokurniawan.com | www.konsultan-franchise.com | www.indonesia-franchise.com