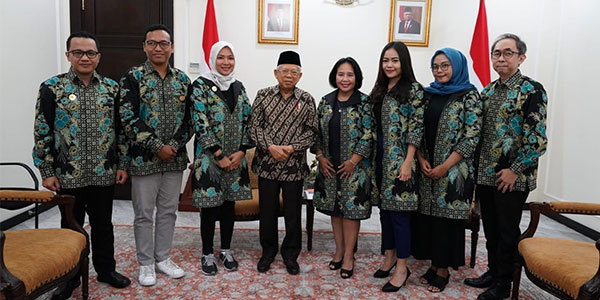 Indonesian Vice President K.H. Ma'ruf Amin Receives the Management of the Indonesian IUMKM Association (AKUMANDIRI) at the Vice President's Office, Jalan Merdeka Utara Jakarta, Monday (13/01/2020).
Starting the meeting, the Vice President said that the strength of Indonesia's Micro, Small, and Medium Enterprises (MSMEs) was tremendous in strengthening the national economy. The power of MSMEs in Indonesia is more than 90 percent of the total business in Indonesia, and as many as 75 percent of Indonesian workers work in MSMEs.
"Because more than 90 percent are MSMEs and 75 percent of the workforce work in MSMEs," he said.
Furthermore, the Vice President explained that the government prioritizes the development of MSMEs because MSMEs significantly affect the Indonesian economy. Still, it was found that there were obstacles to the development of MSMEs, namely classic problems faced by business actors such as lack of capital, business management capabilities, use of technology, and quality of human resources.
The Vice President also explained that the government had supported the development of MSMEs, such as the coordination that the Ministry of Cooperatives and SMEs has carried out with 18 Ministries/Institutions for the formation of clusters aimed at facilitating business actors in developing MSMEs.
"Later on, MSMEs will be clustered by sector. For example, the agriculture, industry and tourism sectors. This cluster will be directed to become a corporation that will form new responsibilities for business actors to develop their businesses," he explained.
The Vice President also added that the government continues to spur KUR distribution by lowering interest rates from 7 percent to 6 percent in 2020. An increase follows the decline in interest rates in the target volume of KUR distribution to 190 trillion rupiahs in 2020.
"The Government has increased the disbursement ceiling from 140 trillion rupiah in 2019 to 190 trillion rupiah in 2020. In addition, interest rates have been lowered from 7% to 6%," he added.
In addition, the Government also supports developing the capacity of MSME actors through education and training programs, as well as assisting the certification process for halal products without charging any fees.
At the end of the event, the Vice President appreciated AKUMANDIRI for its participation as a partner of the Government in developing MSMEs in Indonesia.
"I really appreciate what AKUMANDIRI has done. The Government will certainly embrace this kind of organization to work together to develop MSMEs," he concluded.
Previously, the General Chairperson of AKUMANDIRI, Hermawati Setyorinny, explained that AKUMANDIRI is an independent organization that helps MSME industry players in developing their business.
"We go directly to business actors in providing assistance, sir. Currently we have 500 thousand members," he explained.
AKUMANDIRI, founded on June 10, 2015, has an iREAP application, namely a cash register application, that can be used for free by business actors. In addition, AKUMANDIRI helps provide capital loans with a daily payment method that is not burdensome, IDR 15,000 per day.
"We have collaborated with BNN in providing education on drug use and entrepreneurial knowledge in drug-prone areas, with the Ministry of Agriculture, we will select 1,500 millennial agricultural entrepreneurs," he added.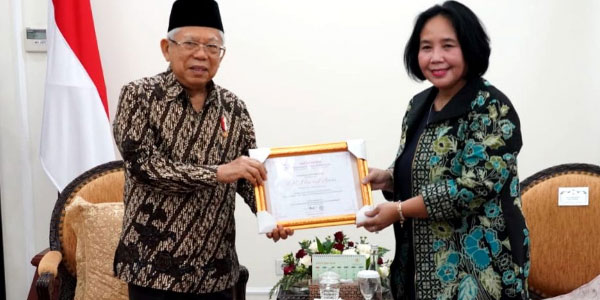 Present with Hermawati, Deputy General Chairperson Rinindya Wulan Arumandanni, Head of Information and Technology (iREAP POS) Andy Djojo Budiman, Manager of MSME and Capital Sector Armamento B. Zebua, Media and Marketing Sector Priyo Pamungkas K., Business Cooperation, Inter-institutional, and Husriani Partnership, and Khaesan Nuranisa's Organization and Membership Division.
While the Vice President was accompanied by the Head of the Secretariat of the Vice President Mohamad Oemar, Special Staff for the Vice President for Communication and Information Masduki Baidlowi, Special Staff for the Vice President for Poverty Reduction and Regional Autonomy Muhammad Imam Aziz, and Plt. Deputy for Human Development Policy Support and Development Equity Abdul Muis. (RMS/IO-KIP Setwapres)
Source from: www.wapresri.go.id