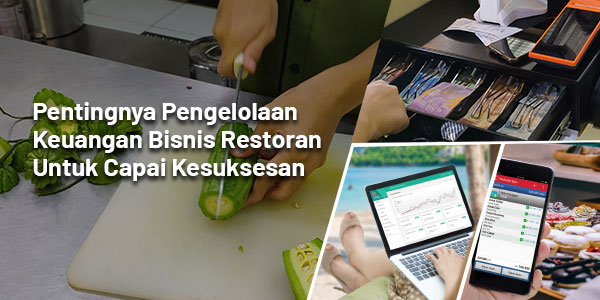 Culinary business is now increasingly found with a variety of creativity. Not only prioritizing matters of taste alone but also must be given the best service for customers, one of which is the restaurant cashier program. It is undeniable that good service will greatly affect the image of the restaurant. Customers will be more able to judge, good service and make it comfortable, then the next place will be the choice again.
Good financial management of your restaurant is very important to be able to know the advantages and disadvantages you get from the business. Bookkeeping system which was originally only conventionally like using books and in this digital era, entrepreneurs are increasingly facilitated with their work in managing finances because of the Android cash register.
The Importance of Bookkeeping for Your Restaurant
Well-organized and neat bookkeeping will give you information about improvements to the restaurants that you develop. It will also show transparently the entry and exit of money from your restaurant.
The following are some of the things that you need to complete in your business bookkeeping.
Expenditures and Revenues

The money that comes out and the money that comes in is important to be adjusted to the existing memorandum. That way the existence of money coming in restaurants and money spent on restaurant needs in accordance with existing evidence.

Stock of Goods

It is important to always keep a record of the available food supplies and how much has been sold. You also need to be able to estimate the stock will be used for how many more portions. So that way you will not run out of stock when your restaurant is actively operating.

Profit and Loss

Recording profit and loss will greatly affect the development of your restaurant business. Discipline, neatness, and consistency are very important in order to get more detailed results. And now with the restaurant cashier program can help your work in managing these finances.
Evaluate Your Restaurant Business
This evaluation process is no less important to do for your restaurant business. And with the books that have been presented neatly and in detail can help you to provide information on the development of the business. That way you will know better where your business is located so you can fix it right away and strategize to make it better.
In addition, in business, innovation is also a point that must not be left behind. With innovation, it can make customers feel satisfied with your restaurant. Because of course, you want the restaurant business to continue for a long time and continue to progress. So this evaluation process is what will bring your business to achieve the success you want.
So, always pay attention to the management of the restaurant business bookkeeping that you develop. Your professional work will be easier with the restaurant cashier program. That way, your restaurant service will also increase.