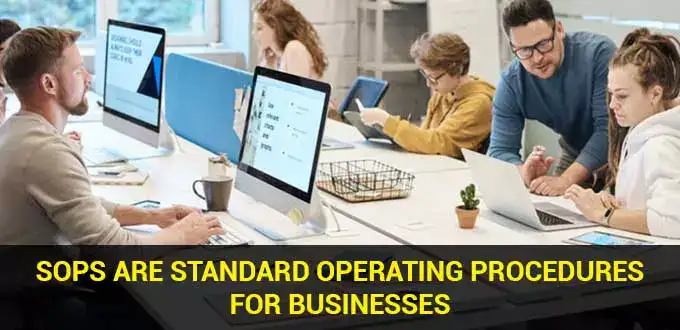 Running a business, whether large or little, with a reasonably broad scope and a variety of various resources, requires an effective reference that is useful for harmonizing a work system in order to meet the company's vision and goal.
A company standard operating procedure (SOP) is a guide or it can also be referred to as a systematic work procedure that aims to make it easier for staff to execute tasks and eliminate errors.
How to Develop Effective Standard Operating Procedures
To ensure that the company's SOP is prepared properly, it will take the necessary actions.
Assemble a Standard Team for the Purpose of Developing Standard Operating Procedures
To begin, organize a team to prepare the SOP; often, the HRD team will be responsible for this task. Team members must have a thorough understanding of how SOPs work and must participate in and contribute to the development of the company's SOPs.
Define the Purpose of SOP Development
Determine the objectives and everything that will be accomplished by the SOP's implementation. So that the company can reap the benefits of the SOP afterwards.
Data Collection and Review Data in the Company
Conduct a comprehensive review of the firm's work system, conduct interviews with relevant parties, and gather more detailed data regarding operational activities within the company in order to obtain information necessary to uncover errors or other anomalies.
Create a first standard operating procedure design
The SOP's design will be determined by how the standard operating form will be used in the future. If it has a graphic format, basic stages, or hierarchical steps, you must develop it from existing processes that must be conducted. If the flowchart is to be used, the drafting team must be able to select which problems will be solved.
Carry out internal and external audits
The SOP's must be assessed in its entirety by the management teams of the participating organizations. Thus, subsequent inadequacies and faults in the SOP can be rapidly remedied. If it has been examined internally, it is preferable to conduct an external evaluation that includes an advisory panel from outside the organization to ensure that the draft SOP is considered objectively.
Conduct a simulation of the company's standard operating procedures
The simulation is used to determine whether the SOP created adheres to the team's criteria. Prior to validation, this simulation must be run.
If it is determined later that it is not appropriate, it must be reconsidered prior to moving to the next level. The simulation results can be used as a basis for evaluating the effectiveness and benefits of SOPs that can be felt later.