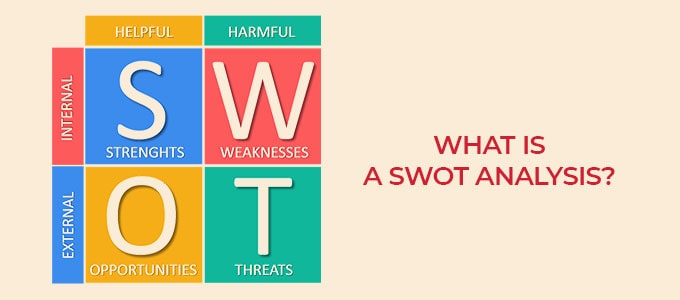 SWOT stands for Strength, Weakness, Opportunities, and Threats, is a simple management tool, but it really helps you to grow your business, whether you are just starting a business or growing your company even better.
As the name suggests, SWOT analysis is a strategic planning technique that is useful for evaluating the strengths and weaknesses, opportunities and threats of a company, both ongoing and in new planning.
SWOT analysis can not only be used in business but also can be used in our own personal career development.
SWOT analysis was first introduced by Albert S Humphrey in the 1960s while leading a research project at the Stanford Research Institute that used data from Fortune 500 companies.
4 Components and Methods of a SWOT Analysis
1. Strength or abbreviated as "S"
Strength namely the advantages or strengths of a company that is owned, which can provide an advantage over competitors. Strength can be simply meant by "What do you currently do or have is good?"
This could be something intangible, such as your product or company brand that is strong in the marketplace compared to competitors, or something that is more easily defined such as branch locations that are already spread across Indonesia or around the world.
It could also be with your people, human resources such as a good organizational structure and strong leadership, or a great engineering team.
2. Weakness or abbreviated as "W"
Weakness which is a characteristic related to the weakness of the company, comparable to competitors, can also be a weakness that is currently considered internally. Defining your weaknesses can be done with the question "What could you do better?"
Like strengths, in analyzing these weaknesses it is important, to be honest with ourselves. Because then we will be able to understand our real weakness. For example, a lack of a reliable technical team, or for example you have an educational institution, a lack of teacher regeneration so that the old teachers do not keep up with the times and the desires/learning styles of today's students.
Another example is the fast growth of the company, the business process is still being carried out as when the company was just formed, so there are many wrong delivery order and customer complaints.
3. Opportunities or abbreviated as "O"
Opportunities namely opportunities that can be used for companies to develop. Have your company develop new, innovative ideas that will open up new markets. You can do market expansion which was previously only in 1 country to become exports of various countries. Or do product development that is more in line with the times. In many cases, it can also be more about marketing and branding activities for younger generations, for example with fresher packaging.
4. Threats (Threats) or abbreviated as "T"
Threats namely threats that will be faced by an organization or project that can hinder its development. This can include things like emerging competitors, changes in regulatory laws, political conditions and all kinds of external things that could potentially harm your company's future.
Factors in a SWOT Analysis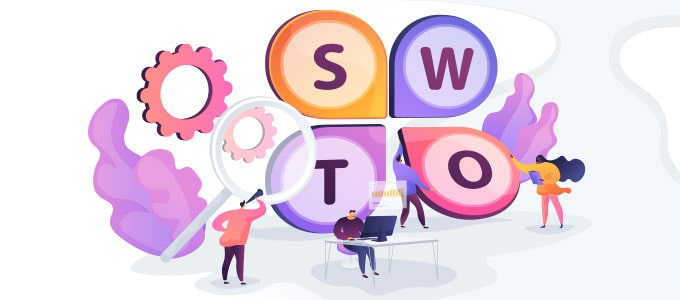 There are 2 main factors that will affect the four basic components of a
SWOT
analysis, namely:
Internal Factor (Strength dan Weakness)
Strengths (S) and weakness (W) are internal factors, which are the resources and experience currently available within your company. These internal factors are factors that we can control and work on.
As for the part of the internal factors themselves, including the resources owned, financial or financial, internal strengths or weaknesses of the organization, as well as previous organizational experiences (both successful and unsuccessful).
Here are some examples of internal factors that are usually considered:
Physical resources (location, facilities, and machine tools)
Financial resources (funding, sources of income and investment opportunities)
Human resources (employees, supplier network, customer network)
Resources on trademarks, patents, and copyrights
Current business processes (employee programs, organizational structures and software systems)
External Factor (Opportunities dan Threats)
This is a factor from outside the company, where this factor is not directly involved in what is being researched and consists of 2 points, namely threats and opportunities.
External factors are usually things that you or your company cannot control but are important to pay attention to such as the following:
New competitors with a business model that has changed (disrupt).
Changes in market trends are increasingly fast (new products and shifting customer needs)
Technological advances, making several distribution companies go bankrupt because Manufacturing directly interacts with customers
Political, environmental, and economic conditions of the country, currently the external factor of the Covid-19 pandemic that has occurred throughout the world has a very negative impact on almost all companies.
Example of a SWOT analysis
To help you better understand what a SWOT example actually looks like, we will provide a case study that you can learn from Chicken Noodle Restaurant "Gembrot" has been operating for several years and wants to expand its business. But they are confused whether to add a menu or open a new branch.
Strength
Location in the centre of the crowd, apart from offices as well as housing complex
Affordable and competitive with local competitors
The composition of the raw materials used is safe for health, without flavour enhancers, preservatives and artificial coloring
Weakness
Lack of capital.
Lack of supervision so that they often miss opportunities, at busy times, customers are disappointed because they run out of orders.
Do not keep bookkeeping.
The owner is still the chef.
Opportunities
Opportunities are still great, as evidenced by the loss of opportunities to sell at busy times, Saturdays, and Sundays.
Product development with the same customers, such as selling Fried Meatballs, Fish cake, so that customers who are waiting can enjoy their appetizer and can be more patient waiting
Threat
The competition with new competitors will be even harder because it is not too difficult for new competitors to start a Chicken Noodle restaurant business.
As the business grows, it is important to pay taxes to the government, so the price of food will increase.
By making the SWOT analysis above, the Chicken Noodle Restaurant "Gembrot" decided not to open a branch first, but instead tried to fix things that are currently still weak, as follows:
Build a team so that when the new branch opens, there are already employees who can carry out the chef's function.
Try to come up with new recipes to increase sales from existing customers.
Preparing financial reports, sales, stocks so that more clearly the benefits of the Chicken Noodle restaurant "Gembrot".
With complete records, there is an opportunity to get easier capital, whether from a financial institution, finding partners for new stores in other locations, or even making it a franchise system.
Also read: How to Calculate the Selling Price of Your Product to Get Big Profits?
Benefits of a SWOT Analysis
By looking at the example of a SWOT analysis for a Mie Ayam restaurant "Gembrot", it is clear that the benefits are obtained so that the company does not take the wrong step and can cause losses. Because of a decision through careful thought.
This SWOT analysis also produces guidelines for the company for improvements that need to be made, so that it is more focused on its goals and targets. Here are some of the benefits of doing a SWOT analysis:
Understand the problems or challenges faced by the company from internal or external.
Avoiding losses due to mistakes in making decisions based on instinct.
Doing innovation and continuous improvement.
Analysis based on data, for example, sales data, are my sales still growing from year to year? Or, stagnation is even worse if it has gone down, but we are not aware because we don't have good records.