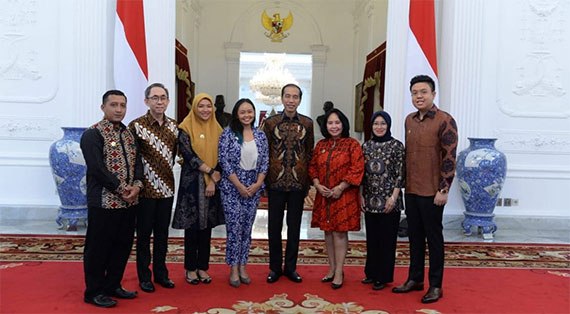 President Joko Widodo, Tuesday 18 June 2019, received the Indonesian Micro, Small and Medium Enterprises Industry Association (AKUMANDIRI) and three other associations. The President asked for input from us MSME actors. Hopefully, the problems that still exist in the field can be given a policy solution that can be executed.
The event was warm and fluid; we discussed and gave direct input to the President of the Republic of Indonesia, Joko Widodo, about MSMEs in Indonesia. This is clear proof of the concern and priority of the Government of Indonesia for the progress of Indonesian MSMEs.
One of his excellent messages is that all the facilities provided for MSMEs should not weaken them. Akumandiri, or the Indonesian Micro, Small, and Medium Business Industry Association, is an organizational forum for business industry players, especially micro and small businesses. Five hundred thousand members have been registered from several provinces, districts, and cities throughout Indonesia.
As a function of managing relationships and providing coaching, education, capital, and marketing facilities, Akumandiri has helped facilitate the capitalization of its 10,000 members by collaborating with Financial Institutions (Banking through the KUR program and Fintech initiated by OJK for members who are not and are not bankable). Also by collaborating with other institutions such as BNN, Garuda, iREAP etc. This is a form of Akumandiri's commitment to participate in advancing MSMEs to become a higher class and free from drugs.
Akumandiri's input to the President is:
Platform for data collection on MSMEs in SME organizations/containers that are integrated with the government
Providing education for micro-entrepreneurs, especially women
Implementation of synergy between government programs and MSME organizations
Capital is still difficult because the requirements are not easy, so SMEs are still trapped by moneylenders and illegal fintech. Akumandiri is ready as a facilitator for its members
Organization synergies with the government to become a companion SME
The training requirements at BLK still limit vulnerable groups such as young people who do not have a diploma, orphans who do not have a family card where they are the most in need of training
Training at BLK is limited to production training, and there is no assistance from the government regarding marketing
Training at BLK has not provided any life skills material for prospective entrepreneurs/entrepreneurs. So they are not ready to face failure when trying. The suggestion is that training for micro-entrepreneurs must also be inclusive and able to reach vulnerable groups in remote areas, especially women
Please form an independent Cooperation Training Center because through PLUT, it is still very exclusive
The names in attendance are as follows:
Hermawati Setyorinny – Ketua Umum
Anindya Nastiti Restuviani – Sekretaris Jenderal
Dyah Probondari – Ketua Bidang Hukum, Advokasi dan HAKI
Andy Djojo Budiman – Ketua Bidang Informasi dan Teknologi
Husriani – Ketua Bidang Kerjasama Usaha, Antar Lembaga dan Kemitraan
Andre Tanuwijaya – Bidang Publikasi Media Teknologi
Dodit Sugiarto – Ketua Koordinator UKM Wilayah Jawa Timur