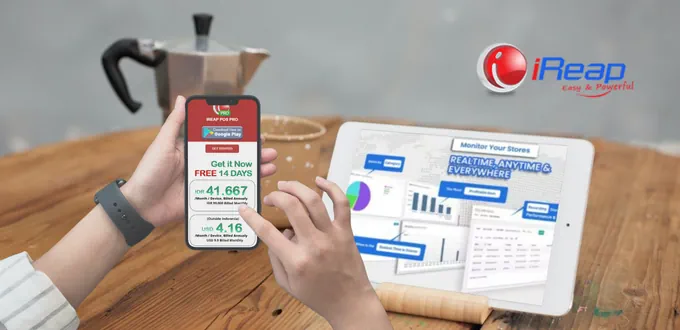 iReap POS Pro is a paid cashier application for medium to high-end businesses and businesses that have multi-branch and multi-user. This cashier application design was made specifically by the PT. Sterling Tulus Cemerlang with more than 20 years of experience in the retail industry.
Those of you who want to manage and grow your business, already have several store branches, or employ multiple cashiers, need to use the iReap POS Pro application. What are the advantages of the iReap POS Pro cashier application? Read more in this article, come on.
Advantages of the iReap POS Pro Paid Cashier Application
1. There is a Complete Guide that Makes It Easy to Use
iReap POS Pro is designed for small businesses that have many shops or business branches, and have many cashiers in one store. In this way, you can monitor the operations of all branches from anywhere and anytime.
For novice users or for the first time using iReap POS Pro, there are guidelines and steps to use that are systematic and easy to follow. All you have to do is enter the iReap website in the How To iReap POS Pro section.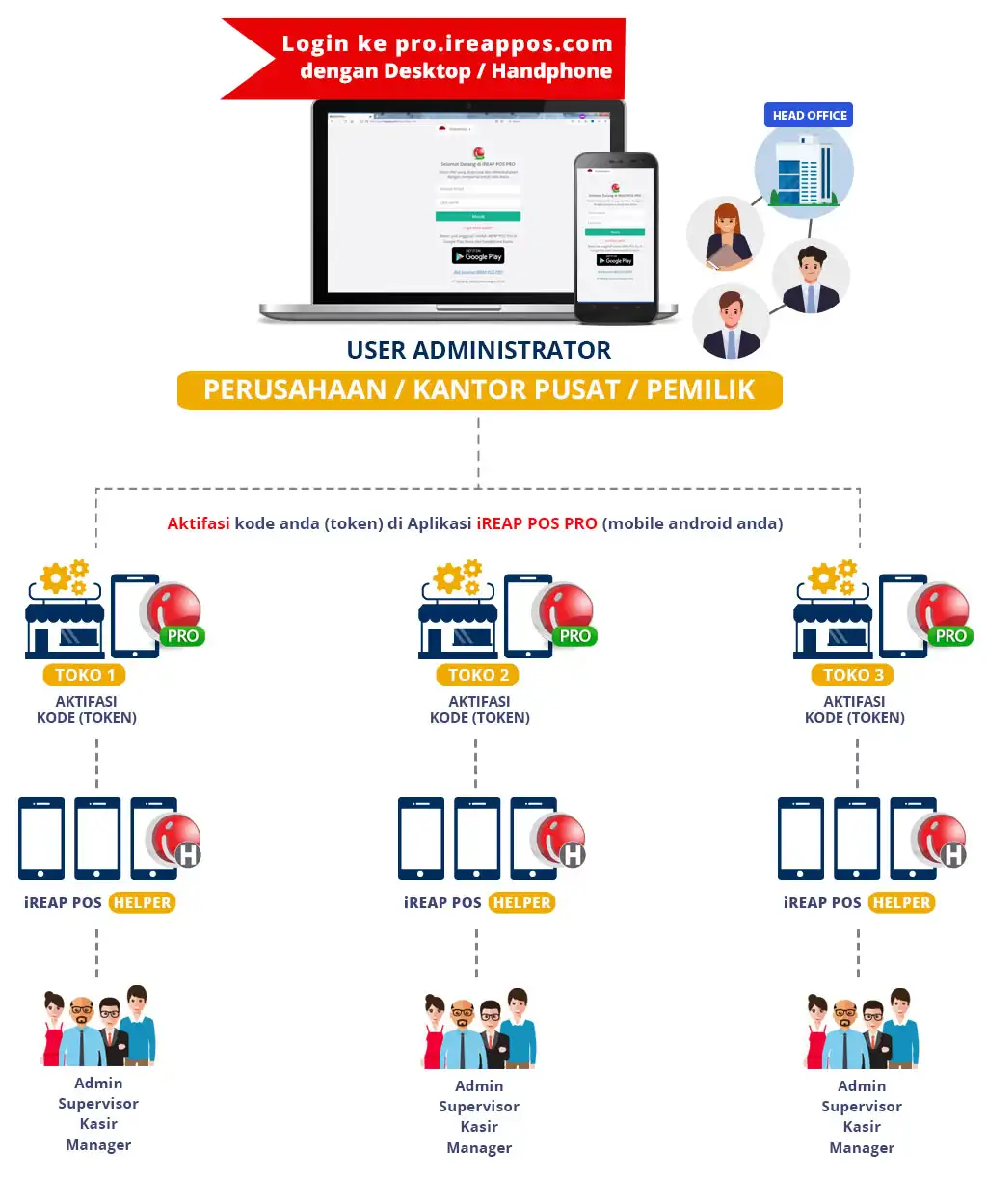 2. Structured User Settings with Different Access
The use of the iReap POS Pro paid cashier application allows business owners to set access rights for each user in order to minimize data errors and human errors related to responsibility.
That is, one cashier will be responsible for the account used, as well as other cashiers.
This usage structuring also allows one business to be able to use multiple devices if it has multiple cashiers. Then one company can support many shops and many account admins with different access rights.
3. Facilitate Transaction Recording and Customer Service
You can focus on serving customers quickly if you use the iReap POS cashier application.
This is because this application allows you to scan barcodes, determine product prices at the start, determine profits, can print sales receipts, and is automatically connected to stock & inventory data.
In addition, it can be accessed online or offline, data backup features are available, and so on.
To make it easier for customers to complete transactions, various payment methods are available, such as cash, credit, using digital wallets (OVO, Gopay), can also accept payments via QRIS.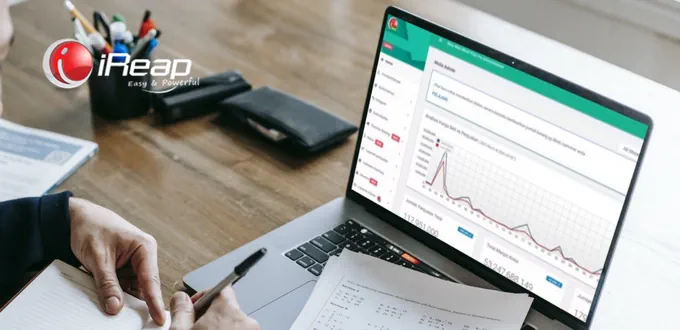 4. Available Product Set Features
The product set feature in the iReap POS Pro paid cashier application is a feature that allows you to create a database of products that contain recipes or formulas for raw materials, such as food in restaurants, shops or cafes.
This feature is also useful for making sales prices for each product, discounts for certain products, customer price lists, and special prices for each store.
In use, there is no limit to the number of products, transactions, and also no advertisements that appear when you use the iReap POS Pro cashier application.
5. More Efficient Integration Between Business Branches and Business Centers
Branch stores will be integrated into the center, so it will be easier for you to control transactions, attendance, and even control inventory at each branch store.
In addition, branch stores can request additional stock of goods from the center through the iReap Pro cashier application.
If needed, you can even add users according to the number of employees working in each shift. So you can still use the same device, but with a different user account.
6. There is an iReap Helper Feature
Now, specifically the iReap POS Pro cashier application, there is an iReap Helper feature in the iReap Pro paid cashier application that allows business owners to manage up to hundreds of stores and many cashiers in one store.
With this feature, you can register more than 1 (one) store and use more than 1 (one) device in 1 (one) store.
You will also find it easier when you need to evaluate employee performance. This is because the iReap POS Pro cashier application already supports recording team performance and sales team attendance directly in the application.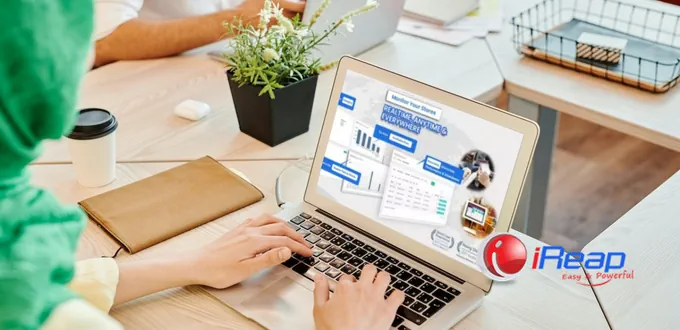 7. Integrated with Accounting Application
iReap POS Pro has been integrated with various accounting applications, such as Jurnal.id, Zahir, SAP Business One, and SAP Business One version for SAP Hana Cloud.
This means that it will be easier for you to analyze, evaluate, and monitor sales per day, per store, per item, per cashier, per sales team, and record transactions per user.
8. Guaranteed Security and After Sales Service
If there are problems with the registered device, you can replace the device and the master data can be retrieved.
Meanwhile, when the device is lost, you can unlink the old device and connect the application to the new device
9. 14 Days Free Trial Period
If you want to try the iReap POS Pro cashier application first, you can take advantage of the 14-day free trial period before you decide to subscribe to this cashier application.
To be able to try for free, you do not need to enter credit card data.
The same goes for any new devices you add. For example when adding a new cashier with a new device.
So, new devices will get free use of the application for 14 days and all master data will be immediately synchronized to the new device, including the last stock amount.
After 14 days of the free trial period, you need to pay a subscription fee, which is Rp. 41,666 for 1 (one) device with one year direct payment. Meanwhile, for monthly payments, the price is Rp. 99.000,- In addition, there is also a choice of three and six month payment methods.
There are many advantages that you will get if you use the cashier application. Read here for the full explanation: Cashier Application: Advantages and Benefits for Business People. Then if you want to try the iReap POS Pro cashier application and take advantage of the 14 days of free use? Just download the iReap POS Pro cashier application.