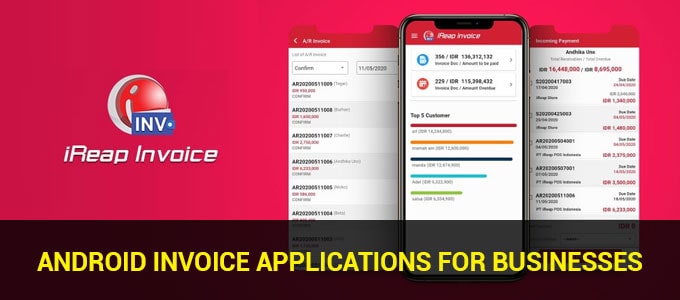 One of the technologies that are starting to be widely used by entrepreneurs is the invoice android application that can be accessed anytime and anywhere. For those of you who have a business in the field of sales or services, the use of this application is mandatory for you to have.
IReap Invoice is a mobile application that can help you create invoices with a professional look and can be sent directly to customer email and Messenger. iReap Invoice helps you monitor past due customer invoices or receivables so you will be able to bill on time and improve your business cash flow.
More and more entrepreneurs are starting to abandon manually generated invoices and switch to online invoicing applications for good reason.
Invoice Application Benefits
The following are some of the benefits you can get from using iReap Invoice.
Avoiding wrong payments
Manually generated invoices are prone to human error which may lead to mispayments. What happens if the product / service you provide is not paid because you sent the wrong invoice?
The Payment Note application will automatically generate an invoice when your product / service has arrived at the customer's hand or has been used by the customer. Not only that, this system will automatically send invoices so that incorrect or forgotten delivery incidents will not happen again.
Also read: What is a Sample Collection Letter and How to Collect Debt Successfully
Reducing Late Payments
The disadvantage of using manual invoices is the length of payment you receive from customers. This incident will definitely hinder the company's performance. The most unpleasant example is that you are forced to delay payment of employee salaries because a customer is late paying bills.
Using the best android invoice application can avoid these incidents and payments from customers will be received on time and regularly so that it will increase your company's cash flow.
Also read: Six Steps to Make a Sample Payment Receipt
Integration with IREAP POS PRO
If you integrate iREAP Invoice with IREAP POS Pro, all payments related to the sale of goods or services can be managed better, besides, you can easily manage the company's cash flow and create a more complete report.
Conclusion
In modern times, the buying and selling process is done electronically. There are various payment options, ranging from transfers via ATMs, using debit/credit cards, to online payments. One technology that is starting to be widely used by entrepreneurs is an invoice app that gets your business moving fast.
Having a company engaged in the sale of an item is not easy. Also, there will be many transactions that take place in it. Using the Android invoice application will make it easier for you to manage the payments you have from large or small transactions.
Using an invoice application can make it easier for you to manage your financial flow; also, you can get many other benefits, such as increasing company revenue by reducing unnecessary costs.
This is not without reason because, without a receipt application, you will find it challenging to organize your business.
Also read: 10 Things You Must Have In The Invoice Form
You have to remember in choosing an application, and you have to be careful and selective. Make sure you select the right application to make your business easier.
Well, for those of you who are still confused about finding an Android invoice application, you don't need to worry because, with iReap Invoice, you can get the best application that has several advantages for your business. Immediately take advantage of this one application.