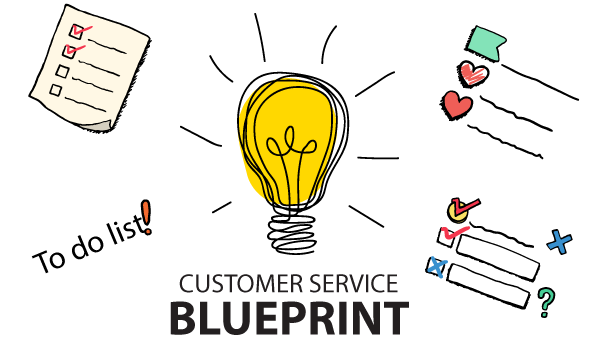 It cannot be denied that Service Excellence is one of the factors which could determine the success of the business. Only the companies which think Service Excellence seriously which is proven to be able to exist and win the competition in the market. Service Excellence is needed because the product or service that you offer has many competitors. Thus, if only relies on the product or service without Service Excellence you will definitely lose.

In order to create Service Excellence in your company customizedly (according to the need and condition in the company), then you must make 'Customer Service BluePrint' which completely in all service point so that all service activities that you will done will be according to the customer's expectation/wants.
Then how to make 'Customer Service BluePrint'? First, conduct FGD (Focus Group Discussion). FGD is one of the interview methods in one particular group. FGD in one of the literature defined as 'a good way to gather together people from similar backgrounds or experiences to discuss a specific topic of interest. The group of participants is guided by a moderator (or group facilitator) who introduces topics for discussion and helps the group to participate in a lively and natural discussion amongst themselves'. Besides, you will also can conduct online survey which is a survey acticity through through online media to ger critique/suggestion/feedback from customer/ prospect customer.
FGD and online survey is the first way that must be done to make 'Customer Service BluePrint'. From those two activities, you will get beneficial feedback from 'customer representative group'. Second, gather all employees that is seen in the service process and show the FGD and online survey result. Ask the employees to discuss to respond the result so that uou will get more complete feedback to be able to make exact analysis. Third, map all existing service point and divide it into two groups, namely service point that already good enough and service point that still need to be improved. Fourth, start to make strategy possibility list that might be possible to improve service point which still not good enough. The last, choose some best strategies applied to be started.
The next proses that you need to do is to do observation in the field. Observe whether your strategy is right and can run well based on customer's expectation. To know that, you can ask more feedback from customers through critique/suggestion form, them reevaluate from those feedback and start to make new better strategies. This is what is called PDCA process (Plan-Do-Check-Act). PDCA cycle must be done continuously on an ongoing basis to create better service standard from time to time. Through PDCA cycle, it is also expected to create better and directed service innovations.
As a closing, I want to say that Service Excellence will run and be able to satisfy customer – only if you make service plan through 'Customer Service BluePrint'. Input the making agenda of 'Customer Service BluePrint' each time the company design short-term and long-term business plan. Remember! 'Customer Service Plan' is as important as Marketing Plan and Operation Plan.
Good luck and be successful to you.
Written by,



Djoko Kurniawan
Senior Business Consultant | UMKM Expert
DK Consulting Group Jakarta
Email: info@djokokurniawan.com | IG: djoko.kurniawan
www.djokokurniawan.com | www.konsultan-franchise.com | www.indonesia-franchise.com