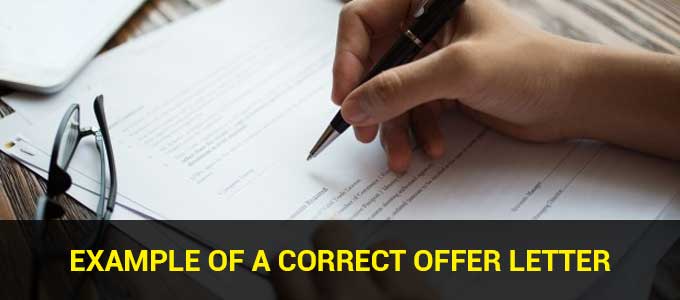 There are many types of letters that every company uses, all of which have their purposes and uses. But until now, most of the letters used by each company were official types. Being an entrepreneur is sure to know one of these types of formal letters.
This article discusses an example of an offer letter and how to make a fair and correct offer letter. Your business cooperation is clear and directed, and this article is easy for you to learn.
Definition of Offer Letter
An offer letter is a type of official letter made for business activities by offering services or products from producers to other business people. An offer letter is an example of a formal letter. This offer letter is usually used not only for business activities but also for companies to cooperate with other companies in the same field.
In general, an offer letter is issued after a letter requesting a quote for goods or services from a potential customer to a distributor. So, the distributor will give an offer letter to potential customers. The offer letter can serve as a collaborative medium in economic activities and business trade between distributors and consumers.
Read also: What is a Sample Collection Letter and How to Collect Debt Successfully
Important Points of Offer Letter
There are essential points you need to know about the offer letter that you will make. When creating a sample offer letter, you don't miss important issues that you need to know about potential customers who want to work with the products you have. Some things to consider when making an offer letter are:
Name of company and line of business being carried out

The company name is an essential thing to attach in the offer letter. With a company name and a short profile, it will make it easier for your potential customers to know what kind of company you have.

Product Quality and Brands

By providing information about the quality of the products offered will provide the benefits needed by consumers. This aims to explain that the distributor has guaranteed product quality. Besides that, including the product brand is also something that should not be missed.

Product prices offered

In the case of sending a product offer letter, attaching the price is mandatory for inclusion. Because every potential customer wants the best price for the product to be purchased, especially if the potential customer buys in large quantities, giving a special price for the product is mandatory.

Product Payment Methods

Not all potential customers want to pay in full initially. So, for that to provide several payment conditions such as down payment, paying on the spot, or also by cash payment must also be displayed in the offer letter.

Supporting Administration

Including several supporting, administrations will make potential customers more interested in the offer letter's products. Supporting Administration including Product Catalog, Track Record List, Trade Permit, Taxpayer Identification Number.
Read also: What is a PO (Purchase Order)? Functions and Benefits for the Company
Types of Offer Letter
Here are three types of offer letters between distributors and potential customers based on their nature:
Binding offer is an offer between the distributor and the consumer, either in the form of the number of products shipped or a price change.
Unbound offer is an offer that occurs between a distributor and a customer. If there is a change in the number of products and a price change, the distributor does not notify the consumer.
Term of Offer is an offer of cooperation that only occurs within a certain period of time. This is mostly used when it comes to offering a product in the form of service.
How to Make a Good and Correct Offer Letter
In writing an offer letter, we need to know the structure of writing a good and correct offer letter for goods or services. So, consumers are not confused when reading the offer letters sent by suppliers or distributors.
Here's how to make an offer letter for goods or services:
Letterhead
Good offer letters generally have letterhead printed. This letterhead aims to provide information that the letter comes from a clear institution. Therefore, the letterhead must include the company name, address and company contacts that can be contacted.
Letter Heads
Like other official letters, offer letters also have a letterhead (letterhead). The letterhead explains the letter's identity in the form of date of creation, letter number, the purpose of the letter and attachments.
Opener
Every official letter must have an opening section to begin the purpose and purpose of the letter sent. The opening section of an offer letter usually starts with a brief greeting and necessity and whatever will be offered to the letter's recipient.
Content
The content part of the offer letter is essential. This section describes the offers offered to the recipient of the letter, the type of supply, the number of offers, how to order, payment, and delivery.
The content section also explains in detail about the goods, services or cooperation requested by the client. This is so that all client requests have been recorded and will be processed later so that there are no errors in transactions.
Closing
The last part of the offer letter is closing. Usually, it contains a conclusion of what will be offered. It is not uncommon for this section to write hopes or plans when an offer is received. This is so that the client will accept the offer letter.
Sample Offer Letter
To understand more clearly, here are examples of offering letters for goods, services or cooperation:
Goods Offer Letter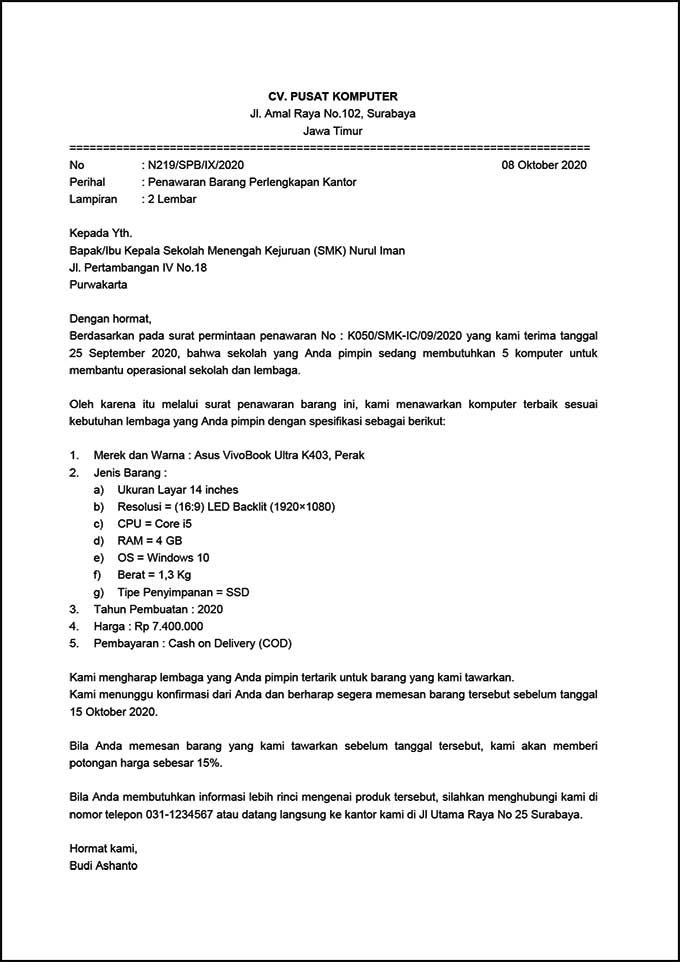 Service Offer Letter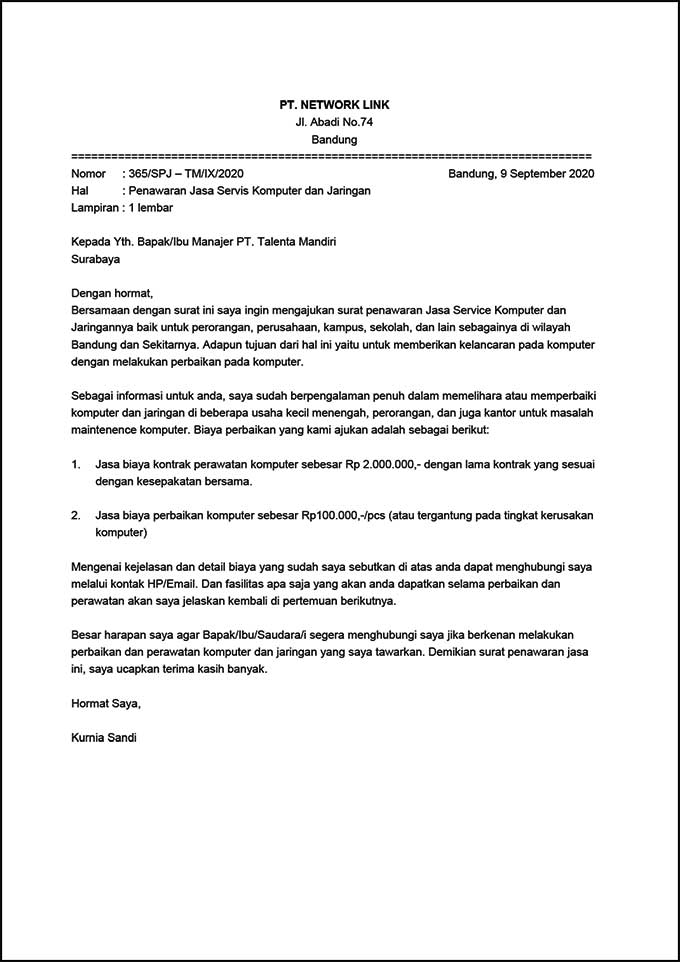 Cooperation Offer Letter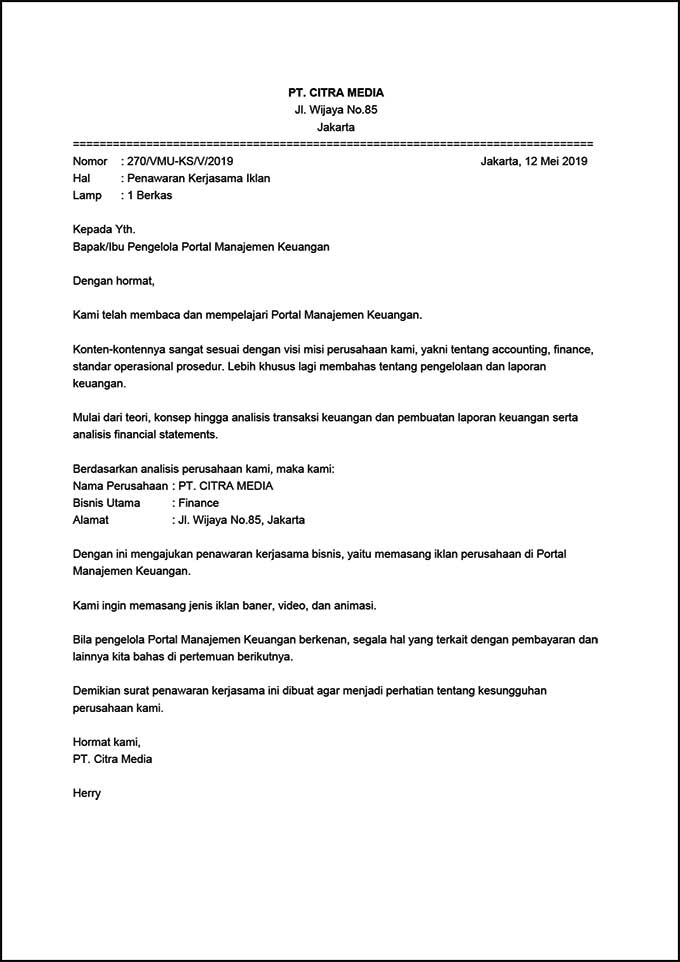 Those are some examples of offer letters to various parties and other companies. By sending an offer letter, your product will be known more quickly and can increase sales.
Some tips that can be done after sending an offer letter so that the proposed offer can be accepted well, among others; Follow-up potential customers, complete other supporting data when needed, and establish continuous communication. So, hopefully, this is useful.