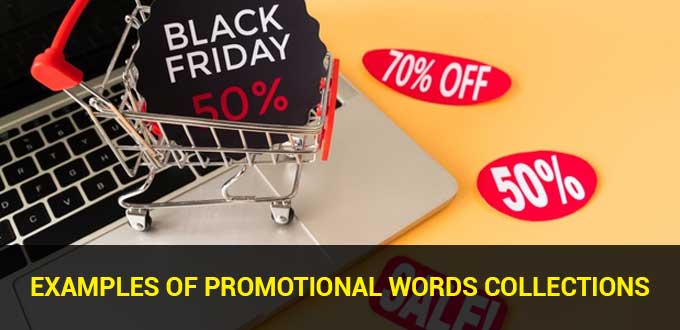 Before discussing an example of a collection of words for promotional items in the Online Shop, we first discuss what Online Shop is, promotional methods, and the Internet as the primary tool for promotion.
The sophistication of technology and the age of the Internet make human activities possible online. Examples of human activities that are now rapidly developing in the online realm are selling. Today, you can find many online merchants. The items they sell also have various variations; the quality and price offered are not inferior to offline traders.
Without online shopping activities, there will be no Online Shop. Online shopping is an activity to buy goods and services through the internet media. At the same time, Online Shop is a type of e-commerce, established independently as a place for online shopping activities. The presence of the Internet does help suppliers, sellers, buyers, and dropshippers.
Promotional words can increase sales turnover
Without attractive promotions and discounts, online shopping will not be complete. There are many types of promotions you can do. Some offer promotions on beautiful dates, such as 11-11 or 12-12, important dates, such as Indonesian Independence Day, or other important celebrations such as Harbolnas (National Online Shopping Day).
In general, the definition of promotion is an activity to inform and also influence potential consumers' intention to buy products from the Online Shop that you have. There are many ways you can promote. But what is most often used is using internet media—either social media or using e-commerce sites.
When doing promotions, of course, use sentences that contain exciting words. There are many examples of a collection of promotional terms in the Online Shop that you can use on the Internet to attract potential customers to buy the Online Shop products that you are running. Sales promotion words used must show the uniqueness and main advantages of the product you are selling.
5 Elements of selling promotional words
Making promotional words that are effective to attract consumer interest and attention is indeed an easy task. There are five elements of Online Shop promotional words that you must understand and master to attract buyers through strong promotional captions. Also check the new product marketing strategy.
Here, we will look at examples of sales promotion words in Online Shop that customers love and increase sales at your online store.
1. Deliver the promise of safety and quality
One of the reasons people are reluctant to shop online is the quality and safety of transactions. Because it is not uncommon for cases of online shopping fraud to often harm buyers. Therefore, you must convince potential customers about the quality and safety of transactions in your store with several words such as:
"Best quality!", "Most secure!", "Original!", "Guaranteed!"
Examples of its use in sales pitch words:
"The best quality products plus free souvenirs? This is the place!"
"Looking for guaranteed quality products? Visit our store!"
2. Providing Benefits for Consumers
Most consumers tend to like special discounts or purchase bonuses. As a result, offering this advantage to the public can attract their attention to shop at your store.
Examples of promotional words that provide benefits to consumers:
"Buy 1 Get 1", "Free!", "Discount", "Sale", "Cash back bonus"
Examples of its use:
"BUY 1 FREE 1 CHICKEN STEAK at STEAK HOUSE. For all of you, want a Chicken Steak Lover or a Lover Promo, BUY 1 CHICKEN STEAK GET ONE MORE FREE!"
"30% discount on branded clothes, free shipping, hurry before they run out, limited stock!"
3. Contains Invitation
Call-to-action wording has proven effective in inviting consumers to your Online Shop. This is because the call-to-action word has influenced the buyers in the promotional caption that you are distributing.
There are several call-to-action promotional words that you can include in your promo, such as:
"Buy it!", "Buy it, let's go!"
Examples of its use:
"Immediately collect the newest collection! Limited supply"
4. Inform you about new and unique things
The next thing that consumers love is a new and unique product. You can also grab the customer's attention by selling a product affixed with promotional wording that tells you about the newest and unique release. Reading the promotion of a new product will make consumers curious and then want to buy it.
Examples of new product promotion words:
"Exclusive and limited!", "New arrival!", "Present!", "Unique and limited edition!", "Newest!"
Examples of usage sentences:
"New Arrival! Raincoat Unisex by Moslem Wear. Upper and lower model made of taslan, perfect for Muslim / Muslimah bikers who go here and there on motorbikes."
5. Prioritize Your Online Shop
Due to increasingly fierce competition, nowadays buyers have many choices of the store to shop online. One thing that can convince them to buy your product is to ensure that your product is original and of high quality and satisfactory service.
You have to convince consumers about some of the advantages of your Online Shop in these words:
"Fastest!", "Complete and cheapest!", "Free shipping!"
Examples of usage sentences:
"Get FREE shipping just for shopping at our store!"

Examples of Online Business Promotion Words Collections
Promotional words are the main weapon in advertising. It is of no use if you have a good graphic design, but the description or adverb in them is not selling, is not attractive, or even tends to be considered bad by others. Also check Secret Tips for Crowded Restaurants.
For that, we will provide some examples of promotional sentences, words, and captions, which we summarize from online promotion accounts, as follows:
"SERIOUSLY! CFC Promo Special Price Combo 1pc Fire Chicken has been extended again."
"Isn't the cake cute? Let's buy 1 for you, and 1 for your boyfriend. Half price discount!"
"Come on, guys, don't miss the new menu from Raja Ayam, the unique taste will definitely melt your tongue."
"Don't miss it, guys, the Grand Opening of" CHICKEN GEPREK PINGGANG BSD "will soon be here to accompany you all starting January 5, 2018!"
"Yeayyyy! Tomorrow 12 December. There is good news‼ ️ especially the Surabaya area. Tomorrow GRAND OPENING BUBURESTO for All Variant Buy 200K 50K DISCOUNT !!"
"BUY 1 FREE 1 PROMO NEW YEAR at GEPREK CHICK. For those of you who buy Geprek Leleh Package will get Geprek Level 0-10 Package.
"GAES LAST TODAY! BUY 5 PIZZA for only Rp. 88,000 only at KING PIZZA. Don't be afraid of old dates, because at KING PIZZA there is a CRAZYPIZZA promo!"
"SO SPECIAL! THERE IS A 50% DISCOUNT from FAMILY RESTO. Don't forget to use the promo code: FAMILYSPEKTA to get additional discounts! (Min. 200k transaction, Max. 50k Disc).
"Year End Sale up to 80% + additional voucher up to 500 thousand. Wow, when else !!"
"Hooray Payday! There is a Cashback promo at JOYKO up to 60%! Hurry up for only 3 days November 28-30 2018."
"Get a discount of up to 500 thousand * for every purchase of an OPPO smartphone during the period 30 November – 31 January 2019."
"GO GADGET Black Friday SALE! Enjoy 30% OFF * discount for every purchase of 2 products or more, especially on November 29-30. (Min. Order 200k)" li>
Overall, promotional words are very influential using unique, concise, concise and clear language. In all of the sample collections of Online Shop promotional wording above, you should never forget not to try to trick buyers with words because it will damage the credibility of the Online Shop that you have built.
Come on, immediately update your promotional methods and increase the profit as much as possible! Good luck.