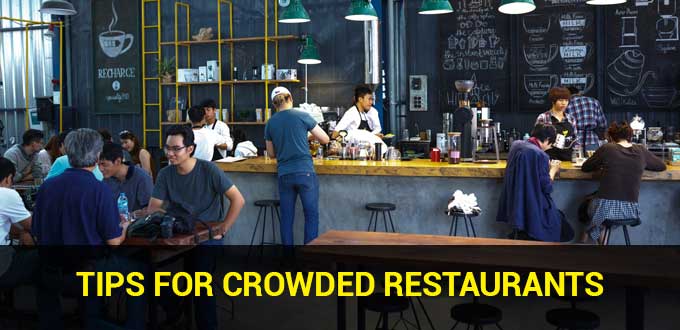 A bustling restaurant is the dream of all culinary entrepreneurs. Business opportunities in the culinary field are up-and-coming because they are always needed and will develop over time. But doing business in the culinary area is not easy. With the increasingly busy culinary industry, the level of competition will be higher.
You must be able to compete in increasing sales. The increase in sales is determined by the rise in the number of visitors who come; therefore, a strategy is needed to crowd with visitors.
It is indeed difficult to keep restaurants operating, especially in times of pandemic like now. Ever thought of closing the restaurant? Don't rush into making a decision; maybe what you need is to find a solution to the problem.
Secret Tips for Crowded Restaurants
Restaurant owners who have been in business for a long time must be familiar and know how to manage a restaurant to be crowded with visitors. For those of you who are already interested in opening a business and have sufficient capital, there is nothing wrong with opening a restaurant business.
Here are tips for making the restaurant crowded with visitors.
1. Unique Restaurant Concept
Many restaurants have the usual concept as they generally make it the same as other restaurants but with different designs. Most visitors who also enjoy the food and go home after eating the food are too attractive.
Having a unique and different concept is one of the added values ​​that you must do. Because if your restaurant has a fantastic idea, potential buyers will be curious about your restaurant. Apart from that, your restaurant will also go viral and be famous on social media. Millennials prefer viral and contemporary places to visit. Going viral can also reduce costs for your restaurant promotion. Cool, right?
Also read: Benefits of Cashier Software for Restaurant Businesses
2. Create a Delicious Present Menu
The type of food and beverage menu is also the cause of the restaurant being crowded with visitors. The taste of delicious food will keep your customers satisfied and will keep coming to your restaurant. The great thing is, sometimes customers will recommend your restaurant to their friends or family. But you also have to update the types of food that are currently viral constantly. This is what you do so that your customers don't get bored with the mundane menu.
You can also use a unique name tailored to the restaurant concept, which makes it more attractive. Also, make sure the created menu has a display that matches the picture so that customers don't feel disappointed and come again to eat food. In essence, it still prioritizes delicious flavours and suits visitors' tongues.
3. Provide Visitor Facilities
Try to imagine if you come to a restaurant that is clean and comfortable and has complete facilities. Of course, it will make you feel at home in the restaurant. What will happen if you apply it to the restaurant you own.
Now people go to restaurants, not just looking for food. But also to hang out or spend time chatting with family and relatives. For that, give them facilities. For example, these types of facilities include free WiFi, mini karaoke, playground for children, and others. Don't forget to adjust the room design to suit this function.
4. Ensure Cleanliness is Maintained
During a pandemic like today, cleanliness is the main point people look at before deciding to eat at a restaurant. Employees must maintain the cleanliness of the restaurant at all times. The cleanliness in question includes everything, from cleanliness in the dining room, cooking area, cleanliness of raw materials to every restaurant employee's cleanliness. Who will come if the restaurant is not clean?
Provide hand washing in certain places and hand sanitisers at each table, in addition to providing rules for employees always to use masks. Set the tables at a distance according to the government's standards for new adaptations during the pandemic.
5. Use a Restaurant Cash Register
Service is the primary key in every business. Good service will certainly make your customers satisfied and will keep coming back. Provide customer needs, for example, such as a complete payment method other than using cash. One of them you can use the iReap POS restaurant cash register.
Also read: Advantages of Using the Cashier Application in the Restaurant Business

6. Publish With Website and Social Media
Please don't feel like you don't need it yet when asked to create your restaurant website. Having a website and being active on social media will make it easier for you to invite customers to your restaurant. In the digital age and many people like to access the internet for hours on their cell phones.
Many entrepreneurs underestimate the power of digital, such as websites and social media, in the restaurant business. Even though there is a lot of evidence that restaurants were once only small shops but could build brand strength through the digital world through websites and social media.
7. Engage Customers Through Attractive Marketing Strategies
For example, you can use social media. Give special promos, whether it's discounted or free from certain menus, if someone dares to take selfies while eating at your restaurant. Of course, it has to be in conditions like following your restaurant's social media, and so on. Other ways can also be done, for example, by providing several free portions for those who come with a full family.
These are just a few examples. The point is to create a feed to the customer that the customer also feels challenged to do. This way will attract customers to your restaurant. So they go to the restaurant you are full after eating and the excitement that is not found in other restaurants.
Also read: Examples of Promotional Words Collections
Conclusion
A busy restaurant means high income. High income will ensure business success. The restaurant business opportunity is indeed auspicious and always develops along with the times. Therefore, you must be able to compete with other businesses in increasing sales.
To help facilitate financial management and analyze your restaurant, you need the Best Restaurant Cashier Application. Use iReap POS, which makes it easy to input orders, automatic print messages to the kitchen, and most importantly, accurately calculate COGS and profit.
Okay, those are seven tips for the restaurant to be crowded with visitors that you can do to promote your restaurant. But apart from the seven things mentioned above, there is something more critical and must be done so that your restaurant business is always in demand, busy, successful, blessing, namely Prayer. No matter how hard the effort is made, it will not be successful without the power of Prayer, for man can only try, and God determines.