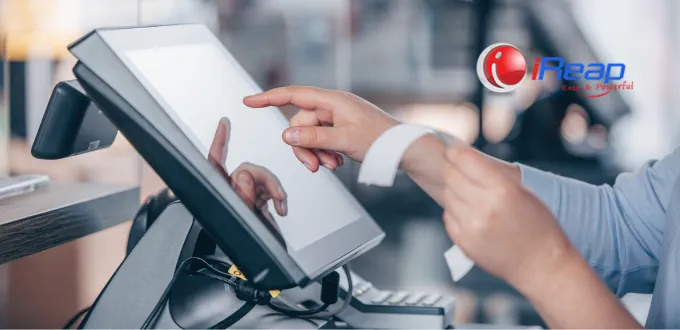 Restaurant cashier software is an essential tool that will make managing your restaurant business easier. There are many benefits of using restaurant cashier software for your business, such as reducing errors, providing faster service, providing stock reports in real-time, and so on. Read the full explanation in this iReap article.
7 Benefits of Restaurant Cashier Software
1. Reduce Error Occurrence
Cashier software is usually complete with various features, making it easier for you to manage your business. Some of the available features include input orders, products, recording transactions, etc.
Using restaurant cashier software with exclusive features will make recording all essential business items easier.
This, of course, can minimize errors compared to manual recording...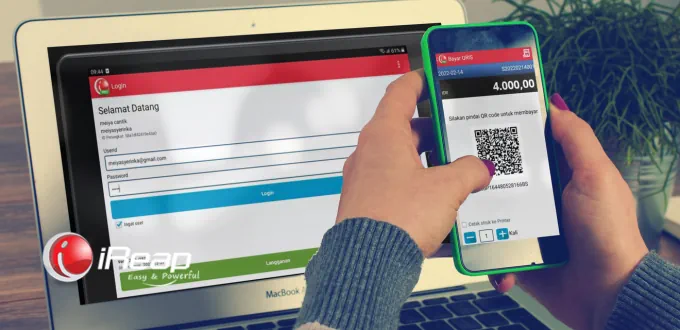 2. Faster Service
In running a restaurant business, excellent and fast customer service can make customers happy to come to your restaurant.
So, restaurant cashier software allows servers to receive and record orders quickly and accurately.
Especially if the system is integrated, the charge is automatically sent to the kitchen when the server inputs a customer's order.
This process will speed up the kitchen section to process customers' menus.
The following positive impact is satisfied customers, who will be happy to return. Especially if they also like the food menu available at your restaurant. These are the best tips for making a restaurant crowded with visitors.
3. Simplify the Transaction Process at the Cashier
Using restaurant cashier software will make it easier to calculate total customer purchases; you can even print receipts directly.
The reason is that the system already has the names of the food menus and their prices, so when you input them, the prices are automatically inputted.
In this way, queues at the Cashier's desk can be minimized, including reducing the risk that one of the total sales prices will occur. In addition, the Cashier's duties at the restaurant have also become more effective.
4. It's easy to make sales reports
When you input sales transactions at the cashier's desk to serve customers who want to make payments, all transaction processes will automatically be included in the sales report.
So at the end of the day, when the restaurant is closed, and you or the cashier needs to do a sales summary, all the data is available. All you have to do is match the existing data with the bit of money received.
This sales report is usually also integrated with financial statements. So you can see business profits or losses at any time, view sales data, and even see which types of food menus are the best sellers.
Want to make it easier, more effective, and more efficient to make Restaurant Business Bookkeeping & Financial Management? Just use the restaurant cashier software.
5. More Efficient Stock Tracking
Stock management is crucial in ensuring restaurant operations run smoothly. Keep the restaurant from selling out when you run out of raw materials. This is a loss.
That is why using restaurant cashier software with stock management features allows you to monitor and track food and beverage stocks.
So before running out of raw materials, you can rush to purchase from suppliers. Even now, restaurant software can provide notifications or warnings when stocks are running low.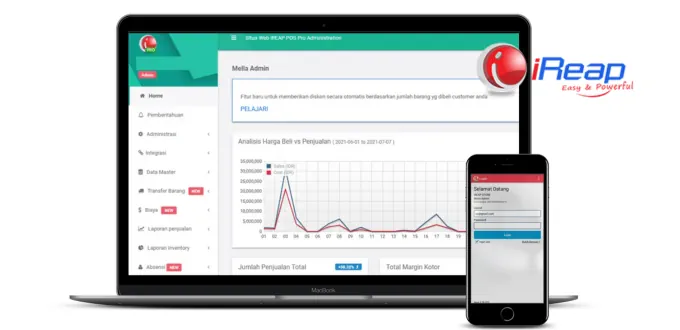 6. Making Stock Reports Easier
In addition to monitoring and managing inventory, usually in the cashier software, there is also a feature for making stock reports.
Having stock reports that are automatically available makes you no longer need to provide particular time to do stock-taking manually.
You can even use the time for other things, such as business development, improving the skills of restaurant employees, and so on.
7. Guaranteed Data Security
When using suitable software, you can set access permissions only for authorized users.
This way, customer data, such as contact details, order history, and comprehensive business data, will be more secure.
Remember, in today's business, competition is very tight. Don't let essential business data leak that causes you to lose customer trust or even suffer more significant losses.
Best Restaurant Cashier Software Recommendations
If you are looking for the best restaurant cashier software with a high level of security, then use the iReap POS cashier software, developed by PT Sterling Tulus Cemerlang, who is experienced in software and application development.
Apart from developing cashier software, an Android cashier application is also available. To try it for free, you click the banner below.