What are some examples of digital marketing? Some examples of digital marketing that you can apply to help with business promotion and marketing, including SEO, content marketing, social media marketing according to the target market, placing ads for SEM, and email marketing.
Come on, read this article to the end so you know the goals and how to apply each type of digital marketing.
Benefits of Implementing Digital Marketing
Digital marketing is an effective marketing strategy for promoting business in today's digital transformation era. Why?
Because implementing a digital marketing strategy that is right on target allows you to carry out promotions at a more economical cost and doesn't require a lot of salespeople.
In addition, digital marketing can effectively increase business growth faster. With a note, you implement several digital marketing strategies that are relevant and effective for your business.
You can read a full explanation of the benefits of digital marketing here: Benefits and Advantages of Using Digital Marketing.…
Digital Marketing: Examples, Goals, and How to Implement Them Effectively
1. Social Media Optimization (SEO)
Search Engine Optimization (SEO) is a type of digital marketing strategy by optimizing websites to get the best position in Google search results.
The purpose of implementing SEO on a business site is to make your site easy for your audience to find when they type certain keywords in a search engine.
For example: there are people who type in the keyword (keywords) "nearest roasted rice depot" in the Google search box. Then, when Google displays search results, and your business site appears on the first page.
If the site is in the top position of search results, then the site's chances of getting clicks are greater. Automatically can increase website traffic, as well as open up opportunities for sales transactions.
What needs to be done to be able to optimize a website using SEO techniques? There are two common SEO methods, namely on-page SEO and off-page SEO.
In on page SEO, optimization is done on the website itself. While on off page SEO, optimization is done from outside the website.
In addition to implementing on-page SEO and off-page SEO, you also need to analyze and evaluate the results of implementing SEO strategies. To facilitate the process, use various tools, such as Google Analytics, Google Search Console, Semrush, Ahrefs, and so on.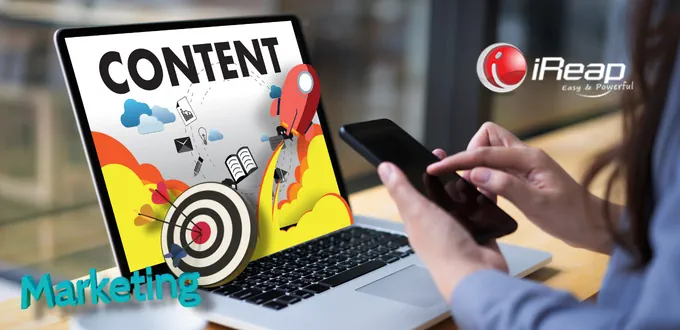 2. Content Marketing
Content marketing is a type of digital marketing strategy by creating and distributing quality content.
The hope is that your content can help consumers overcome the difficulties they face. With notes, content must also be made appropriate and relevant to your business.
This content creation aims to reach more consumers, both those who have never used your product and who have already, to connect with your brand. The hope is that consumers will become involved and associated with the business to increase brand awareness and brand image.
The purpose of creating this content is also to reach more consumers, both those who have never used your product and those who have, as well as to make it easier for consumers to connect with your brand.
When consumers feel comfortable interacting with your business, both from content, user experience on the site, and experience using business products and services, it can increase brand awareness and brand image.
The type of content used in content marketing can be in the form of articles, content for social media, images, photos, videos, and even infographics.
For example, your business product is sports equipment. So, you can provide content, such as light and easy exercise tips at home. Then, recommend sports equipment that can be used to exercise at home.
To support the successful implementation of a content marketing strategy, there are several things that you need to pay attention to:
Apply content marketing combined with SEO techniques. For example, use certain keywords to make your content more easily found in search engines.
Share content on various social media with captivating captions and CTA (Call to Action).
Create quality content that can arouse the emotional side of consumers so that the content will attract attention, and they may also share it in their networks.
3. Implementing Social Media Marketing according to the Target Market
You can apply social media marketing according to the target market in the following digital marketing strategy.
The trick you need to regularly upload inspirational content that can help consumers meet their needs to various social media platforms that suit your target market.
If the market you want to reach is millennials and the younger generation, then maximize using TikTok and Instagram.
Meanwhile, to reach professional consumers, you can use LinkedIn, for example. In addition, there are also social media platforms for novice internet users, such as Facebook, YouTube, Pinterest, and so on.
Implementing social media marketing does not only focus on increasing the number of followers, engagement, endorsement, and so on.
However, you must also build two-way interactions with followers to create positive relationships. Remember, consumers who are satisfied with your business services and have positive experiences with a brand will be happy to share their experiences on social media.
Two important factors determine the success of this type of digital marketing strategy in the form of social media marketing, namely:
A well-maintained interaction on social media, both in the form of discussion in the comments column, audience questions that you answer well, and the way you respond to criticism, suggestions, or customer dissatisfaction.
Regularly perform audience analysis through insights already available on the social media platforms you use.
Analyze competitors in the marketing process to find out what they are doing and their methods. But avoid following or duplicating the methods used by competitors.
4. Search Engine Marketing (SEM)
Search engine marketing or SEM is a type of digital marketing that focuses on promoting and marketing through major search engines, such as Google, Yahoo, and so on.
In its implementation, you need to have a website and a landing page for promoting and installing Google ads.
Well, in using Google ads, there are many advertising techniques that you should also learn. One of them is pay-per-click (PPC).
When you advertise here, your website will be in the first position in search results, accompanied by ad posts. Of course, this position can bring clicks and increase sales. In PPC advertising, you only pay if someone clicks on your ad.
5. Email Marketing
Email marketing is a digital marketing strategy done by regularly sending emails to customers.
The content of the email can be in the form of advertisements or promotions for the latest products, programs that benefit consumers, or just information and knowledge that is important for consumers to know.
The purpose of email marketing is to build a good relationship with consumers by providing helpful information, retaining existing customers, getting new customers, creating brand awareness, or promoting sales.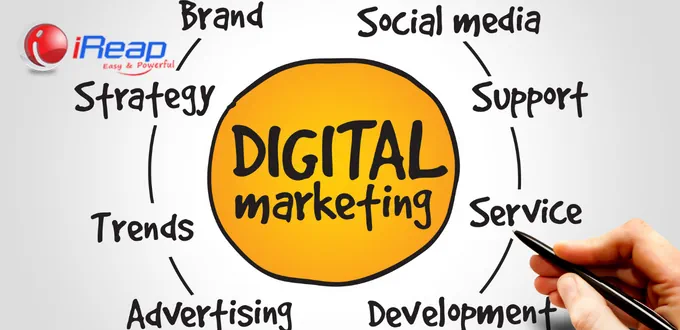 How to See the Effectiveness of Implemented Digital Marketing Strategies
Implementing any marketing strategy will be in vain if you don't want to take the time to analyze and evaluate the results of the strategy you implement.
To see whether or not your digital marketing strategy is effective, try using the following questions:
Which social media has the most audience engagement?
How do you gain insight into each piece of content?
What kind of content on websites and social media attracts the attention of consumers?
How is the increase in sales already happening?
Which strategy is most effective in creating sales?
How many users or consumers increase each month, and from which platforms do they find your business?
In addition to using the questions above, also analyze the sales report data that has occurred so far. To facilitate the sales report process, you can use a free cashier application, such as the iReap cashier application, which automatically generates a sales report every time a sales transaction occurs.
After that, decide which digital marketing strategy is the most effective for you to reuse in planning promotions and marketing in the future.
At the point of SEO discussion, there is little review of on-page and off-page SEO. Do you want to know how to do the optimization? If you want, read this article right away: How to Do On Page and Off Page SEO Optimization on a Business Site.
Then, to support the success of your digital marketing strategy, you also need to avoid some mistakes. Also check here as well: Digital Marketing Mistakes to Avoid.