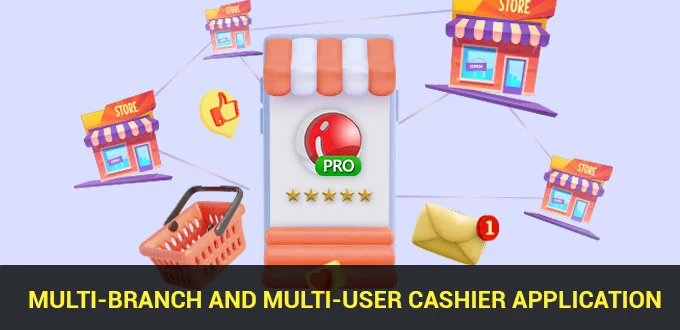 For those of you who run a business or have many branch stores, now is the time for you to consider using the iReap POS Pro multi-branch cashier application. Because by taking advantage of advances in internet technology, service at the cashier will be easier, faster, safer, and more comfortable.
By observing the development of an increasingly advanced world of technology, there is no doubt that store finance management will become more accessible through the presence of several cashier programs.
Now, there is the best multi-branch and multi-user cashier application, namely iREAP POS Pro or better known as the Point of Sales application. Many shop owners have long loved this store cashier application to facilitate them in running a business.

Benefits of Multi-Branch and Multi-User Cashier Application
Even though the iReap POS Pro app is trending and is widely used by shop owners and businesses, you should be able to know what benefits this app has to offer.
Here are some of the benefits of the cashier application for many branch stores from iReap POS Pro that you can see:
1. Can Monitor Cashier Transactions in Real-time
As a shop owner or other business that has many branches, it is essential that you can always be connected with the business you run.
This is where you will benefit from using this multi-branch and user cashier application that already uses cloud-based technology.
iReap POS Pro allows you always to be connected with multiple stores and can monitor sales transactions anywhere and anytime. The iReap POS Pro multi-branch cash register application also provides real-time reports without you having to go to the store directly.
2. Easy to Manage Stock
By using the iReap POS Pro multi-branch cashier application, you will also be able to manage the stock of goods, both in warehouses and branch stores. You no longer need to check items in multiple stores to ensure stock availability continuously.
If you want to know the supply of a specific item, you can type the item code into the application. Automatically, the iReap POS Pro cashier application will display the number of items still available in the many stores you have.
You'll soon be able to tell if the supply of certain items has started to run low so you can quickly add stock before they run out. That way, customers won't be disappointed when they visit your store to buy the items they need.
With the iReap Pos Pro store checkout app, you can also track whether the goods have been shipped from the sender's store, are on their way, or have been received by the receiving store.
3. Can Offline and Online Transactions
The iReap POS Pro multi-user store cashier application can be used in offline mode when storing staff input transactions.
This offline function is essential; when the cashier device is not connected to the internet, your business transactions can still occur without any interruption.
And when your internet connection is reconnected, the iReap POS Pro cashier application will immediately send offline transaction data previously stored on the device to the iReap server.
Also, offline mode is handy when your store staff wants to read reports that can be accessed offline.
The flow of Use of iReap POS Pro as a Multi-Branch and Multi-User Cashier Application
After you know the benefits of the iReap POS Pro cashier application, you also need to know how to use it.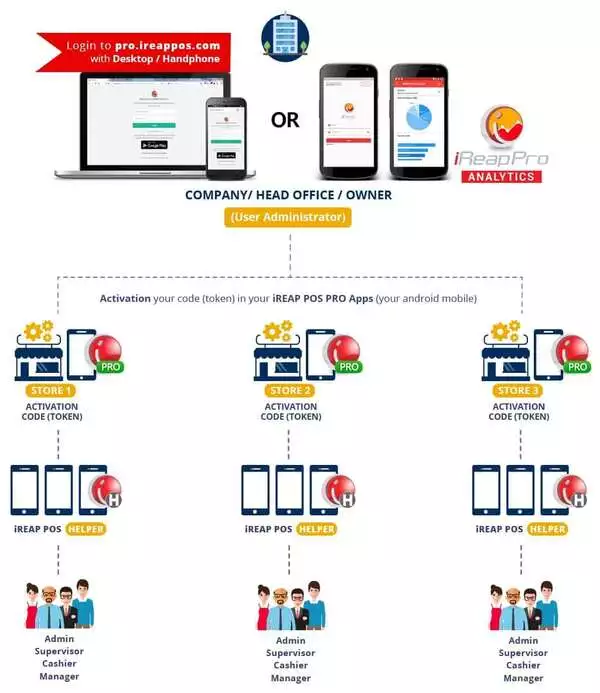 Based on the illustration above, the following explains the flow of using the cashier application for many stores and many users below.
This iReap POS Pro application can be used by many Administrator staff in one company/business/business.
Can be used in a company that has many Branch Stores.
Each Branch Store can use multiple devices (multi-device) with the iReap POS Pro application installed and must be activated with a token code to be able to connect to the Company (Head Office).
Every device/device in the branch store can be used by multi users with different access rights, for example: admin, manager, supervisor, cashier.
And each User can be given access to many Stores with different rights/functions.
To find out more clearly how to use this multi-branch and multi-user cashier application, you can visit the link to the iReap POS Pro concept of the relationship between companies, stores, devices, and users.
Use iReap POS Pro Cashier App to Manage Multiple Stores
For those who want to grow your business and increase profits, you can use the iReap POS Pro application. Many business and shop owners have used this app.
Only by using the multi-branch and multi-user iReap POS cashier application can you efficiently manage your business or branch store.
This application is equipped with various features that support your business and sales that can be tailored to your budget to subscribe.
So what are you waiting for? Get convenience in managing your multiple stores and sales by now subscribing to iReap POS Pro.