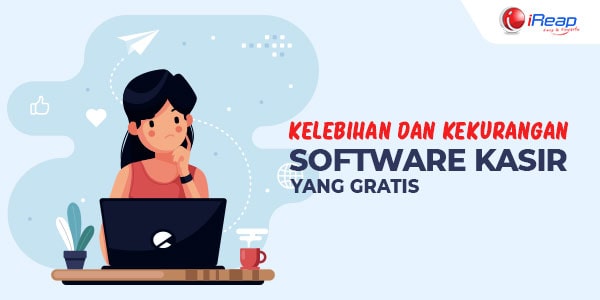 In the internet era now, many free version of the program and cashier software that can be used. This choice can certainly help many small entrepreneurs who do have limited capital.
This cash register software mostly uses a PC and has not used the online support feature. Even so, because it's free, of course, you can be freer to use it.

For those of you who are still hesitant to consider whether it is better to use this free software or use a paid online cashier program, let's first discuss the advantages and disadvantages of the following:
Advantages of Free Cashier Software
The first thing that will be discussed is the advantages of a free cashier program. Here are some of these advantages:
Free No Need Additional Fees

The price excess is certainly not in question anymore. This cash register program can be used without any capital.

Quite a lot of choices

There are more and more free cash register software providers. Most of these free programs are the product of shopkeepers who want to help other entrepreneurs get started more easily. This sharing has become a common thing if you visit foreign forums around programing or online shop business.

Many Tutorials Available

In addition to the many program choices available, article material and video tutorials are also many choices. This tutorial will be your tool for using the free cashier software.
Lack of Free Cashier Software
After discussing the advantages, now is the time to discuss the disadvantages of this type of cash register software. The following is the discussion:
No Support Provided

The use of free full version cashier software is usually not accompanied by support services. This will certainly be burdensome if you encounter a problem. Usually the users of this free cashier program, can only complain to the forums or tutorials that are available.

This is certainly different from the subscription service. Paid online cashier applications will provide support as long as you pay. So when there are problems with the cashier program, this can be resolved quickly with the service provider.

Most have complex settings

Most PC cashier programs have complex initial settings. Things like entering the item code, data storage, display requirements, data processing etc. can be more difficult than online cashier software that is currently popular.

Although many tutorials are available, you still have to learn more to master the use of the settings of this free cashier software.

Must Provide More Space

Because using a PC, of ​​course, the place users will be more extensive. In this modern era, the choice to use online cash register , making place requirements no longer a problem. If you compare the cash register application that can be obtained from Android, of course, the economical comparison of the place is far.
That is all information about the advantages and disadvantages of a free, full version cashier software. Hopefully, this discussion can be an additional insight for you. Thank you for reading this article!