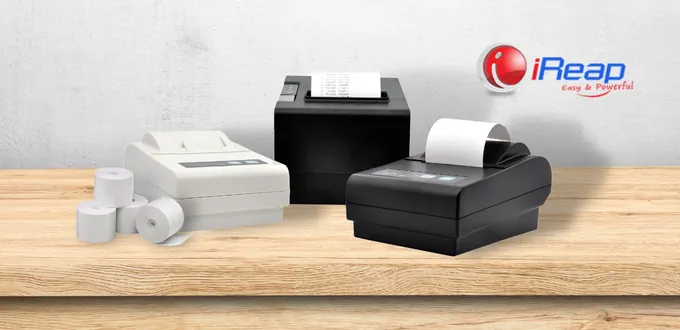 A printer is a tool for printing transaction receipts that can facilitate business operations, payments, and the buying and selling process. Currently, many types of printers are suitable to support business, one of which is a thermal printer.
What is a thermal printer, what kinds of thermal printers, and what are their uses? Find out in this article.
What is a Thermal Printer?
Thermal printers utilize heat energy during printing, so they do not require ink cartridges or ribbons like dot-matrix printers.
This makes the thermal printer's size smaller and lighter; some are even the size of an adult's hand. Even so, the print quality is equivalent to a dot-matrix printer.
It works similarly to a fax machine (using a print pin head containing an electronic heater). This makes the maintenance of thermal printer devices easier.
You only need to clean the print pin heads regularly, at least every 3-4 months, to minimize damage and keep the prints clear.
Paper Types and How Paper Works for Thermal Printers
For a thermal printer to print text, you need special paper. Generally, paper for thermal printers has 2 width sizes, 58mm and 80mm, with different lengths.
But there is also a size of 57mm. Here are some types of sizes and brands of thermal printers that you can use:
Sano Thermal Paper Roll has sizes: 58x37mm, 58x50mm, 80x60mm, and 80x80mm.
Blueprint Thermal Paper with a choice of sizes: 57x30mm, 57x37mm, 57x40mm, 57x47mm, 57x50mm, 80x40mm, 80x47mm, and 80x80mm.
Golden Thermal Paper 80x80mm.
How does paper for thermal printers work? Thermal paper has a glossy texture on the outside. This part contains chemicals.
When the outermost piece of the paper touches the heating component on the print pinhead, the amount exposed to heat will produce text and images.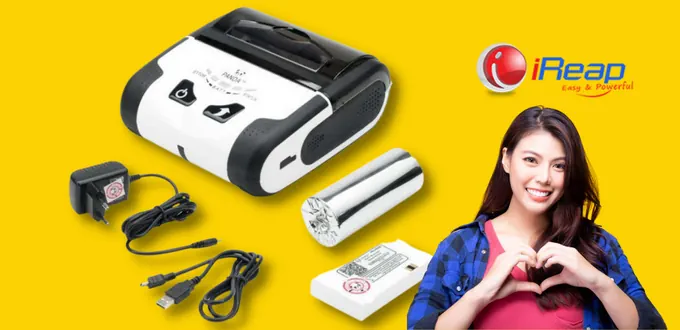 Use of Thermal Printers for Business
Not only to print proof of payment or purchase transactions. You can use a thermal printer to print receipts or proof of sales, airline tickets, print queue numbers, parking tickets, doctor's prescriptions, payment receipts at gas stations, barcode labels, and more.
The Advantages of Using a Thermal Printer
Thermal printers have many advantages, such as:..
Does not require ink to print, so it is more efficient when used.
It doesn't make any noise because it doesn't use a tapping system (no tape).
Printing multiple documents is faster than other types of printers.
More user friendly because there are only a few buttons to operate it.
Available in many sizes and models at an affordable price.
More durable and easier to maintain than dot matrix printers and printers that require refilling ink.
How to Use a Bluetooth Thermal Printer
To use a Bluetooth thermal printer, you can follow these steps:
Open the store cashier application you are using, for example, the iReap POS cashier application.
Login or login using your username and password.
Select system settings on the main page.
Scroll down until you find the printer model menu.
Select the printer model you will use. For example, SmartPOS Z91.
After selecting, you will receive a special notification on the smartphone screen. For example, "This model can print logo. Set in settings – >> Select Logo".
Press ok to continue.
Then click the Bluetooth printer name and press ok.
After completing all the steps, you can scroll down to check the "print logo" menu.
Scroll down to find the select logo menu (add logo). For the logo to print properly, make sure the size is 360px.
If the above settings have been made, you can re-record transactions using the iReap POS cashier application.
Later, the screen will display a list of previous sales or returns. Then the cash register or thermal printer will print proof of payment along with the logo you have set.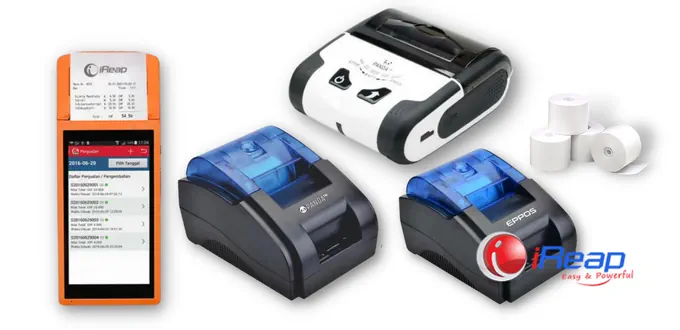 Recommended Thermal Printers for Store Cashier Applications
Here are 10 recommendations for good quality Bluetooth thermal printers at affordable prices:
1. Panda PRJ-58D Bluetooth Printer
The price of the Panda PRJ-58D printer is Rp. 300,000 – This thermal printer can use 58mm paper. It's easy to use.
You do not connect it to an android smartphone via Bluetooth or use a computer with a windows operating system (using a USB cable). The Panda PRJ-58D Bluetooth Printer also has an RJ11 plug into the cash drawer.
2. Printer Panda PRJ-58B
You can get the Panda PRJ-58B Bluetooth printer for less than Rp. 400,000 – This printer will make it easier for you to print sales and purchase receipts on 58mm paper.
Available connections can be via Bluetooth on Android and iOS smartphones and USB cables (laptops/computers with windows operating system). This portable thermal printer is also equipped with a rechargeable battery.
3. Printer Panda PRJ-R80B
The Panda PRJ-R80B printer is suitable for those who want to print on 88mm paper. It can be connected to Android and iOS smartphones via Bluetooth and printed via a computer/laptop with the help of a USB cable. Easy to move because it is equipped with a battery charger. The price ranges from IDR 750,000 to IDR 800,000.
4. Printer Panda PRJ-80AT-BT
The Panda PRJ-80AT-BT printer can connect smartphones via Bluetooth and PCs with windows or Linux operating systems via a USB cable. You can print on 80mm paper. The price ranges from IDR 900,000 to IDR 1,000,000.
5. BellaV Z80 Printer
Bella Z80 printer (supports customized logo) is useful for printing with 80mm paper size. It is equipped with a battery charger so that it is easy to carry anywhere, especially if the location of the outlets is moving, for example, in the food truck business.
You can recharge the battery using a power bank and a smartphone data cable. Support for Bluetooth connection and USB cable. The price is approximate Rp. 800,000, -.
6. BellaV Z58 Printer
The BellaV Z58 printer (support customize logo) can print receipts with a paper size of 58mm. For less than IDR 500,000, you can print via smartphones (android and iOS via bluetooth connection) and PC (using USB cable). The BellaV Z58 printer is also portable (equipped with a rechargeable battery).
7. BellaV SZZCS Printer
The BellaV SZZCS (support customize logo) printer can print on 57mm paper. Can be used on Android and iOS smartphones (bluetooth connection) and Windows operating system PCs (using a USB cable).
This type is also portable because it is equipped with a battery charger. The price is between IDR 700,000 to IDR 800,000.
8. Gowell Eppos RPP02 Printer + Cash Drawer
The Gowell Eppos RPP02 + Cash Drawer printer is a thermal printer that costs less than Rp. 600,000, – The paper that is suitable for this printer is 58mm in size.
Can be used on smartphones and PCs because it provides a bluetooth connection and a USB cable. By using an RJ11 cable, you can also connect the printer to the cash drawer.
9. Bluebamboo P25 Printer
You can have the Bluebamboo P25 printer for under Rp. 750.000,-. You can print on 58mm paper via smartphone and PC.
This printer is also portable, you don't have to always be connected to a power source because it is equipped with a battery.
10. Printer Enibit JZ-SPT12BT
You can use this Enibit JZ-SPT12BT printer for Rp. 800,000, – to print on 58mm paper. You can take it everywhere because it is equipped with a battery charger.
In addition to using it via a smartphone connected to bluetooth. You can also print from a PC using a USB cable.
That's an explanation of what a thermal printer is, its types, and its uses to support your business. Choosing a thermal printer as a means of printing payment receipts is certainly more profitable because it is easier to maintain. In addition to thermal printers, there is another thing called a portable printer. Read on, Portable Bluetooth Printer: Benefits and Uses for Business Operations.