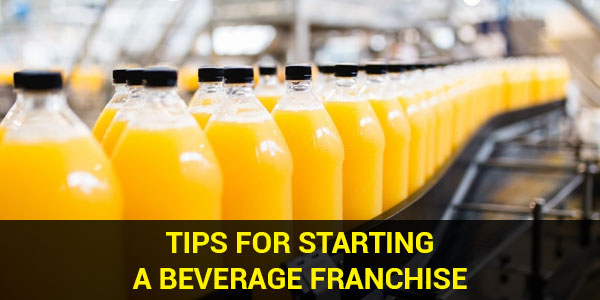 Along with food, the beverage franchise is expected to continue to grow in the next few years. Especially now that creativity in creating attractive, tasty, and inexpensive drinks has become easier to do. So, those of you who learn to manage a business will not find many big difficulties.
Not only that, Franchising is a beginner-friendly type of business on a limited budget. However, you also have to be careful before developing it to reduce the risk by following a few tips.

Franchise Starting Tips
1. Studying Franchisor Profiles
As a business right grantor, the franchisor you choose must have a good and trusted reputation. Beginners are advised to choose a franchisor who is experienced in managing beverage franchises to avoid uncertainty. However, if you are interested in the types of drinks from the new franchisor and feel that their profile is clean, it never hurts to cooperate.
2. Designing Funding for Business
Each franchise business has different funding. However, the level of quantity issued must always be proportional to the excess. Those of you who will manage a beverage franchise will usually be given recipes and equipment to help with processing. However, you also need to prepare additional funds for sudden needs.
3. Build an Adequate Operating System
The operational system is a core part of running a franchise. Important things that you should pay attention to in this system are staffing, finances, and other strategies for developing a business. A number of franchisors often provide training for new franchisees so that you are trained to handle the operational system.
4. Develop a Marketing Strategy
Even though the franchisor will share a long-applied marketing strategy, you as a colleague must prepare your own plan. For example, by creating an account on social media specifically in the location where you sell. This step makes it easier for target consumers to order or monitor updates about the latest drink menu.
5. Do Business Carefully
Have you found the right franchisor and type of drink, what other steps should you take? Run a business painstakingly and as seriously as any other business. You may have an advantage in terms of equipment, initial capital, to the target market. However, there is tough competition that must be faced due to the rise of beverage franchises in circulation.

Type of Potential Beverage Franchise to be a Franchise
Still need a drink recommendation that is right for a franchise product? Here are four types of drinks you can consider!
1. Boba drink
Until now, the popularity of boba doesn't seem to have decreased. Its affordable price with an increasingly diverse menu makes this drink a guarantee for beginners who want to get big profits quickly. You can sell standard boba which uses brown sugar or brown sugar. There is also boba which has used various ingredients such as pieces of fruit.
2. Drink Coffee Milk Literan
Like boba, coffee milk is also predicted to still sell well in the market. Uniquely, people have started eyeing literan milk coffee which is priced cheaper and more practical during the pandemic. Franchisors who used to only sell coffee with milk in cup or glass concept used this opportunity. You can also add other flavors so that consumers can choose literan coffee to taste.
3. Cold Pressed Juice Drink
Cold pressed juice franchises are quite costly, as the blender is different from the usual one. However, you won't be looking for consumers for long, because the target market for these drinks comes from various groups. Call it children, adolescents, to adults. Cold pressed juice also not only offers freshness, but also healthy benefits for your body.
4. Peach Gum Drink
Finally, there is peach gum, which is increasingly sought after during a pandemic to maintain health. This drink is made from peach tree sap which produces a natural sweetness, so you don't need to add sugar. A number of benefits that you will feel after consuming peach gum are increasing endurance, lowering cholesterol levels, and reducing the risk of serious diseases such as diabetes.
Those are the tips for starting a beverage franchise business along with product recommendations that you can sell. Congratulations on developing the business until you reach your targeted goals carefully!