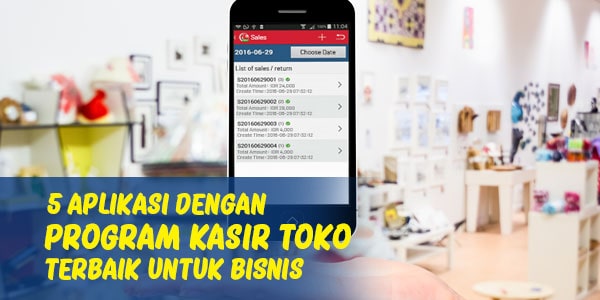 The store cashier program has various benefits to support business development. Both large and small businesses, this program can simplify overall business operations. There are various application options available for you out there and each has its own advantages.
This article will present tips on choosing the best cashier program for your store as well as 5 recommendations of the most popular store cashier applications today among retail entrepreneurs.
Read also: Entrepreneurs must have a free stock of goods and sales application, this is it !!
Why Use the Shop Cashier Program?
The application with the online cashier program not only makes it easier for you to carry out the transaction process with consumers but also better control the business. You will be greatly helped by the features offered.
With many choices of applications available, shop cashier software prices are also more competitive. Therefore, you will still be able to buy this type of application even though you only have a limited budget to run a business.
Tips for Choosing the Best Application
At present, there are many sites that are selling online store applications which you can find on the internet. If you are still confused about which application to choose, here are simple tips to help you make your choice.
Understand the Programs Offered
When choosing the best cashier application for your store, make sure you find out about the programs offered first. You can do a little research to find out about cashier programs available in Indonesia.Besides the name cashier program full version , you also need to find out how to use these programs. Make sure you choose the program that best suits your business as well as the easiest to operate.
Application Price
The second thing you should consider is the budget. Currently, the price of minimarket cashier software and store cashier applications varies greatly, depending on the performance and features offered.Make sure you choose a program that suits the available budget, especially if you have just started a business. However, you must remember that even though the price is cheap, the program must still have specifications.
Application Features
The application features are the following that you should pay attention to when choosing software for the store cashier. This is one of the most important key factors because features are a core element of all online cashier applications. Make sure the features available are suitable for your business needs.In addition to basic features such as buying and selling features, it is better if the application you choose also has other interesting supporting programs. With various combinations of existing features, the application used will also provide maximum results.
Accurate, Fast and Efficient
It's important to choose a store cashier application that is truly reliable. Therefore it is very important for you to choose programs with fast, efficient, and accurate performance.
In addition, the selected application must be of good quality and can be used for a long time.

Easy to Contact Service Provider
Service providers that are easy to contact are one important factor. Make sure the developer you choose can be contacted 24/7. It is important to be on the guard if at any time there is damage to the application and requires immediate repair.
Download the best cashier program for businesses with your Android smartphone via the button below.
5 Application Options to Support Your Business
If you are looking for the best store cashier program to support business development, here are 5 application options you can consider.
1. iReap POS
iReap POS offers various facilities for entrepreneurs to run a business with better management and services. The features provided will make the payment process easier, faster, and more convenient.
Not only that, but the online cashier program at iReap POS also makes it easy for you to record all things related to the store, including tracking transactions, checking the availability of goods both in warehouses and sales racks, the listing price of goods, providing real-time reports, and more.
With the price of an affordable sales application , you can apply this cash register program to develop your small business.

2. Moka POS
Moka POS is a store cashier application that will make it easier for you to run a business. With the Point of Sale feature offered, this application will help you make payment records neatly. Not only that, but the sales process will also be simpler and the transaction process can be run more efficiently. Starting from the minimarket cashier program until workshop cashier program , you will be able to find all the features you need in this application.
One of them is the Moka Payment feature which will speed up tracking incoming and outgoing payments. At present, Moka POS has partnered with more than 30,000 entrepreneurs in Indonesia, making it one of the most widely used applications by local entrepreneurs.
3. Pawoon
Pawoon is one of the most popular store cashier applications in Indonesia today. You can find various interesting features that will make your business management more organized and neat. Pawoon promises a transaction process that is easier, faster, and safer for business people. Not only with cash, but your customers can also make a digital payment system using this application.
Thus, consumers will be able to make transactions more comfortably and quickly. As a result, the level of customer satisfaction with your store's services will also be increased. If you want to know the performance of Pawoon, this application provides cashier software free download for anyone who wants to try the features provided.
4. Olsera
Another store cashier application that you can consider is Olsera. The online cashier program provided by this application will be suitable for various businesses, including retail stores, self-service cashier program , minimarket, laundry, restaurant, cafe, and others. The Olsera application also allows you to sell products or services directly in stores or online.
This will be very useful especially if you are just starting a business and don't have a separate store building. Olsera is also a cloud based application that allows you to monitor your business anytime, anywhere. By using the store cashier application from Olsera, all types of transactions, data on availability, turnover of goods, and other data can be managed more easily.
5. neTurmeric
neTurmeric offers the best ERP solutions for a variety of businesses, large, medium and small. This application comes with a variety of useful features that allow you to do business management autopilot anytime and from anywhere.
Data stored in the application is also fully integrated and can be presented in real-time. With fast access to all business data, you will also be easier to make business decisions correctly. With various facilities provided, neTurmenic is currently one of the applications that offer the best store cashier program in Indonesia.
Thus the best cashier application that can support your business, if you want to know what are the advantages of using an advanced android cash register then please visit this related article The Advantages of Using an Advanced Cashier Machine for Android