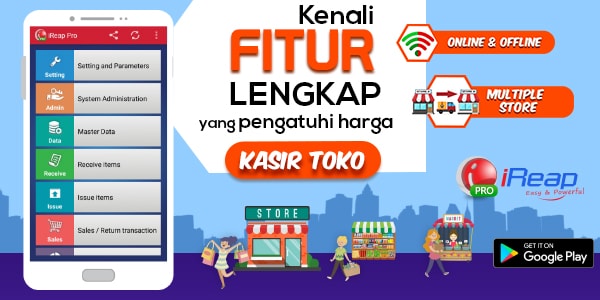 Shop cashier software prices are quite diverse. This is generally influenced by a variety of features it has. The more complete the features of the application, the higher the price it offers.
If you intend to buy the software to maintain the financial system of the business that you are doing so that it can run better, then make sure to choose software that has several features at the bottom, so that its use can be done more optimally.
Full features in store cashier software
For those of you who want to know what features are required to have software from the store cashier application, then consider the following brief explanation:
Sales report and analysis

The first feature you should pay attention to is the presence of reports and analytical forms of sales which can certainly allow you to find out sales data, then analyze them more accurately. This feature can also give you real-time snapshots of the store performance that you have in the form of metric reports.

Inventory management

The next part that you should also consider from the features in store cashier program is the existence of inventory management. With this feature, you can find out more precisely how much stock you have. Whether it's stock items in stores or even goods in warehouses.

Customer management

The next feature is customer management. With this feature, you can find out how your sales history is and find out who your customers are. In other words, you can find out who and how many loyal customers you have, the number of resellers to the whole buyer.

Point of sale

Point of sale is the point of the sales process carried out where the customer will make payments for goods or services received by him. This one feature is an important part because it relates to the payment system, that's why the price of the store cashier software with this one feature comes with a higher amount.

E-commerce

E-commerce is known as one of the features for conducting transactions from online businesses. That's why for those of you who want to start an online business, the use of e-commerce has become the most appropriate part.

Talking about e-commerce, this can also be done by young entrepreneurs by creating an official website for their online store.

But besides that, you can also take advantage of the use of shopping carts or even e-commerce solutions. Because as you know, e-commerce has become one of the shopping styles of today which certainly can attract the interests of customers more easily and quickly.
Thus presumably a brief explanation related to some features that can affect the price of store cashier software. And download the store cashier application via the button below.