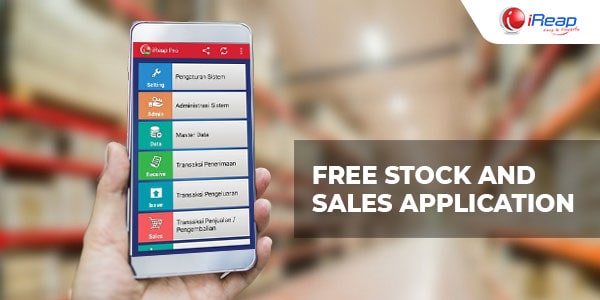 Managing stock items in a store is not as easy as you imagine, but with the stock Android application, everything seems more practical and easier to run.
For this reason, for those of you who have a business selling goods such as retail businesses, online stores, then using this application is a must for you to have.
Judging from the same benefits as an online cash register, the existence of an application that can be used to calculate warehouse stock is indeed very useful.
This free stock application is useful for controlling the receipt and release of goods owned by the company you own.
Read also: Price sales application that can be used for goods database and income statement
Tips for Choosing the Best Android Stock Application
Currently, there are indeed many similar applications that you can find on the internet or are provided by a company.
So that you can choose the right application, we have some tips that can help you to choose a trusted and experienced free stock and sale application. Just take a look at the reviews below.
Choose some apps from trusted companies

The first tip that you can use is to collect several similar applications from trusted companies. This is very important as a comparison for yourself.

You should also find out how long the company has been established in Indonesia and how many clients it has served.

Complete features

Also, find out what features are offered by the application you choose and also make sure that the stock-taking application has a storage feature to excel.

Don't just stick with the appearance of attractive design, but make sure that the application also provides a complete sales report.

Easy to use

Another consideration is to make sure if the program makes it easy for you to use it.

This is not without reason because not all stock and sales applications have a friendly interface. Even more so if you are a beginner.

Providers are easy to contact

The final consideration is to make sure that the provider is easy to contact. This is not without reason because some programs often experience damage, right?

This is why in choosing a stock application, you must choose a provider that is easy for you to contact. Make sure if they give a quick response to the complaints you have.
Use the iREAP POS application
For those of you who are currently confused about choosing this application, you don't need to worry because we have a recommendation for an Android stock application that is perfect for you, namely the IREAP POS application.
This is an application that is ideal for your warehouse, retail store or online store.
Also read: 5 Best Point of Sale system for Retailer
There are several advantages why you are obliged to use this one stock application, including the following.
Full features for free

When you are looking for an application that is able to control incoming and outgoing goods, then you are obliged to choose this one application.

Because this application has quite complete features, including the feature of recording sales, expenses, stocks, profits and formulas for restaurant owners. All these features are free for you to access anytime and anywhere.

Simple Display and Easy to Use

You also don't need to worry about using this one application, because this application has a design that is quite easy to use, simple so you don't need to ask anyone for help.
Having a company that is engaged in the sale of an item is not easy. Moreover, there will be many transactions that occur in it, right?

Whether your business is big or small, the use of stock and sales applications will indeed make it easier for you to run the business you have.
This is not without reason because without this free stock taking application, you will find it difficult to manage your business.
You need to remember in choosing an application, you must be careful and selective. Make sure you choose the right application so that it will make it easier for your business.
Well, for those of you who are still confused about finding a free stock android application, you don't need to worry because, with iREAP POS, you can get the best application that has several advantages for your business, including complete features to providers that are easy for you to contact. Immediately take advantage of this one application.