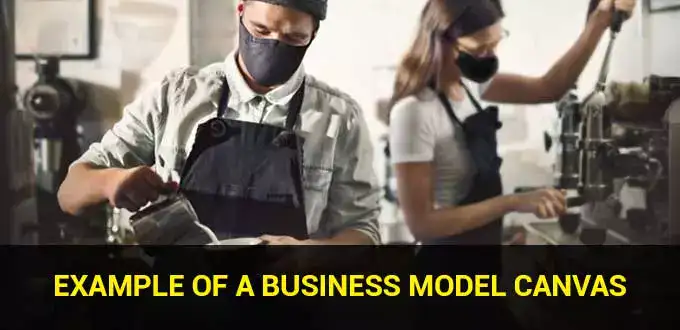 Business Model Canvas (BMC) is a method tool for mapping overall business strategy. Why is the Canvas Model Business becoming famous and currently very widely used by companies, especially start-ups, and even large companies?
The reason BMC is now widely used because very easy but complete. Company strategies that usually seem complicated, now simplify that required only one page. More details about what is a Business Model Canvas? And 9 Building Blocks of Business Model Canvas
After we understand each of the components/building blocks contained in the Business Model Canvas. To better understand, we will learn how to apply it as an example to the "Sedhep" coffee shop business. With the growing need for a good coffee shop and a comfortable place, we plan to enjoy the benefits of this business as well, but before starting it is important to look at the business strategy of "Sedhep" Coffee Shop.
The following is the application of the Business Model Canvas for the "Sedhep" Coffee Shop:
1. Customer Segment
To start a business, the most important thing is to get customers or consumers. Without customers, there is no business. Many business people make this mistake, they start a business without specifying who their customers will be.
Ask who your customer is?, then the answer we often get is "Everyone because my product is suitable and can be used by everyone". It is not wrong if your answer is because you are a positive person, and passionate about doing business. But in reality, there is no single product that everyone likes.
The customer who fits the "Sedhep" coffee shop, which as the name implies, wants to emphasize the traditional, and simple impression. The company targets two consumer segments:
Retail Customers: Men and Women aged 30 – 55, middle class and fans of coffee and traditional food, have an income of 5-15 million IDR per month.
Corporate Customers: Small & Medium Enterprises, for providers at office events.
2. Value Proposition
Value Proposition is an advantage that the "Sedhep" coffee shop has so that customers remember it and is a factor that differentiates your business from competitors.
"Sedhep" coffee shop provides a variety of traditional coffees from various regions in Indonesia, to provide various choices for customers.
Apart from coffee, it provides a selection of traditional snacks from various regions.
All coffee and snacks, in collaboration with suppliers that use ingredients that are environmentally friendly and without preservatives.
3. Channel
The distribution channel used to reach "Sedhep" coffee shop customers are:
"Sedhep" Coffee Shop, customers can enjoy coffee and snacks on site.
Corporate customers with special orders for office events.
By determining the customer segment, you will easily determine the distribution channels, as well as with marketing and promotional activities.
4. Customer Relationship
The "Sedhep" coffee shop wants to turn customers into loyal customers and is targeting repeat purchases. You want to keep your subscribers 2-4 times a month. For that, we will provide a membership reward, so that every purchase of 5 cups of coffee, get 1 cup of Free.
Apart from that, there are also snack promotions of different types every month, to reintroduce Indonesian snacks.
5. Revenue Streams
Main income of "Sedhep" coffee shop is from the sale of various traditional coffee drinks which is a major strength.
Additional income from selling snacks.
Other income from sales of coffee powder.
Future business development using franchising business model.
6. Key Resources
In running the business the most important resource for the coffee shop "Sedhep"
The place of business or location will determine the success of the business.
Skilled human resources, especially the shop service team that directly serves customers
7. Key Activities
Providing delicious and quality coffee and snack, the importance of paying attention to product quality. Especially snacks that are not selling well and are not fresh should be removed immediately.
Providing good, friendly, and informative service about the product.
8. Key Partners
Coffee suppliers from various regions who are coffee farmers, therefore, need to build relationships with farmers to understand their conditions and their sustainability.
Supplier of snack snacks.
9. Cost Structure
Many beginner entrepreneurs, do not carefully calculate the costs arising from the business, only calculate income, then the cost of raw material goods for daily operations, so that when the business is running the entrepreneur is confused about why your business looks busy but is not profitable.
The following is the fee structure for the "Sedhep" coffee shop:
Raw Material Coffee and others.
Shop preparation costs: cups, cups, plates, spoons, coffee machines, cash registers, and others.
Employee costs.
Other Costs: Electricity, Water, Gas.
Cost of shop renovations and repairs.
The cost of renting a shop, a thing that must be taken into account because it is quite substantial, even though when running the shop at first it is in Your own location.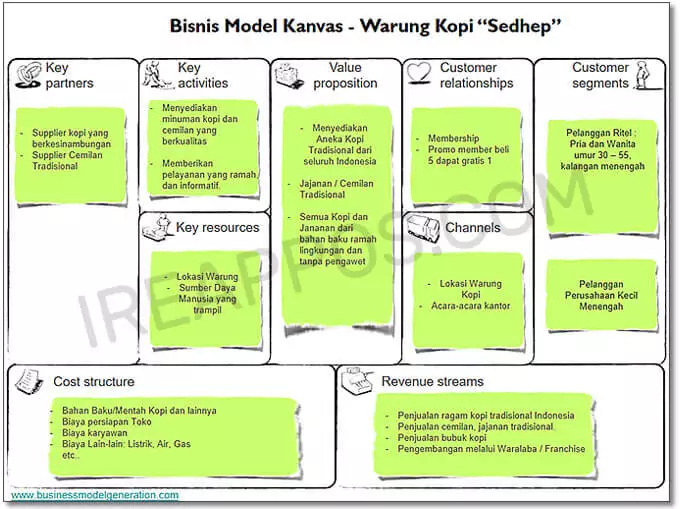 This is an example of applying the Business Model Canvas, to the "Sedhep" coffee shop, by writing and thinking about the 9 building blocks in the Business Canvas Model. You as an entrepreneur will be able to work better, before a business operates, during operations for supervision, and future business development.
The IREAP Point Of Sale (POS) cashier application makes it easy for you to manage your coffee shop or shops in various locations.Automatically calculates raw material usage in quantity and cost of goods sold. So you can immediately get information on your profit per item. IREAP Point of Sale (POS) also makes it easy to record costs incurred in the store to help you monitor stores performance..