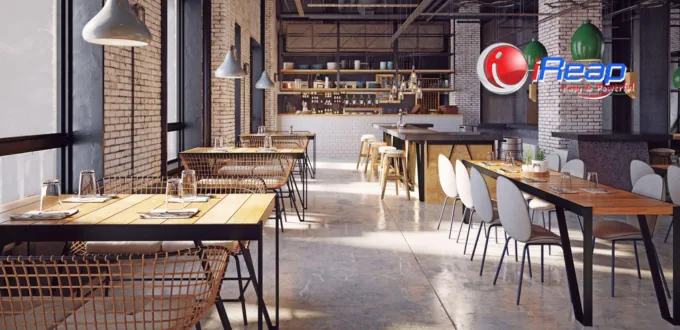 If you want the coffee shop crowded with visitors, try creating a unique and attractive outdoor and indoor coffee shop design. Because quite a lot of visitors like to visit coffee shops that have unique and Instagram-able room designs.
They are no longer just enjoying good coffee but also looking for a comfortable atmosphere to relieve their stress. Are you looking for a simple outdoor and indoor coffee shop design that is unique and can bring in more visitors? Check the tips here; come on
Things You Need to Consider Before Choosing a Unique Outdoor and Indoor Simple Coffee Shop Design
Most people visit coffee shops not only to enjoy coffee but to gather with friends, socialize, and build networks, and it has even become a lifestyle for modern society.
That's why, when they decide to visit a coffee shop, they don't only consider the flavours of coffee they will get but also look at the unique, fun, and cute outdoor and indoor coffee shop designs when taking photos to upload to social media.
If you plan to make an attractive coffee shop design so that more visitors come to your coffee shop, then pay attention to the following things:
1. Determine the Placement of the Room Area
The placement of the room is one of the main things you need to consider. Is there an outdoor space, is it only indoor, or do you want to provide both?
If you want to provide outdoor space, choose a garden concept that is shady, beautiful, and makes people feel at home sitting there.
Meanwhile, when determining an indoor space, an attractive layout is complete with a choice of furniture matching the room concept you have previously determined. The room colours and furniture should match and not be too clashing.
2. Determine the Design Theme
Usually, the design theme is determined early, but if you still need to determine it, this is the time to choose and determine the room design theme you want to use.
You can choose from many room design concepts, for example, natural nuances, a modern style, and so on.
The choice of coffee shop theme should also be adjusted to the target market. You can use a contemporary, modern theme to reach more young people.
Meanwhile, if you want to reach the professional market, make sure the theme, selection of furniture, and even the facilities in the room must also appropriate and support professionals to come to your shop.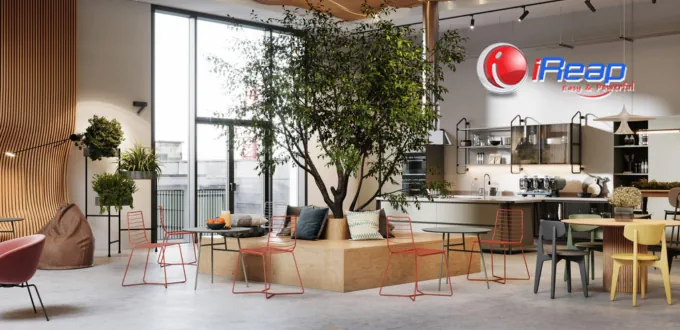 3. Use Furniture that Matches the Theme
Making the room decoration concept incomplete doesn't add furniture with the same theme. Apart from furniture, you can also complete it with additional decorations, such as paintings, wall colours matching the theme, etc. This can make your coffee shop room more attractive.
In choosing furniture, don't just match the concept of the decoration theme but also consider its quality. Considering that the coffee shop business can last a long time, we hope your furniture will last a long time.
4. Make sure the room has sufficient lighting
Room lighting is the most important factor for coffee shop visitors. Even more so if the decoration theme you choose is contemporary and modern.
When in a coffee shop with an aesthetic room atmosphere, many visitors like to take pictures, and then upload their photos to social media.
Bright and clear photo appearance due to sufficient room lighting makes photos on social media good. Finally, other social media users who see the photo are also interested in visiting your coffee shop.
Unique Outdoor and Indoor Simple Coffee Shop Design with Wall Painting
Painting with wall media is nothing new. Many murals have a high aesthetic value, considering the complex painting process. There are many challenges when painting on walls. Besides requiring adequate equipment, your creativity will be tested when painting with wall media.
If you want the coffee shop to have a unique concept and room atmosphere, try applying a mural in your coffee shop instead of using wallpaper. You can follow these steps:
1. Clean Wall
First, clean the wall's surface of various dirt and dust that sticks. Then you can wash the walls using warm water mixed with detergent. Wipe this liquid evenly using a sponge onto the wall and wait for it to dry.
2. Prepare the Painting Canvas
Place a sheet of canvas on the floor as a base so that it gets dirty from splashes of paint during the painting process on the walls. Make sure the sheet of canvas covers the entire floor. To keep it safe, put adhesive on the width of the canvas so it doesn't move. Also, cover the electrical outlet by sticking adhesive tape over it.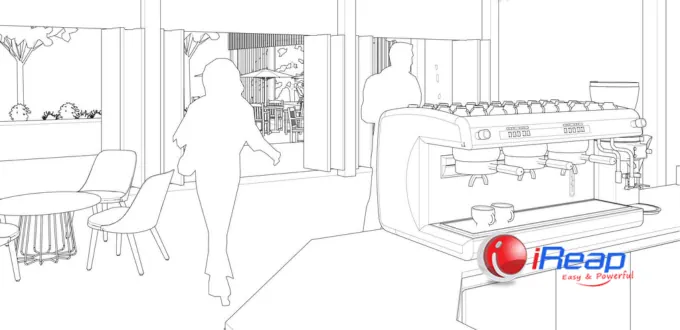 3. Start Drawing Sketch
The subsequent preparation is to start drawing sketches on the wall. You can use a pencil first so that if something goes wrong, you can still erase it with a rubber eraser. Most importantly, you already know ​​what kind of sketch you want to make, so the drawing process can be done faster.
4. Prepare Equipment
If you have sketched on the wall, start preparing the paint and brush for painting. Make sure all the equipment for painting needs you have adequately prepared. This is done so you can easily find equipment during the painting process.
5. Start Painting
After all the preparations are complete, you can start to paint. Start by painting objects from the sketch that you previously made using a small brush. Then, proceed with colouring.
Make sure when painting the atmosphere in the coffee shop is quiet, even better if the process of designing the walls of the shop space is done when the business is closed for a particular time.
Making a good design concept for the coffee business you run is important because the room's design is one of the attractions for visitors to come to your coffee shop more often. Not only enjoying coffee but also enjoying the pleasant atmosphere of the shop and making you feel at home.
If you need recommendations for outdoor coffee shop designs, here are some Instagramable outdoor cafe concepts.