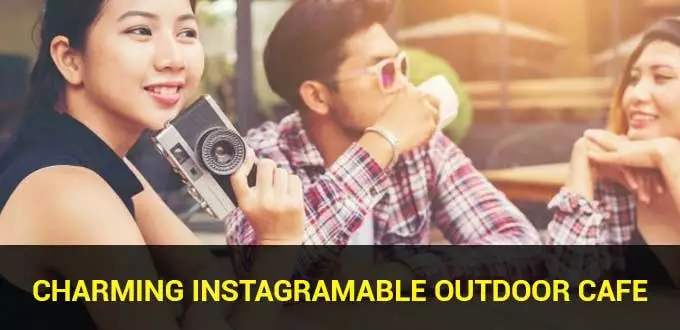 Recently, the existence of an instagramable outdoor cafe has become a trend in the culinary business, which is now a favorite among young people. Not a few unique cafes have sprung up that make you curious to come. Even some of these cafes have different outdoor designs from others.
Of course, this trend can be an inspiration in building promising business opportunities. The number of themes that can be carried for the manufacture of the cafe. There are several nearby outdoor cafe design concepts that can be used for your business.
The Instagramable Outdoor Cafe Concept
Along with the development of the times, Instagramable outdoor cafes are getting more and more fans. In addition to a unique place that is suitable for taking pictures, the atmosphere is also different because the place is outdoors. For those of you who want to open an outdoor cafe, here are the concepts that are ready to be copied.
1. Instagramable Outdoor Cafe Design With Light Decoration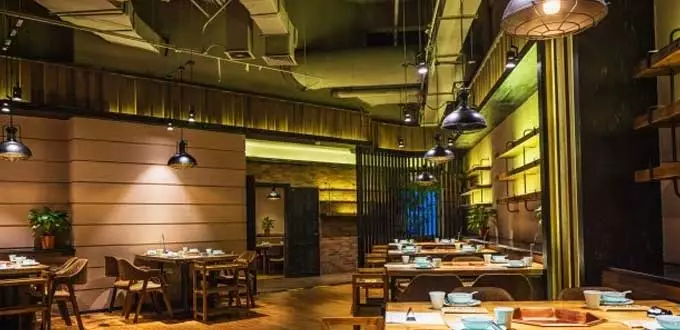 Including a simple concept but looks romantic. The presence of dim yellow lights at night will give a unique touch, especially by using long tables and benches. So the place looks classic.
As for the floor, just let it use the original floor or soil. You can also add rocks as a complement so that it looks sweet. The presence of a gazebo in the corner of the room will add to the beauty of the cafe.
Moreover, accompanied by a song, it will be more complete romantic atmosphere. So that visitors feel more comfortable and want to come back for the next day. Most of these concepts will be used.
Also read: Tips for Crowded Restaurants
2. Industrial Outdoor Cafe Design
Included in the natural minimalist outdoor design and often used by Surabaya outdoor cafes. You can give some chairs and tables made of wood. Choose tables and chairs with a classic design. Arrange with two rows facing each other.
In addition to making it look beautiful, then give a minimalist garden in the middle of the area. Give a variety of green ornamental plants. In preparation for the rainy season, add a see-through canopy in the center of the garden.
Also read: Examples of Promotional Words Collections
3. Outdoor Mini Cafe Design Using High Chair
The concept that this design has is truly outdoors, just like its name. Either in the visitor area or the place of presentation. The serving table is made elongated and high. While on it there are various menus that are available in a hanging position.
In the visitor area, tables and chairs are also provided. Give a chandelier in the shape of a ball, so that it adds to the beauty. Give greenery to the yard area. To protect visitors from heat and rain, install a roof with mild steel.
4. Outdoor Cafe Design Using Unfinished Concept
Not a few Instagramable cafes in Jakarta use this concept. Not only Jakarta, even other big cities. Not a few are interested in visiting and taking photos just to be uploaded on social media. To create an instagramable design in this concept, all you need is a white chair with a backrest. Add foam to the seat. Give some trees as conditioning so it looks elegant.
5. Minimalist Outdoor Cafe With European Classic Concept
Most of Jakarta's outdoor cafes look modern and luxurious. However, there is nothing wrong with using the classic European concept. The design is characterized by the cafe walls that are left with the appearance of red bricks. No need to paint so it looks more natural.
To make the outdoor cafe look Instagramable, it uses round tables and chairs. As for the base, you can use grass. Give a small light yellow dim that hangs. So that it looks classic like the old European era.
6. Outdoor Cafe Design With The Latest Trend Of Tables And Chairs
The concept used by this Instagramable outdoor cafe is semi-modern. This outdoor cafe uses several different types of tables and chairs. For example, one side uses four single tables and single chairs.
While the other side uses a long chair with three single tables. On the outside, you can use a table with only two chairs. To make it look more attractive and cool, give a hedge around the cafe. The installation of a lightweight but transparent steel roof will give a comfortable impression.
Also read: Best Selling Food Business Opportunity
7. Outdoor Cafe Design With Home Page Concept
The concept used in the design of this Instagramable outdoor cafe is very interesting. The appearance of this cafe is quite simple, namely an open area using a roof with a frame but without a cover. While the replacement is a plant that propagates around the roof.
To make it look more classic, give ornaments with various geometric shapes. While the chair uses a backrest with a cushion in the seat. Choose a table with a sleek round model. The floor uses classic ceramic tiles to make it look like an old house.
8. Outdoor Cafe Design With Simple Concept in Corner
The style is very attractive and elegant, so much in demand by young people. You only need a chair made of wood. Then mounted on the wall. No need to paint the chair, just let it look natural.
Mount some vines from top to bottom on the wall. Add a roof made of transparent material, so that visitors feel comfortable. Don't forget to install garden lights with high poles and round lights as a sweetener.
9. Outdoor Cafe Design with Hanging Lamp Decoration
The design of this Instagramable outdoor cafe looks simple, but the appearance will give a beautiful impression at night. You can place some tables and chairs like placing in a garden.
Create two types of areas in the cafe. Namely private areas and public areas or long. The long area can use a large and long table, so it can be used by many people. While the private area can use two chairs and a round table.
As additional lighting, you can use lights that propagate around the tree, stretching across the entire side of the cafe. Don't forget to give the other side that stands out to make it look more detailed.
10. Outdoor Cafe Design With Green Light Decoration
You don't need to worry if you have an area that is not too large, but you want an Instagramable outdoor cafe concept. The concept of a mini cafe with a green umbrella decoration can be an option. Shabby chic style so it saves space.
Use canned chairs with small round tables. Add a small green umbrella. If not then just give it another color. Add small ornamental plants as a sweetener around the cafe.
11. Saung Sawah Outdoor Cafe Design
It turns out that the rural atmosphere can be used as a concept for outdoor cafes, most of the concepts are used in Instagramable cafes in Bandung. Built between rice fields so the cafe is really cool because of the breeze from the rice fields.
Use a wooden stage for the visitor area, so you can enjoy the green rice fields. So it can spoil the eye. Put an umbrella between each table and chair so that visitors feel comfortable.

Use iREAP POS to Manage Instagramable Outdoor Cafe Finance
Those are some examples of Instagramable outdoor cafe concepts that you can choose from. It's easier before building an outdoor cafe, you can consult the Sterling Team. We offer the iREAP POS application, for cafe business people who want to practically manage finances. Visit the following website for more information!