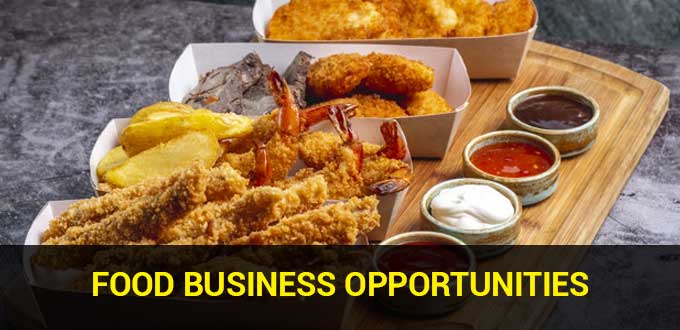 Best selling food business opportunities are currently being discussed. Therefore, this issue will be an exciting topic to listen to. Not only is it in demand, but the culinary business is also classified as easy to do, and the capital required is not too large.
Discussing culinary seems endless. Apart from introducing delicious culinary delights, it is also a reasonably profitable business field. Everyone needs food, whether it's heavy food or snacks such as snacks.
From there, we can find a source of income from a food business like this, many food variants are widespread, and of course, many people are in demand.
Read: Sample of a Food and Beverage Business Proposal
Best Selling Food Business
One of the best-selling food business types to be marketed is light snacks or snacks. Besides being easy to make, this business is easy to create and does not require ample space.
This time we will discuss what food businesses are in great demand today. There are many variations in the food business, but what are the best-selling foods?
Let's look at some of the food business inspirations that are suitable for your business.
1. Cremes Chicken Skin Chips
Generally, what we find, chicken skin is for vegetable soup. But unexpectedly, that can make the soft chicken skin into crispy and delicious chips.
This chicken skin chip food business opportunity is profitable for culinary entrepreneurs because it tastes delicious and delicious for a snack while relaxing.
Many of the food entrepreneurs include this preparation on their menu. Kremes chicken skin is usually processed by frying in a lot of oil until it exceeds the skin of the chicken to be fried; wait for the hot oil and fry it until it is dry.
Many say that the processed chicken skin is unhealthy, but some people like the taste of chicken skin. You also have to observe how this method of processing chicken skin is not too dangerous for health.
Read: 5 Small Capital Business with Big Profits that are Easy to Do
2. Banana Nugget Food Business
Currently, snacks made from bananas are starting to get a lot of attention from consumers. One of them is banana nuggets. If previously bananas were only fried or boiled, nowadays snacks made from bananas are cooked more modern.
Like banana nuggets wrapped in wheat flour and bread flour, then added with various toppings. This food business opportunity is genuinely viable for beginners because of the easy way it works.
3. Takoyaki Food Business
Takoyaki is a food that is currently quite popular in Indonesia. Although this food is not Indonesian food, it comes from Japan.
Takoyaki is a food made from flour dough filled with octopus and arranged round like a ball. However, the takoyaki in Indonesia has a different filling.
Most of the takoyaki marketed here are filled with fillings in meatballs, meat, cheese, sausage, chicken to cheese. In addition, the method of frying is usually done using a mould.
Most of the takoyaki fans come from young people. Its savoury taste with contemporary dishes is one of the highlights of this food.
Read: Practical Food Franchises That Will Trend in a Pandemic Time
4. Crispy Tofu Food Business
Many sellers sell various fried foods, but that is normal, and some people may be bored. The best-selling food business opportunity right now is Crispy Tofu.
Not to be ruled out, this snack like Crispy Tofu has become one of the popular snacks, ranging from the upper to the lower middle class.
In addition, crispy tofu is classified as a profitable food business. Good in sales, even the capital is small—no wonder this food business is said to be the best-selling food business.
5. Baked Bread Business Opportunities
Who doesn't like this one snack? In addition to the varied taste, the toast snack business is a business that has bright business prospects.
Apart from a wide variety of flavours or packaging, the success of this business also rests on the quality of the bread used. For that, choose the type of bread that is suitable for processing into a toast.
Making toast is also really easy. Because in modern times like this, there is a simple toaster available that is easy to use at home.
The bread used for toast generally uses plain bread with a soft texture and perfect for a snack or breakfast. And it is often used for toast because it tastes delicious and delicious when added with butter when baked.
Read: Drink Franchises That Are On The Rise Now
6. Seblak Business Opportunities
Seblak is a food that is quite popular among young people. Seblak is made from crackers soaked in warm water so that it becomes soft and is processed with various spices and added with some toppings such as meatballs, sausage, chicken, macaroni.
Nowadays, more new toppings such as mozzarella cheese or chopped meat taste different from the others.
Seblak serving usually contains seblak watery/wet and seblak dry. However, a runny seblak is more in demand. The high demand for seblak makes you have to try this new food business opportunity.
To have many customers, you should apply your Seblak recipe with a more distinctive taste. And sometimes you can present a new menu so that customers don't get bored.
Read: Examples of Promotional Words Collections
7. Martabak
One of the new food business opportunities that you can try is selling martabak. This food has quite a lot of fans.
No wonder that almost along the way, it is effortless to find martabak sellers. There are various martabak variants, ranging from egg martabak, mini martabak to sweet martabak.
Martabak variations that are marketed can be tailored to the tastes of the people in your area.
To do this business, you don't need a lot of capital. Especially if the location of your house is close to the crowd, so you don't need to rent a place to sell martabak.
In addition to marketing it by opening a shop, you can also purchase food delivery and collaborate with food delivery applications.
8. Cheese Cassava
Cassava is a kind of tuber. It grows from the roots and village food that tastes like that. If cassava is processed with the right spices, cassava can be a delicious meal that is not inferior to western food.
Besides being easy to obtain, it can process cassava into a culinary delicacy with high economic value. One of them is by processing it into cassava cheese.
Besides having a delicious taste, cassava cheese is also a unique food business opportunity with small capital. So you don't need to buy it, you can grow it yourself.
The shape and taste are unique and distinctive, can be an economical selling point. Meanwhile, the main ingredients are easy to find, making this snack business not requiring a large amount of capital.
Making it is also effortless; it doesn't require a lot of tools and heavy materials. This one food attracts attention and is guaranteed to be addictive.
Moreover, the selected cassava has a soft texture, is cracked and tastes delicious. It will be delicious when eating it.
Read: How to Make Online Menu & Order With WhatsApp Business Catalogue

9. Pempek Business Opportunities
Pempek is a food originating from Palembang. However, this food is relatively easy to find in almost every place in Indonesia. You don't need to worry if you can't make pempek.
Because now many agents market the finished pempek, some have even dealt it with vinegar, so you have to fry the pempek and sell it.
But, make sure to buy pempek at a familiar agent. This is to ensure the quality and taste of the pempek that you will sell. Pempek can be marketed in the crowd or on the side of the highway.
In addition, you can market it with an online system to open an order. Many pempek entrepreneurs are successful, so you shouldn't hesitate to try this food business.
10. Grilled Sausage
Grilled sausage can be one of the businesses that you try. Fans of grilled sausage are not only children; many teenagers and adults like this food.
Usually, grilled sausages are sold in crowds, such as near squares, schools, or culinary centres. You can also market this food at home because it can save money on renting a place.
The equipment needed to sell grilled sausages is quite simple. It would be best if you prepared sausages, roasting tools, sauce and packaging. To invite buyers' curiosity, you can innovate by making various flavours or additional toppings.
Before you try this contemporary food business opportunity, you should do a particular test first to consider it to taste good and fits.
11. Banana Chips Business Opportunities
As one of the most popular fruits, bananas are found in Southeast Asia and have spread throughout the world. There are many types of banana colours and shapes.
Bananas contain lots of fibre and antioxidants that are nutritious for the body. Even a lot of vitamins, such as potassium, vitamin B6, vitamin C, magnesium, copper, manganese, carbohydrates, protein and a little fat.
Bananas are also often used as a snack fruit among the household. In Java, bananas are also called Raja Punti. Because it has many benefits, and not only in the fruit, tree trunks are even said to have unexpected benefits for human health.
For information, banana tree trunks can also be applied as a natural medicinal herb to treat or prevent some dangerous diseases such as kidney stone disease, controlling blood pressure, and treating stomach acid to weight loss.
Read: 7 Secret Tips for Crowded Restaurants
Conclusion
Some of the new food business opportunities mentioned above can be a good source of income for you. Indeed this is one of the best-selling food businesses and continues to be hunted by culinary lovers today.
You can start from a small stall or tent to peddle your food. If you are diligent and skilled in managing your business, you may be able to open a more prominent branch and reach a turnover of millions of rupiah.
To help simplify financial management and analyzing your food business, you need the Best Cashier App. Use iReap POS, which makes it easy to input orders, and the most important thing is to be careful in calculating the Cost of Goods Sold and Profits.