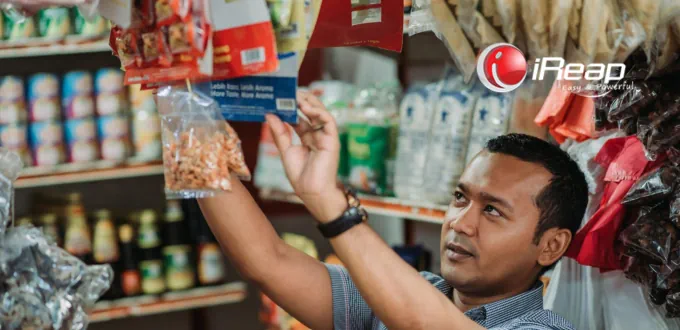 What's the difference between a grocery store and a grocery store? Grocery stores are more significant, selling products for daily basic needs, such as cooking oil, rice, and other ingredients.
Meanwhile, grocery stores are usually smaller and sell various products, including snacks and household appliances. Come on, learn more about the differences between basic food shops, grocery stores, and basic food stalls.
7 Differences between Grocery Stores, Grocery Stores, and Grocery Stores
1. Business Place Size and Business Scale
Grocery stores generally have a larger area with neatly arranged and organized shelves. For a larger business scale, they also have a warehouse to store goods, most of which are basic food products.
Products are displayed professionally, complete with price tags on each product. Several grocery stores have even used modern cashier applications and electronic payment systems to increase efficiency in their services...
Meanwhile, a grocery store has a smaller business location than a grocery store. Products sold are more diverse. Not only selling necessities, but other products, such as snacks, household appliances, and even children's school equipment.
The management of most grocery stores is still very traditional, although some are already using technology for effectiveness and speed in serving customers.
How about a grocery shop? Well, the basic food stalls are usually managed personally with the size of a small business place. The business scale is limited because most products are sold in retail; for example, sugar is in bulk, rice is sold per kilogram or liter, and so on.
2. Business Location
Grocery stores are usually open in busy locations and are trading centers, such as in markets, near settlements, grocery centers, or on the side of major roads.
Grocery store locations are easier to find and are usually on the side of the road, near settlements, rural areas, urban areas, and of course, in the regions that are bustling with people or people passing by.
While the basic food stalls only serve consumers around the place of business and are included in the home-based business scale. So, both in cities and in rural areas, you can find food stalls.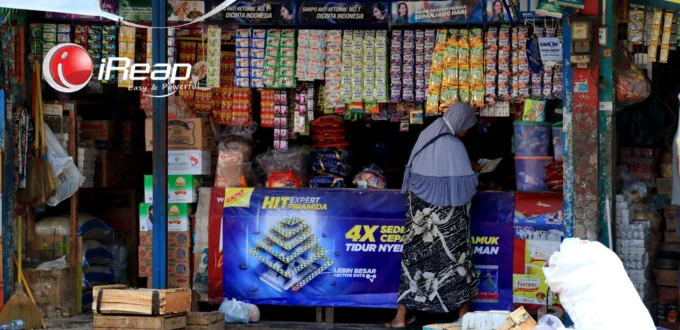 3. Product Variation
The next difference lies in the variety of products sold by each type of store. As the name implies, the primary food shop sells various essential products, such as rice, cooking oil, sugar, flour, spices, etc.
Many basic food shops also provide non-basic food products, such as canned food, frozen food, fruits and vegetables, milk brands, meat, fish, and even hygiene products.
Grocery stores focus more on available products, such as snacks, drinks, cigarettes, soap, toothbrushes, etc. Even though staple foods are functional, the variety, types, and quantities are very limited compared to those sold in basic food shops.
Even though the business scale is the smallest for basic food stalls compared to the two types of shops above, in general, various types of essential food products are still available with a retail sales system, apart from that, there are also basic food stalls selling snacks, snacks, packaged drinks, etc.
4. Prices and Discounts
Generally, prices at grocery stores are more competitive because they buy products in bulk directly from suppliers. This is what allows grocery stores to sell products at prices that are much cheaper than grocery stores and basic food stalls.
In addition, special prices are available for wholesale purchases; special product discounts, bundling package promotions, or membership programs are available that provide additional benefits to regular customers.
Food stalls and grocery stores sell products at prices that can change at any time, depending on the purchase price. Then because purchases are in limited quantities, the purchase price is already high, so they are not free to give discounts to consumers.
Even so, the owners of grocery stores and food stalls have friendly and affordable price policies for faster capital turnover and to meet customer needs.
5. Target Market
Due to the large scale of the business, the target market for grocery stores reaches many segments. We start from individual consumers, families, culinary companies, grocery store owners, and basic food stalls.
This is because grocery stores can sell products wholesale and in large quantities. The purchase price in large amounts is undoubtedly lower than retail purchases.
The grocery store has a target market of individuals and families around the business location looking for various daily needs products at affordable prices. Meanwhile, basic food stalls are more end-users with sales in smaller quantities than grocery stores.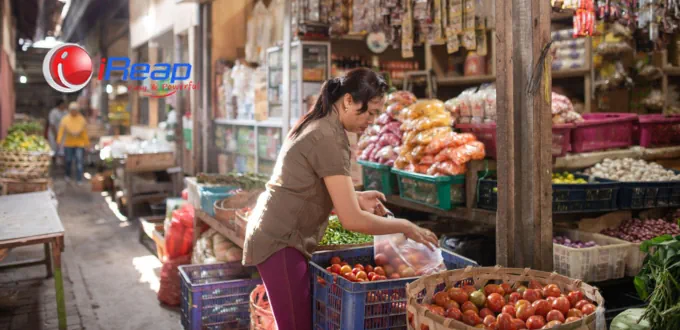 6. Customer Service
These three types of stores also have differences in terms of service and closeness to customers. Most grocery stores already have many employees, so their customer service is maximized.
Employees at a grocery store can help consumers provide product recommendations, pick up items, and provide information regarding ongoing discounts or promotions at the grocery store. Under certain conditions, delivery services are also available.
In contrast, the services of grocery stores and basic food stalls differ from basic food shops considering the limited human resources. Many grocery stores and food stalls are managed by their owners, assisted by only 1-2 employees.
Even though there are limited resources, customer service at many food stalls and grocery stores is already good—even quite a lot of owners who can build closeness with their customers.
Grocery stores can also provide friendly service because they know customers personally. However, they may need help to give delivery or delivery services like grocery stores.
7. Technology Innovation and Utilization
Grocery stores are already more advanced in innovation and use of technology. They implement a payment system integrated with the cashier application and have good inventory management.
For promotion, they have even used websites and social media, including providing online shopping facilities for customers.
Meanwhile, many grocery stores and food stalls run a conservative business. Accept cash in and out manually and record inventory and financial transactions.
If the owners of grocery stores and food stalls want their businesses to progress quickly, technology is essential. For example, using a free cashier application that can help record all transactions and manage inventory.
Knowing the difference between a primary food shop, a primary food stall, and a grocery store will help you manage your business better. Don't want to open a grocery store, but instead, look like a basic food stall.
However, as a first step for those who want to trade groceries, they may also open a primary food shop first. Then over time, develop the business to become a grocery store. So your groceries can proliferate, try applying the 7 Ways to Sell Basic Foods to Sell.