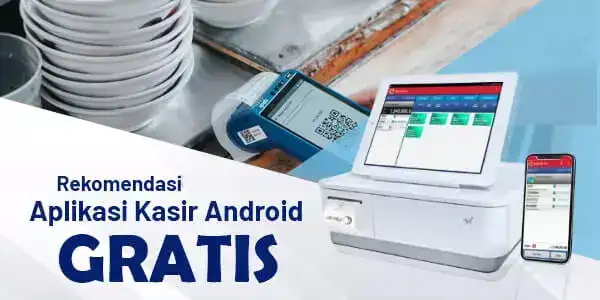 In the Google Play Store, there is actually a large selection of free android cashier / POS (Point of Sale)applications that can be found. This application facilitates business transactions on Android so you can continue to develop your business anywhere and anytime. So that with these cashier applications can help you manage your business or business.
The cashier application or it can be called a POS (Point of Sale) has an important function in managing your store operations. Starting from recording sales, stocks to profits. With the Cashier Application, you can increase store sales, adjust the stock optimally so that you get maximum profit.
14 Recommended Free Android Cashier Applications:
1. iReap POS Lite
This is the best Android cashier application for MSMEs from PT. Sterling Tulus Cemerlang that can be used as an option to maximize the SME business you have.
This one application is offline so it does not require an internet connection, except when doing backups and sending reports via email.
Mobile POS Android iREAP POS – 3 Quick Steps to Start Selling in 2 Minutes

Meanwhile, for other purposes, such as sales transactions and product input, everything can be done offline even without advertising.
This application can also ideally help diverse business needs, such as kiosks, retail stores, food trucks, pharmacies, workshops, exhibitions, barbershop, franchise, online shop, and many more.
You can now visit the Google Play Store to be able to download the best cashier application via the download button below.

Another advantage, this application also uses a cloud system and many other benefits that you can get by using iReap POS Lite. Simply download the application now on GPlayStore or contact us at www.ireappos.com!
2. Olsera Poin of Sale
This cash register application offers very complete features and can be used for various types of transaction needs for your business sales records. Olsera Points of Sale also has a reliable, cloud-based system as a repository for all transactions, so you can access it anywhere and anytime, via online.
Besides, you can also use this application offline, because this application can automatically update data when connected directly to the internet. It's just that, to get the free Point Of Sale application you can only enjoy it for 14 days, so to be able to use it again you have to buy this application.
3. Moka POS
Moka POS has features that are not less complete, this application uses a cloud-based system that can be accessed anytime and anywhere. This cash register software is perfect for barbershops, restaurants, beauty salons, spas, retail, clothing stores, and other businesses.
As for one of the mainstay features of this POS application is the Moka Back Office, with this feature as a business owner who has many branches can see all sales transactions made by cashiers in several stores at once directly, you also can only enjoy the online cashier application it's only for 14 days.

4. Pawoon
This simple cash register application looks more modern to facilitate its users. For business owners with many store branches, such as retail, franchises, restaurants, cafes, and other businesses, it is now easier for you to control all sales transactions in all branches of business.
This is because, by using the Pawoon application you can see transactions directly across the industry in a real-time manner because this one application also uses a cloud system so that it can be used, both offline and online.
In this application, you can do a daily report automatically, but it can also be connected to various thermal printers or matrix points using LAN or Bluetooth.
5. Kasir Pintar
Kasir Pintar is one of the cashier applications that can be used free of charge without the slightest additional cost to help conduct business financial management via an android phone. The ease of use of navigation, so it can be used easily by beginners though.
This application also utilizes a cloud system so that it can be accessed easily offline and online. One of the main features of this free restaurant cashier application is the barcode reading technique, which you can use to set the price of each item. The way to simply point the smartphone camera into a barcode of each product item being sold.
6. TabShop : Point of Sale POS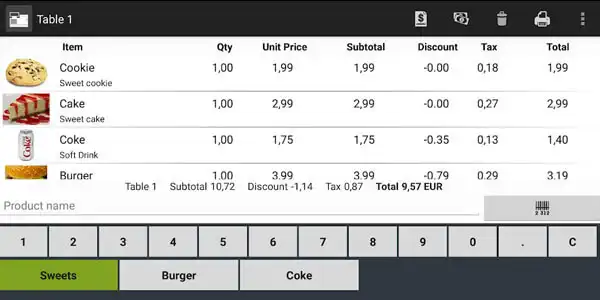 TabShop Point of Sale
This Android device application is perfect for those who want to build a retail store. This application has simple features and is very easy to use. There are some of the best features offered, such as Paypal, bitcoin, and other payment support.
7. Pozool POS Point of Sale Free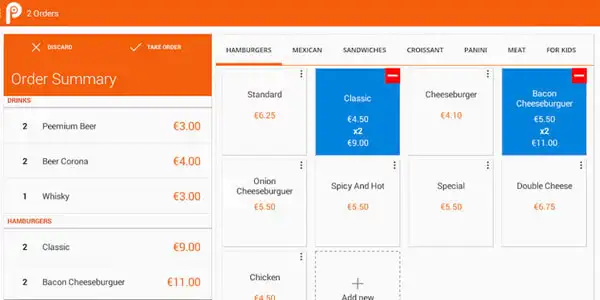 pozool pos
This quality Point of Sales application is also highly recommended for those of you who want to open a restaurant business. Because this application is very easy and lightweight to use. The usefulness of this application is to support the payment system using a credit card. It's just that, if you want to get complete features, can control transactions, are required to make payments to the versions of the pro version.
8. Omega POS
Omega POS is one of the free android cashier apps on the Playstore. It offers a lot of advantages, such as managing employees, selling, analyzing inventory data, both in real-time and online.
9. Cazh POS
The next recommended application is Cazh POS which is carried by CAZH developers. It has a simpler appearance to make it easier for users to run a business. This one application, present both for free and pro by adding its flagship features.
Very suitable for a variety of MSME businesses, be it laundry, grocery stores, beauty clinics, salons, barbershops, canteens, street vendors, restaurants, cafes, franchises, car wash, clothing stores, warteg, and so forth.
10. Super Easy Cashier Program
The next free android cashier software is the cashier program carried by computerkit.com, which presents a very easy application, to manage goods and transactions. In this Master menu, you can change the store's identity, item names, add item categories, and customer names.
In the transaction section, there are many important feature choices, such as sales that can be used when a buyer comes to buy your product. Pay debt you can also choose to settle customers or buyers who are in debt. Then return itself to return goods when there is damage or certain problems.
11. Laundry Cashier Application
If you have a small business such as laundry and want to manage all your laundry business needs quickly and easily, then you can switch to a digital system by using a laundry cashier application called Cleanlab POS, which is business-based. You do not need to be complicated using a computer or desktop program, just use an Android smartphone, then you can do laundry management and transactions easily.
12. Smartlink
The next recommended application is Smartlink which is useful for laundry business needs. Is an application that is suitable for owners of laundry services, because it offers a very complete feature such as POS Cashier, laundry courier management and work process management. Everything can be managed using just this one application.
For the transaction itself, there are several options such as deposit transactions, regular, e-money purchases, deposit purchases, manage deposits, print transaction notes, manage couriers, manage customers, and request deposit funds or transfers.
13. Cashier Workshop Plus Finance
Most of the workshop owners very rarely manage spare parts or items sold using the android application system, usually they do it manually. But now you can use a smartphone to maximize all workshop needs, ranging from transaction needs to managing product income reports.
14. Portable Store Cashier
The next cashier application is a portable store cashier that uses an Android phone as a cash register that is easy, practical and complete.
The portable store cashier makes it easy for you to manage a growing new business because it has one of the mainstay features: stock management.
This app is free. You can also transact without restrictions every month like other free cashier applications.
That's the 14 lists of free android cash register applications that you can try to help your sales or business transaction needs! But if you want the best-paid cashier application for businesses, you can read in this article 5 Applications with the Best Shop Cashier Program for Businesses