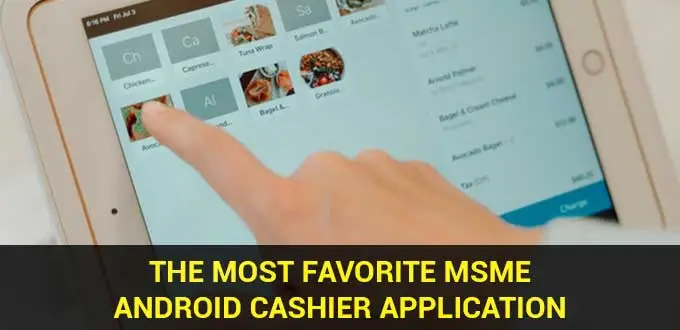 Android cashier application – In today's digital era, all functions and daily needs are made more accessible by information technology, including sales transactions made by cashiers. Not his era, recording sales manually because it is inefficient and inaccurate in calculations.
Especially if the store has so many visitors, the cashier will be confused in recording and calculating all the transactions.
Therefore, POS cashier application can be a solution for those of you who are currently running an SME business and others.
15 Best Android Cashier Apps
There are many choices of free cashier applications that you can download. And for now, I will explain some of the best cashier applications that are very effective in managing your store or business.
As for the pro android cashier application with more exclusive features, you have to pay a subscription fee according to the vendor's provisions for each cashier application itself.
And here are the recommendations for android cashier applications that you can consider:
1. Free Android Cashier App Forever – iReap POS Lite
iReap POS Lite from PT. Sterling Tulus Cemerlang can be an option to facilitate your MSME business. Use iReap POS lite cashier application can only be done offline (without internet connection) and without ads.
iReap POS Lite is an free android cash register app forever that can help your needs businesses such as retail shops, kiosks, cafes, pharmacies, workshops, franchise businesses, online shops, and so on.
You can find it via the iReap POS Lite website for more information. And to download, you can directly visit the Google Play Store via the link below.
2. iReap POS Pro Android Cashier App
It has more exclusive features, suitable for your business with many branch stores. iReap POS Pro can analyze all transaction data from multiple stores spread across various cities and even countries quickly in a few seconds in real-time online.
The iReap POS Pro android cashier application can also monitor the movement of goods between branch stores, you can track whether the goods have been sent from the sending store, or are in transit, or have been received by the receiving store, everything is done online.
Another advanced feature of iReap POS Pro is that this application can be run offline and online.
This offline function is essential when your device is not connected to the Internet; your cashier transactions can still be carried out without interruption because all transaction data will be stored on your device.
When your internet connection is connected (online), the cashier application will immediately send the offline transaction data to the iReap POS server.
In addition to the features mentioned above, the iReap POS Pro cashier application can scan product barcodes for faster transaction input accept payments using the QRIS, and can print transaction receipts complete with your business logo.
If you want to know more about the advanced features of iReap POS Pro, then you can visit the main website at ireappos.com, and try the full version for 14 days free.
3. Simple Cashier App – Selfazz POS
Sellfazz POS from PT Payfazz Technology Nusantara is also worth considering as the cashier application of choice for your store's complete and detailed financial management.
You can easily upload all product details in the Sellfazz POS application. If there is an error, you can re-update and monitor all product stock in the store.
You can send them by email or via a Bluetooth printer connection to print transaction receipts. The most exciting thing is that you can scan product barcodes using your cellphone camera to make the transaction process faster, and you don't have to search one by one.
4. Olsera POS
Another POS Cashier that you can consider is Olsera POS. Suitable for various businesses, namely retail shops, supermarkets, restaurants, cafes, etc.
Olsera POS is also a cloud application that allows you to monitor your business anytime and anywhere. With Olsera POS, all types of transactions, item data, and other data can be managed more easily.
5. Online POS Cashier – Pawoon
Pawoon is one of the most popular Point of Sales in Indonesia today. You will find various exciting features that will make your business management more organized and tidy.
Pawoon promises an easy, faster, and safer transaction process for entrepreneurs. With cash, your consumers can also pay digitally using this cashier application.
Consumers can make transactions more convenient and faster. As a result, customer satisfaction with your store's services will also increase.
6. Moka POS
Moka POS is an cashier application that will make it easier for you. With the POS (Point Of Sale) feature offered, this app will help you keep a careful record of your payments.
Not only that, but the sales process will also be more straightforward, and the transaction process can be implemented more effectively. You can find all the features you need in this application.
One of them is the Moka Payment feature, which can speed up payment transactions. Currently, Moka Pos has partnered with more than 10,000 entrepreneurs in Indonesia, making it one of the most used applications by local entrepreneurs.
7. Portable Kasir POS – Point OF Sales Application
You no longer have to worry about managing product stock, checking product prices and data, invoices or orders, or managing finances. Everything can be easily managed with this best cash register app.
The information presented can be of different kinds, ranging from goods or services, such as retail stores or other types of business, and can make entries for one product with different prices depending on the level. Also can get discounted price options on certain products.
Everything is available in full, daily, monthly, and yearly for reporting purposes. In addition, reporting information can be exported in an Excel file.
8. Restaurant Cashier App on Android – Restoku
Restoku is here to make your culinary business more profitable and advanced. Restoku has a complete range of menu and transaction management features.
The advantages of the Restoku android cashier application are Point of HR to find employees quickly, Point of Sales to record sales transactions, and Point of Supply to find suppliers of raw materials at more affordable prices.
9. Store Cashier App – Loyverse POS
Loyverse POS is an easy and manageable store cash register app where you want. You can also track real-time sales and inventory transactions, employee and branch store management, and other needs.
For more information, see the Google Play Store link below.
10. Kasir Cazh POS
Cazh POS has a simple interface that makes it easy for users to run their businesses. Cazh POS cashier app comes with the Free and Pro version.
It is suitable for all types of businesses, whether it's a grocery store, salon, franchise, cafe, restaurant, or other. You can also sell credit and receive payments for electricity, PDAM, PLN, Telkom, and transaction needs.
To upgrade to a complete pro version, you can pay via OVO or GoPay at a pretty affordable nominal.
11. Smart Cashier App
The Kasir Pintar application provides convenience for managing business transactions or services that you run. All product data you can access and update with just one tap.
The most exciting thing is transaction reports with a graphical chart view, making it easier for users to see profits and losses.
There are two versions of the Kasir Smart application, namely the free version and the pro version. For Pro, features for business management are complemented by more menu options.
12. Accurate Lite
Accurate Lite comes with two offline and online versions, and for the online version, you need to create an account for the database via the accurate.id website or through the application. As for offline, it can be used directly without setting anything up.
The main feature of this android cashier application, users can perform various business management needs, such as recording purchases and sales, accounts payable and receivable, payroll records, electricity, water, stock changes in stock, bank account balances, and history, as well as several other features.
13. Online Cashier App – Qasir
The Qasir application has a user-friendly and straightforward interface that makes it easy to use its features.
You can manage all your business needs, outlet information, products, employees, and more as a user.
Qasir presents an online and offline version; if the device is offline, the stored data will be synchronized automatically when the device is online.
Data stored online is very secure with the support of sophisticated cloud servers, so data processing and synchronization will feel faster.
14. Cloud-Based Android Cashier App – Ubequ POS
The next POS cashier application from Vixelmedia is Ubequ POS with product stock management and sales on a cloud server.
Equipped with a user-friendly and straightforward UI, it can make the task easier and pamper you while using this application.
The most exciting thing about this app is that you can do many things like stock data, receive customer feedback, and analyze to find out which products are selling the most, which products are running low, the busiest times when serving customers, and still many more features.
15. Simplify POS
The Simplify POS android cashier application can be an option for those who manage small and medium businesses. Not just an ordinary online cashier application, there are comprehensive features that can handle all your daily transaction needs.
Some of the features you can use include employee management, shop and counter management, product category management, customer management, and debt payment.
Payment options are also very diverse, ranging from cash, debit or credit cards, GoPay, OVO, transfers, etc.
Benefits of Android Cashier Apps
Some of the benefits that will generally be obtained when using the cashier application are:
The cashier application can record in detail every transaction activity that occurs at each branch. POS is also able to provide short reports within a certain period if needed.
The cashier application can also automatically record each product's stock. This will be able to minimize fraud on every employee because every supply has been properly supervised.
The cashier application can provide real-time reports according to conditions that occur in the field.
If you want to change the price of a product, then the cashier app can do it for you quickly and provide up-to-date price data to all your stores.
Cashier applications can also shorten transactions with consumers.
Cover
If you want to implement this POS system into your business, you should be able to choose a company that makes an android cash register application proven to be of high quality.
You can choose the cashier application from iREAP POS as a partner in implementing your company's POS system.
iREAP POS provides conveniences for all your sales transactions with the barcode scanner, multi-payment, QRIS functions, branch and user store management, and other excellent features.
With these features, cashier activities will be faster to provide faster, easier, and more efficient service for your customers.
Interested? Come on, use iREAP POS right away.