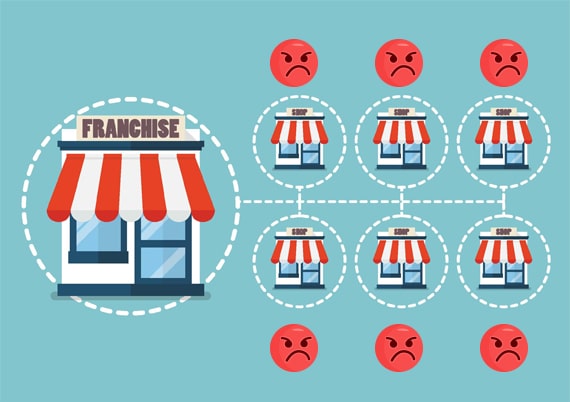 As a franchisor, you must have received complaints from franchisees. From my observations, the complaints made by franchisees are among others because they do not feel they have been given sufficient assistance, unstable product quality, sudden price increases, and many other reasons.
Currently, many franchisors are still not serious in responding to complaints from franchisees. The franchisor feels that complaints are typical and should not be taken seriously.
Franchisors often think of franchisees as 'dependent' on the franchisor. So even if the complaint is not responded to, the franchisee will not dare to pressure the franchisor as the brand's owner. I remind you that this mindset is not correct and must be corrected immediately.
Both parties must be equally aware that the company is built on mutual benefit in a franchise or partnership business. So, all complaints from franchisees must be taken seriously so there is no prolonged disappointment and can damage good relations.
How to Handle Complaints from Customers
The following are the steps for dealing with a complaint:
Listen to Complaints Seriously
Listen to franchisee complaints seriously so that you as the franchisor know the problems that occur. You must empathize so that franchisees feel cared for and feel valued.
Thank you
After you have listened to all of the franchisee's complaints, say thank you for the complaints submitted. Submitting a complaint means that the franchisee still 'loves' you.

In the Harvard Business Review, Theodore Levitt wrote that 'one of the surefire signs of a bad or declining relationship is the absence of customer complaints. So if there are still franchisees who complain, consider it a valuable gift.

Apologize
You must apologize to the franchisee 'for the inconvenience'. You have to apologize sincerely with the right intonation for the franchisee to pick up on something positive. Apologizing means you have paved the way to 'make peace with them. Usually, after you apologize, the franchisee will begin to calm down and be better able to talk to him than before.
Providing Explanations & Solutions
Furthermore, you must explain to the franchisee so that in the future, the same complaint will not occur. Never blame franchisees even though they are guilty. But if you are at fault, tell the franchisee that you will make a quick fix and compensate the franchisee for any losses.
The four steps above are to give satisfaction to the franchisee so that they don't break their relationship with you. Franchise complaints that you don't respond well to – will be a ticking time bomb that will one day explode and destroy your business.
In closing this article, I again remind franchisors always to be serious in dealing with all complaints so that there are no problems that block the franchisee's heart. If the franchisee gets a satisfactory solution, then the bad experience he has experienced will not be remembered again, and even the franchisee can be a valuable asset for you as a 'loyal franchisee.'
Written by,



Djoko Kurniawan
Senior Business Consultant | UMKM Expert
DK Consulting Group Jakarta
Email: info@djokokurniawan.com | IG: djoko.kurniawan
www.djokokurniawan.com | www.konsultan-franchise.com | www.indonesia-franchise.com