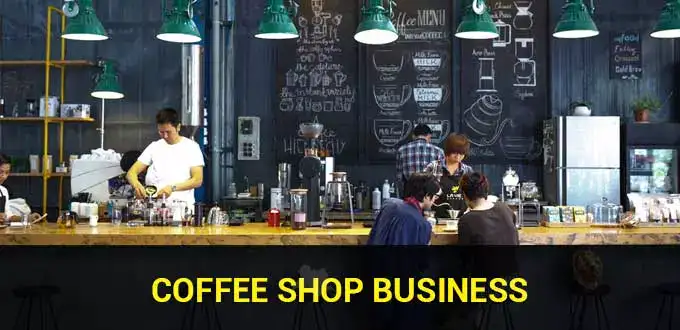 There are many businesses that people can now do. The community indeed needs one increasingly widespread company, the coffee shop business. Drinks made from coffee have now become people's lifestyles. Starting from teenagers to adults, many need coffee intake every day.
It's no wonder that currently, the business of opening a coffee shop is also increasingly being found in various places. Of course, not only selling coffee drinks but also selling the artistic value of the design of this coffee place.
Most visitors take advantage of the attractive design of the coffee room to meet friends, take photos and do other activities.
Beginners Must Know, Here Are Tips for Starting a Coffee Shop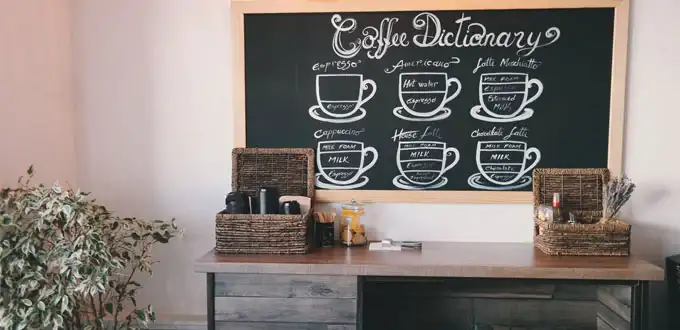 Currently, coffee is a part of people's lifestyles. Due to changes in people's lifestyles, many coffee shops are now found everywhere. Starting from the side of the road, densely populated areas, malls and other places. Even now, coffee has many flavours that can be chosen according to people's tastes.
Coffee is one of the drinks that can eliminate sleepiness and can be drunk every day, just like any other drink. Usually, coffee is a favourite drink for employees, students, or coffee lovers. Every year coffee consumption is now increasing, and the number will increase.
This can be a good opportunity for those who want to try opening a coffee franchise business. However, one of the problems is the high competition in the coffee business in various places. The number of coffee lovers makes more and more coffee sellers who can even be found easily around your neighbourhood.

For that, you must open a coffee shop in the right way and need to increase promotions. This is one of the essential keys to competing with other coffee sellers.
Also read: Example of a Coffee Shop Canvas Business Model
Here are some tips you need to do when opening a coffee shop.
1. Prepare Capital to Open a Coffee Shop
The first thing you need to do is to prepare capital in advance. Without money, of course, you can't open a coffee shop. It would be best to estimate your needs when you open a shop—starting from paying rent, coffee makers, decorations, coffee packaging, and much more.
Make sure you calculate the costs that need to be incurred in detail. This is done so that the costs incurred are by your budget. The capital you have can come from personal savings, joint ventures with friends, or looking for investors.
2. Define Target Market
After preparing the funds and calculating them, then you need to determine the target market. Every business has its target market. This, of course, applies when you are about to open a coffee shop. To determine the target market, you need to do research first about the target to be determined.
For example, you want to make students the target market. So it is necessary to find out which students will have the most significant interest in the shop you are building. Starting from gender, age, interests, region, lifestyle and much more. Of course, this kind of research should not be done haphazardly.
3. Finding the Right Location
If you have determined the target market, the next step is choosing the correct location. The chosen location must be by the target market you have previously defined. Also, make sure you select a place that fits your budget.
If you rent a place, then you also need to pay attention to the feasibility of the site. Choose a place that is still feasible and does not require much renovation. Things like this can reduce your budget.
4. Define a Store Concept
The concept of a coffee shop is one thing that you need to think carefully about. Not only paying attention to comfort, but also room decoration. Especially if your target market is young people, you need to create a contemporary room design concept.
Most young people like instagramable outdoor cafe. Choose a design concept that is different from the others. This can be an attraction in itself. There are many room design concepts that you can apply to a coffee shop. For example, retro style, minimalism, monochrome and many more.
5. Choose the Right Supplier
Ensuring that all raw materials are correctly available is something you need to pay close attention to. It would help find the right supplier to get quality raw materials. You start by looking for suppliers for furniture, coffee raw materials, etc. When looking for a supplier, make sure you have done a trial first.
This is important to get a quality supplier according to your needs. You can get recommendations from your closest relatives or look for information through online media to find suppliers.
6. Promoting
The last tip that is very important for you to do after all the preparations have been completed is to do promotions. People will not recognize your coffee shop if you don't do upgrades. Currently, social media is one of the fastest ways to spread information. You can use this social media to do publicity.
Also read: Examples of Promotional Words Collections
Those are some things you need to prepare before opening a coffee shop. If you has designed the above well, then you can open a shop. Make sure to do promotion continuously so that many people are interested in visiting your shop.
To make it easier for you to serve customers when buying coffee, you can use the cashier application from iReap POS. Now you can easily use this application, and it can be done anytime, anywhere and from anywhere.
Do This Before Choosing a Simple Coffee Shop Design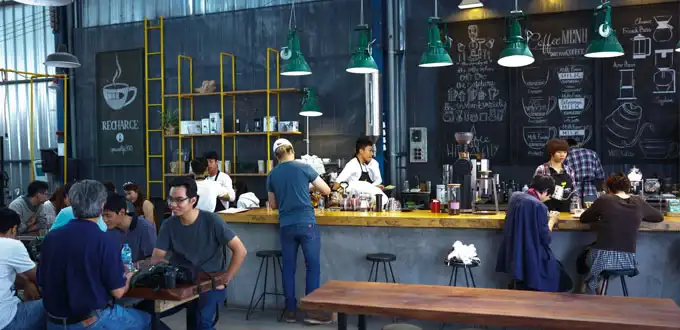 Opening a coffee shop is one of the most profitable businesses. How come? Almost everyone from now on makes coffee a lifestyle that is difficult to give up. Coffee lovers are from among adults, but today's teenagers also make coffee as a lifestyle.
Usually, a coffee shop frequented by people who make coffee a lifestyle is a place with an attractive design. It's no wonder that entrepreneurs are currently competing in coffee shops to provide unique and exciting room designs. Indeed, most visitors will take the time to take photos.
For this reason, the design of the room needs to be made as attractive as possible and not a few coffee shops make designs that have high artistic value. People will like a place that is unique and different from others. Besides that, it also has a good photo spot to upload on social media.
Of course, you also need to create a good room design to attract buyers to visit your coffee shop. Don't worry; you can create a unique room design by following the steps below.
1. Determine the Placement of the Room Area
The room placement is one of the main things you need to consider. You can choose an outdoor or indoor room to combine the two. For outdoor rooms, you can choose a more beautiful theme so that many visitors are interested in using the room.
As for the placement of the indoor room, you can use a design that suits your wishes. Make sure you create a comfortable space with fine furniture.
2. Determining the Design Theme
When you have decided how to place the room you want, you can determine the room's design theme; there are many room design concepts that you can choose from. You can choose composition according to your hobby, carry the feel of nature, choose a modern style and so on.
You can also choose the theme of this coffee shop according to the target market. If the target market is young people, you can use a modern, contemporary composition. Of course, the choice of this theme should not be made arbitrarily. Make sure to do your research first to get the best decorating concept.
3. Use Furniture that Matches the Theme
Making the concept of room decoration less complete feels if it is not added with furniture with the same theme. In addition to the table, you can also complement it with various additional decorations such as paintings and wall colours with the same theme. This can make your shop space more attractive.
Of course, in choosing furniture, don't just match the concept of the decoration theme. But also consider the quality. Moreover, the business you are engaged in can last for a long time. The furniture used must undoubtedly be of the best quality to last relatively long.
4. Pay attention to the lighting
The lighting is the last thing you need to make your coffee shop décor look even better. Room lighting is the most important factor for visitors. Especially if the decoration theme you choose is modern and contemporary, many visitors will inevitably take pictures around the room.
If you don't get enough lighting, then the photos are not good. This can reduce the interest of visitors to come to your place. In addition, the proper lighting can create a comfortable atmosphere for visitors while enjoying coffee.
Coffee shop design is one of the main reasons buyers visit your place. For that, choose a beautiful and unique design concept to attract visitors. Be sure also to consider the customer's convenience while at your location. After all, customer convenience is essential.
Make Your Coffee Shop More Attractive With Wall Painting
Painting with wall media is nothing new. This has been done for a long time and has a high level of art. Painting is not an easy thing. Especially with the wall media, which is much larger than painting on paper.
There are many challenges in themselves when painting on walls. In addition to requiring adequate equipment, your creativity will also be tested when painting with wall media. The beauty that results from painting on the wall will be more interesting than the wallpaper, which is currently an easy alternative.
Wall painting does have an aesthetic value that can create a beautiful impression. No wonder there are now many coffee shops that beautify the room with wall paintings. For those of you who want this, you can try painting on the walls of your coffee shop. Here's the preparation you need to do.
Cleaning the Wall
The first thing you need to do is to clean the walls. Clean the surface of the wall from various dirt and dust attached.

Then you can wash the walls using warm water that has been mixed with detergent. Apply this liquid using a sponge to the wall evenly and wait for it to dry.

Prepare Canvas Painting
Place a sheet of canvas on the floor; this is done so that the floor is not dirty when exposed to paint during the painting process. Make sure the canvas sheet has covered all of the floors.

To stay safe, then give a patch on the width of the canvas so that it doesn't move. In addition, close the electrical outlet by attaching adhesive tape to it.

Start Sketching
The following preparation is to start sketching on the wall. You can use a pencil to illustrate on the wall.

You can easily erase it with a rubber eraser if something goes wrong. Make sure you already have a sketch to draw the process faster.

Prepare the Equipment
If you have already sketched on the wall, you need to prepare equipment for painting. Starting from preparing paint, brushes for painting and so on.

Make sure you have prepared all the equipment for your painting needs properly. This is done so that you no longer have trouble finding equipment during the painting process.

Start Painting
After all the preparations have been done, you can start to paint. Start by painting an object from the sketch you've previously made using a small brush. Then you can proceed with giving the colours as you wish.

Make sure when you paint, the atmosphere in your coffee shop is calm. This is very important to increase your concentration during the painting process.
Creating a good design concept for the coffee business that you run is important because the room's design is one of the attractions for visitors to enjoy your coffee, providing a unique and attractive design concept so that visitors can feel at home in your place.
As a business actor, you don't just need a place to open a business. But it also requires a cashier application when making payment transactions easier. For this reason, it is essential to have a cashier application that can easily monitor sales, profits and stock.
You can quickly get this when you use iReap POS. Visit our website at www.ireappos.com to get various exciting services to facilitate your business at a coffee shop. What are you waiting for? Immediately contact us via the number listed on the website and enjoy the various benefits. Good luck!