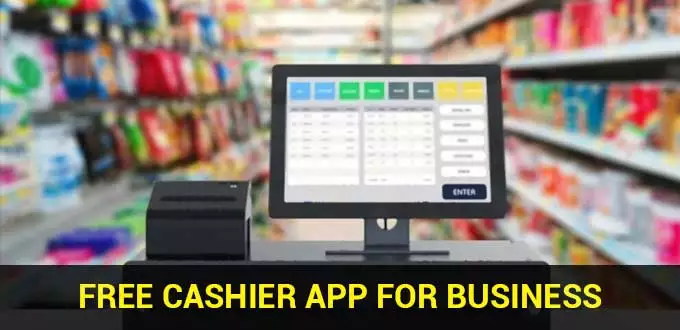 There is a large selection of free POS apps that you can find on the Google Play Store. The free cashier application makes it easy to make business transactions on your Android smartphone so you can continue to run your business anywhere and anytime.
The POS (Point of Sale) cashier application has an essential function in the financial management of your store. You are starting by recording stock of goods, sales, and even profit.…
Free Android Cashier App
Here we provide a selection of free cashier applications that you can use to support your business activities:
1. Free Cashier App iREAP POS Lite
Free POS cashier application from PT. Sterling Tulus Cemerlang is your first choice to maximize your business.
This MSME favorite android cashier application can run offline, so it doesn't require an internet connection, except when you want to backup data and send reports via email.
As for other purposes, such as sales transactions and product data input, everything can be done offline, even without ads.
The free cashier application iREAP POS Lite can also be used for your various business needs, such as retail stores, kiosks, food trucks, pharmacies, barbershops, online shops, and many more.

2. Kasir Pintar
Kasir Pintar is one of the free postal applications that you can use at no cost to help with business financial management through your Android smartphone. With a simple navigation display, it can be used easily by beginners.
This accessible online cashier also uses a cloud system so that it can be accessed easily as an online or offline cashier application.
One of the mainstay features of this accessible point of sales app is the barcode reading technique, which you can use to set the price for each product.
3. Laundry Cashier Application
If you own laundry business and want to quickly and easily manage all your laundry business needs, then you can switch to a digital system using a free postal app called CleanLab POS.
You don't need to use a PC; use an Android smartphone to do laundry management and transactions easily.
4. Portable Store Cashier
The following free POS application is a portable store cashier that uses an Android phone as a cash register that is easy, practical, and complete.
The portable store cashier makes it easy for you to manage a growing business because the application has one of the main features, namely product management.
This cash register app is entirely free. You can also use it without limitation every month.
5. Moka POS
Android cashier application that uses a cloud-based system can be accessed anytime and anywhere. This accessible Point of Sales software is perfect for restaurants, barbershops, retail stores, clothing stores, and other businesses.
One of the main features of Moka POS is the Moka Back Office; with this feature, as a business owner with many branch stores, you can see all sales transactions made by cashiers in several stores at once. Still, you can only enjoy all of these features for only 14 days.
6. Olsera Point of Sale Cashier App
Olsera's free cash register application offers exclusive features and can be used for various business transactions. Olsera Point of Sale also has a reliable system, with a cloud-based system as a place to store all transaction data so that you can access it online anywhere and anytime.
In addition, you can also use this access point of sales application offline because the Olsera application automatically updates data when connected to the Internet.
However, to get all the features of the Olsera Point of Sale accessible cashier application, it can only be used for 14 days, so to use it again, you must subscribe.
7. Pawoon
This point of sales application looks modern to provide convenience for its users. It is now easier for business owners with many branch stores, such as retail, franchise, restaurant, cafe, and other businesses, to manage all sales transactions to all stores.
This is because, by using the Pawoon cashier application, you can see live transactions throughout the store in real-time. The Pawoon cashier application also uses a cloud system, both offline and online.
In the Pawoon cash register application, you can generate daily reports automatically and can be connected to various Bluetooth thermal cash register printers using a LAN or Bluetooth network.
8. Smartlink
The following recommended free cashier application is SmartLink which is helpful for laundry businesses.
Smartlink is a free POS application right for laundry service owners because Smartlink offers exclusive features such as laundry courier management and employee work system management. Everything can be managed using only the Smartlink cashier application.
There are several options for the transaction feature on Smartlink itself, such as cash transactions and e-money. There are also inventory, courier, and customer management features.
9. Pozool Free POS App
This quality-free Android postal application is also highly recommended as a choice for those of you who want to open a restaurant business. Because the Pozool POS cashier application is straightforward and light to use.
The Pozool POS application supports payment systems using credit cards. However, if you want full transaction management features, you must subscribe to the Pro version of Pozool POS.
10. Free Cashier App Cazh POS
The following recommended free cashier application is CAZH POS made by the developer Cazh. It has a more superficial appearance to make it easier for users to run business.
The CAZH POS cashier application has a free and a paid pro version with the addition of a complete range of features.
CAZH POS can be used for various MSME businesses, be it laundry, restaurants, grocery stores, barbershops, beauty clinics, cafes, franchises, car and motorcycle washes, clothing stores, warteg, and so on.
How to Choose a Free Cashier App
There are many choices of cashier apps that are free on Google Play, but which app might be right for your business? Following briefly, we provide some tips for choosing a free POS application below:
1. Do Comparative Research
The first tip you should do is do some research and compare the various cash register apps you will use. By researching, you can also find out whether the application is suitable for use in your business or vice versa.
2. Pay attention to the Free Cashier Application Features
The next tip is to see the completeness of the features contained in the cashier application. Make sure to choose a fully-featured app that fits your business model so you can use it easily.
3. Find a Price That Fits Your Budget
The last tip for choosing a free cashier application is to select the price of the Point of Sale system that fits the budget you have prepared. That way, you won't incur losses, and your purchases won't drain your wallet.
Benefits of the Free Android Cashier Application Full Version iREAP Lite
You will get various benefits if you use the free cashier application forever, which provides various supporting features. Here are some of the benefits:
1. More Efficient Time
By using a cash register application, of course, you can use your time better. This is related to the more accessible use of applications compared to business management which is done manually.
2. Guaranteed Security
The next benefit that you can also get is the existence of a better security system. This is undoubtedly very useful for you to make transactions more comfortable.
3. Easy to Enter Sales Transactions
Another thing you can enjoy from the free cashier application is the sales transaction control system, which can be done quickly and without recording manually.
Cover
If you want to implement this POS system into your business, you should choose a free cash register application that is proven high quality.
You can choose the free full version android cashier application IREAP Lite as Point of Sale (POS) software to support your business.
In addition, there is also a paid multi-branch cashier application IREAP POS Pro with various useful features for all sales transactions in your store, starting with multi-payment and QRIS functions, cashier and branch store management, and other superior attributes.
With these additional features, cashier service will be easier, faster, and more efficient for your customers.
Are you interested? Come on, visit the website ireappos.com for more detailed information.