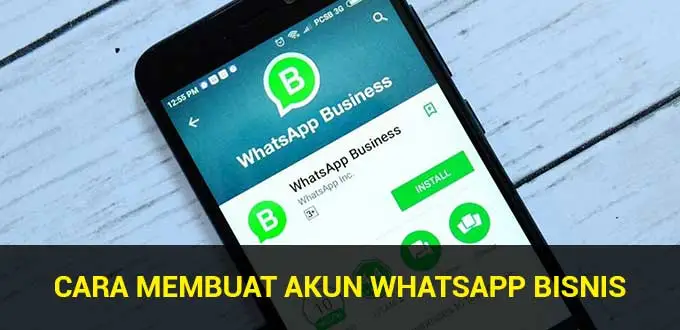 The existence of WhatsApp Business can be a choice of business-specific chat applications that are really useful for business owners, especially online businesses. This application helps many prospective buyers to communicate with sellers. They can ask questions before actually buying an item.
WhatsApp Business is also an ideal alternative to use. Because, in Indonesia many people have used WhatsApp. So, business people don't need to ask potential buyers to install WhatsApp just for means of communication.
What is WhatsApp Business?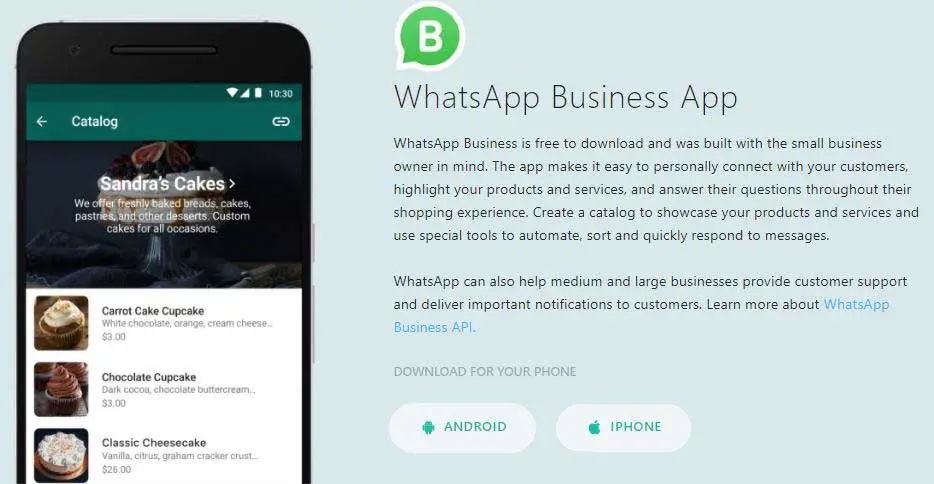 WhatsApp Business was introduced in early 2018 as an application dedicated to small and medium business owners. WhatsApp Business makes it easy for business owners to connect with their customers and build loyalty, something that is so important these days. It is very similar to WhatsApp which you have already known and used before, only with a few extra features to make it compatible with business activities:
Instead of a personal profile, you have a verified Business profile complete with company domicile, e-mail, and a business website link.
You can observe statistics to evaluate messages read.
You can implement auto-answering messages which make it easier to respond to customers.
You can apply a Broadcast List to broadcast messages to contacts (kind of like 1-way Group).

WhatsApp Business and Personal are two different applications, so to be able to use the business version, you have to download it from the Play Store. In the following, we discuss how to create a WhatsApp Business account for you.
How to Make WhatsApp Business
Like the Personal version, WhatsApp Business also requires an active mobile number. For the record, WA Business cannot use numbers that have been or are being used on WhatsApp Standard. So, if you want to use the same number, you must choose one, namely the standard version or switch to the business version.
1. Download the WhatsApp Business Application
Download WA Bisnis on the Google Play Store for Android or the App Store for iOS then Install. Once installed, open the WhatsApp Business application and tap Agree and Continue to continue to the next level. When the popup window appears, tap Continue and tap Allow several times.
2. Register Mobile Number
Use a special business cell phone number to make it easier to carry out verification and also avoid getting your personal and business affairs mixed up. Typically, the system will automatically recognize the verification code sent via short message. But if asked, please open the SMS message that was sent, then type the verification code contained in the SMS.
3. Complete a Business Profile
The next stage, fill in your business profile, make sure the information you include is suitable for your business because this name cannot be changed at a later date, fill in your business name, domicile, contact details, e-mail, and web. To do this, click the Settings> Business Settings> Profile menu.
Until this stage you can use WhatsApp Business. Don't forget to set the Automatic Message, Product Catalog, Greeting Message, Away Message, and so on.
How to Create a Business Profile on WhatsApp Business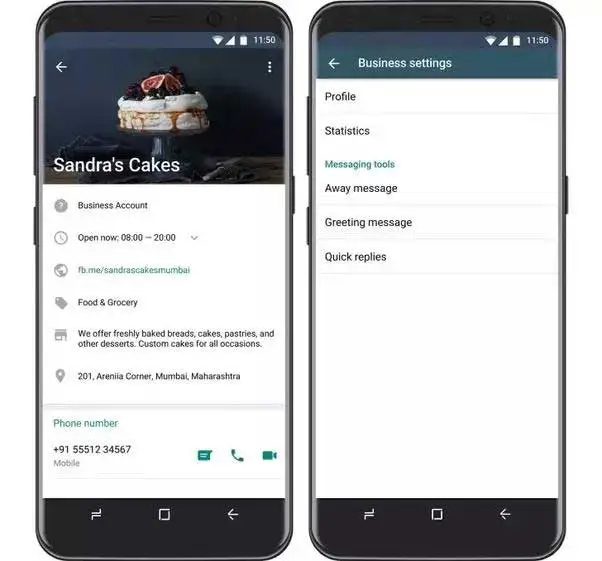 Technically, you have successfully installed and created a WA Business account on your cellphone. But this is not enough. You need to proceed with setting up your business profile, such as an address, business category, opening hours, and web address, by accessing the
Settings> Business Settings> Profile
menu.
If all data has been filled in correctly, tap the Save button at the top right to save changes.
How to Make Automatic Messages on WhatsApp Business
There are 3 types of automatic messages, namely Greeting Message, Away Message, and Quick Message .
Away Message is an automatic message reply feature when there is an incoming message from a customer outside working hours or when the business is down. You can customize the contents of the automatic message replies to suit your preferences.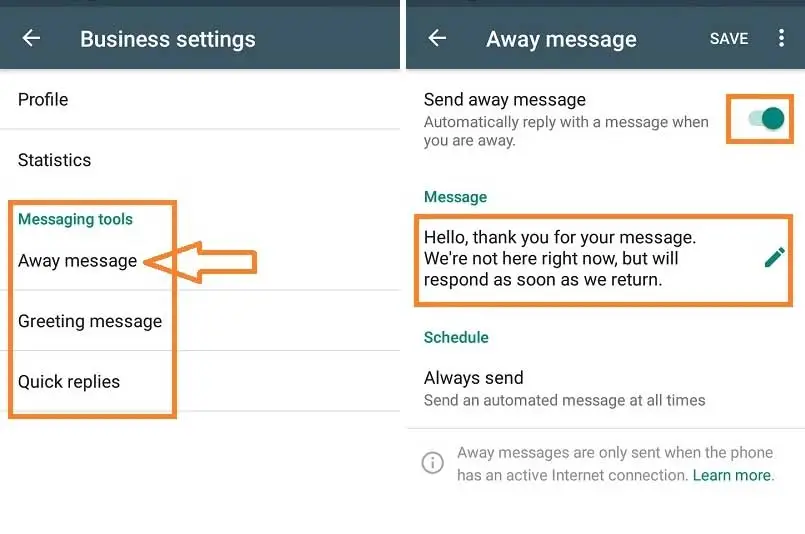 Tap the
Settings – Business Settings – Away Message
menu, then tick to activate this feature, and edit the existing default message; please compose your version of the sentence. When done, tap Save.
Greeting Message is an automatic message reply feature that you can send when a customer first contacts you or after 14 days of no communication.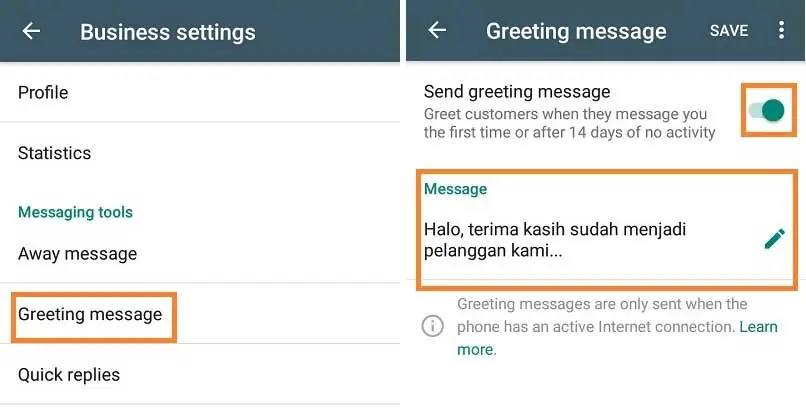 Quick Replies
is a feature that you can use to create reply text for frequently asked questions. It's easy to reply to messages that are likely to be asked by customers about your business.

The default is one quick reply created, namely
/ thanks
, which contains a thank you note. You can add other quick replies; let's take quick replies for an apology. Tap the plus icon at the bottom right, then type the most polite apology message, as well as your alternative shortcut. Finally, tap the Save button.
Next, every time you type the keyword / sorry , the application will automatically send the complete version apology message you typed earlier.
Or, when a message comes in, you only need to type the "/" symbol so that the quick replies shortcuts that have been set will appear.
How to Make Labels on WhatsApp Business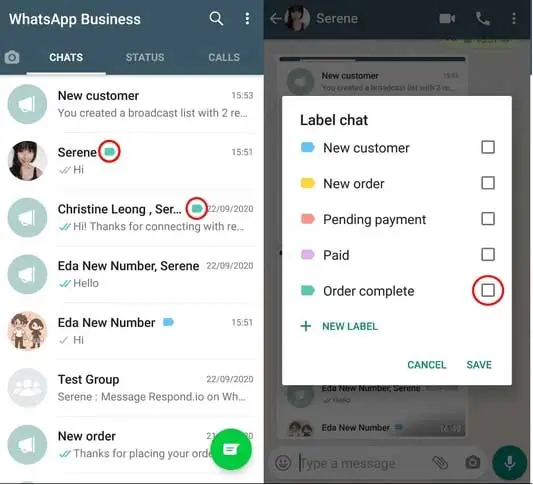 The label feature in WhatsApp Business allows you to mark specific chats or contacts as information on their status types. For example, you get a new order that hasn't been paid yet so that you can mark such chats as Pending Payment. Or, orders that have been paid are marked as Paid, and so on.
Tap and hold a specific chat, then tap Label in the top menu of your phone. You can also add an existing label or a new label.
How to Make a WA Business Catalog
WhatsApp Business brings a catalogue feature to show products in your WhatsApp Business profile. This feature serves as a product storefront that consumers can observe when viewing your profile.
In the catalogue, consumers pay attention to product photos and observe detailed product information and prices.
The way to create a WhatsApp Business catalog feature is to open the Settings> Business Settings> Catalog menu.
Then you need to add a photo, description, description and price of the product. You can also add a link related to the product. For example, you can include a link to your online shop. This catalogue feature can display up to 500 product photos.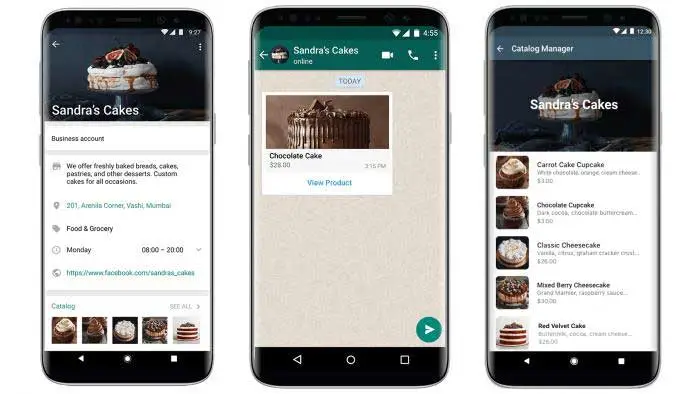 Maximize Your Business With WhatsApp Business!
WhatsApp Business is an application made especially for business owners. For those of you who are just starting a business, this application is one of the must-have applications that you have.
Plus the features it has, you will easily manage your business, from maintaining communication with the automatic message reply feature, reviewing message statistics, categorizing messages with specific criteria, and promoting products.