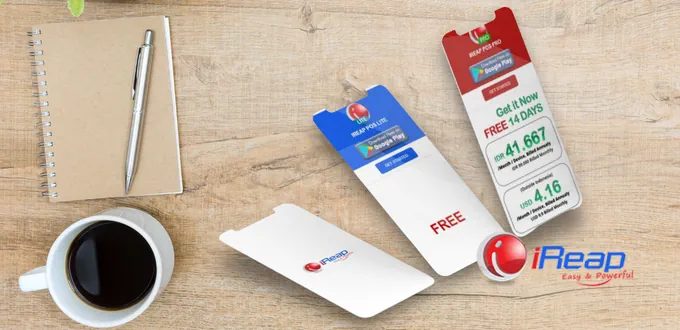 What is a cashier app? The cashier application is an application that helps business people make sales transactions more practically than using a conventional cash register. Well, now there is also a cashier application for small businesses like the cashier program used by medium and large business owners. You can even use the cashier app on your smartphone. In this article, find out more about two cashier application options for small businesses.
1. Free Cashier App iReap POS Lite
What is the iReap POS Lite cash register app? iReap POS is an acronym for integrated retail application point of sale. The iReap POS Lite cashier application is a free cashier application designed and developed by PT Sterling Tulus Cemerlang to help small business owners manage and run their businesses more efficiently. This free cashier application can facilitate recording transactions and sales to the stock system (managing inventory).
Some of the supporting features found in the free cashier application iReap Lite include free forever, POS (point of sale) features, inventory recording, single-user cashier, recording sales transactions, financial reports, and being able to work offline (without internet) with local storage (data stored on the device used).
For those just starting in business, you can use the free cashier application iReap Lite to control incoming cash from sales, find out daily or monthly profits, and control the stock of goods. Types of businesses suitable for using this application include grocery stores, basic food stalls, minimarkets, online stores, food depots, craft businesses, coffee shops, and even haircuts.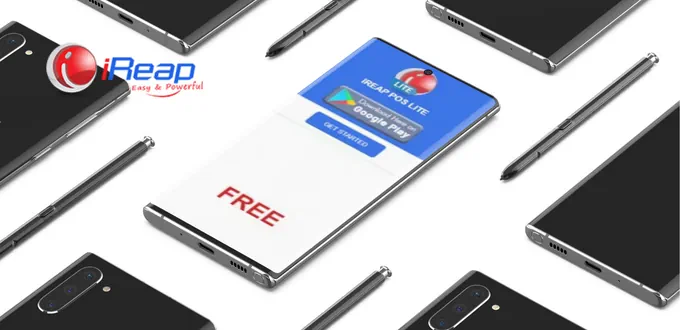 2. iReap POS Pro Paid Cashier App
As a medium and large business owner, it takes a lot of time, effort, and money to control several store branches, especially if you have many cashiers on duty in each store. To simplify managing multiple business units or stores and prevent fraud, you can use the paid cashier application iReap POS Pro.
The iReap PRO cashier application is a paid point-of-sale cashier application with an online and complete offline system because iReap has cloud and local database storage. This application will make it easier for you to monitor multiple stores in real-time. Monitoring can be done from home simply by accessing a web dashboard report that displays all data from all your stores.
Some of the features available in iReap Pro and not in iReap Lite, among others: are product sets (parts suitable for restaurants that use recipes), customer price lists, special prices per store, transaction recording per user (for salons), transfer of goods (movement of goods between stores), expense menu, attendance menu for employees, and complete reports from sales and inventory. In addition, a unique web dashboard report for administrators is only available on the pro version of iReap.
For new users, you can use the iReap POS Pro cashier application for free for 14 days to try it first. After that, you have to decide whether to continue using this application or not. If you want to continue operating, then there is a subscription fee that you have to pay.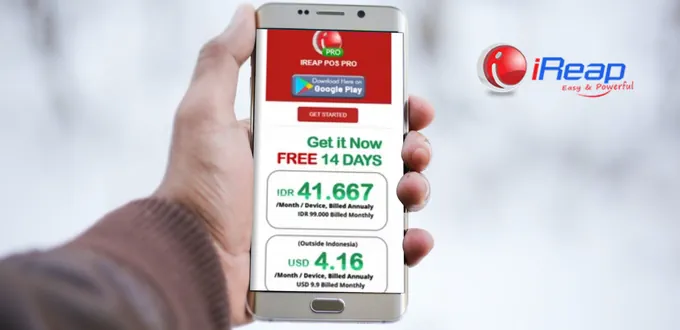 There are several payment options for the paid cashier application iReap POS Pro, namely:
pay the one-year subscription fee, then the monthly price is IDR 41,666 for one device. Just multiply the price for 12 months.
Payment per month, then the price is Rp. 99,000,-
There is also a choice of three- and six-month payment methods
Using the iReap POS Pro cashier application allows you to register more than one store; you can even use more than one device for one store. This is because the iReap Helper feature is already available so that you can manage up to hundreds of stores and multiple cashiers in one store.
From the two choices of cashier applications for small businesses above, you can choose one of them according to your needs. To be more confident, find out the advantages of the free cashier application iReap POS Lite and the benefits of the paid cashier application iReap POS Pro.