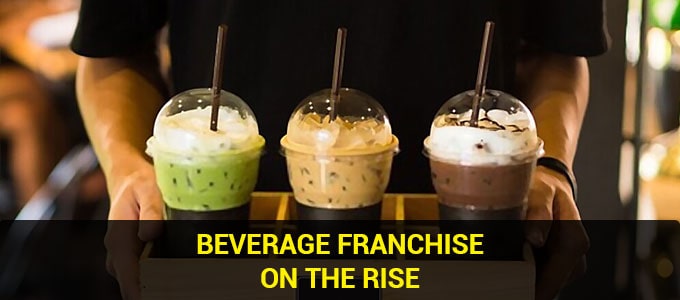 Beverage franchises are classified as one of the most popular types of business among Entrepreneurs / Business People. Similar to a food franchise, a business that is very easy to run and makes huge profits every month.
Not to mention drinks, including businesses that do not spoil easily and are always in demand. It's no wonder that there are so many beverage franchises available on the market. Compared to regular or independent drinks, a beverage franchise business is safer and has less risk of losing.

Contemporary Drink Franchise
Are you looking for a beverage franchise to open a business? Let's discuss 8 franchise options that are on the rise in this beverage business!
1. Kamsia Boba
This franchise offers a typical Asian tea drink, namely boba. Using a different blend, the taste of the Kamsia Boba drink quickly became popular in the community. Although the size has not spread evenly throughout Indonesia, the speed at which it spreads needs to be thumbs up.
For those of you who are interested in opening your own tavern, why not take this franchise. Becoming a franchisee for this drink can yield huge profits. Apart from the unique and delicious drink concept, the strength of the Kamsia Boba brand is getting stronger day by day.
Also read: 9 Tips to Buy Franchise Business
2. Eight Ice Blend and Squash
This franchise offers a wide selection of drinks with unique recipes. Even if it looks standard at first, you shouldn't be negative if you haven't tried it yourself. This drink franchise has been around since 2014 and is now quite widespread in Indonesia.
Because it offers an affordable price, a choice of flavors that are always growing and of course delicious, it's not surprising that this franchise's growth is very good. For those of you who are interested, there's nothing wrong with trying to be a franchisee because the initial capital is also quite low.
Also read: Looking to Start a Beverage Franchise? Check out The Following Tips!
3. Tea Poci
Do you know what teapot is? This typical Javanese brewed tea is a unique type of tea. If you are interested in opening this tea business, please contact the Teh Poci franchise. Poci Tea Company is a producer of tea with a unique blend. As tea makers, they also know the secret to maximizing their tea brewing.
Even if you only sell hot tea and iced tea, don't underestimate the strength of this brand. Many people do not hesitate to buy this tea at the Mall or entertainment place because they are sure of the taste. If you want to make a profit, there's nothing wrong with taking this franchise.
4. Monster Ice Blend
This drink franchise is the same as the Eigh Ice Blend but with a different drink blend. The most notable difference is the choice of flavors aimed at a certain age range of customers. There are flavors suitable for children, teenagers and adults.
Things like iced coffee concoctions may not be suitable for children, but Monster Ice Blend is able to create recipes that are just right for them. Want a variety of beverage flavors to open a business? Why not try this franchise?
Also read: 7 Practical Food Franchises That Will Trend in a Pandemic Time
5. Mang Kacau
Mang Kacau is another franchise that is also gaining popularity as an ice blend seller. If the mix of other beverage franchises is diverse and unique, Mang Kacau is more looking for a solid taste. This franchise drink product is pure one taste and is not mixed – mix with other ingredients.
But this one taste was perfected and finally it was able to attract many people. Starting from the flavors of Thai tea, green tea, cappuccino, white coffee, matcha, taro, strawberry, mocca and chocolate, all are delicious to try.
6. Haiyo Yogurt
When it comes to modern drinks, you should try yogurt concoctions. A popular beverage franchise using this yogurt recipe is Haiyo Yogurt. Their drink is made from fermented milk mixed with several flavors. Starting from fruit, tea, coffee and chocolate is a good mixture for this drink. For those of you who want to open a modern beverage business, you can try this brand as a franchise partner.
7. Now Cheese Tea
Another modern drink concept that you can try is cheese tea. This drink combines liquid cheese with tea. The concept is the same as milk tea, but replace milk with cheese. Its legit, sweet and savory taste is a unique taste that must be tried.
For a choice of franchises that are famous for serving this drink, you can choose Now Cheese Tea. This franchise is relatively new but has successfully spread in various big cities in Indonesia. Capital to become franchises franchises is also known to be light. Please try to contact directly if you need more information.
8. Tong Tji
Just like Teh Poci, Tong Tji is a tea franchise originating from a manufacturer of tea products. You can try different flavors of their teas. You can try traditional teas, lemon tea to jasmine tea on the menu.
This franchise is old and has existed for a long time in Indonesia. Although not quite new, the appeal of this franchise is always increasing. You can prove it yourself by looking for Tong Tji selling spots in malls, entertainment venues, tourist attractions and even near mini markets.
That is the discussion of 8 beverage franchise options that you can choose to open a business. Thank you for reading this article!