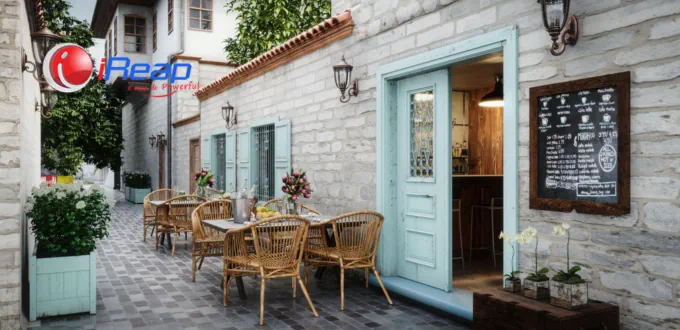 The concept of an Instagrammable outdoor cafe has become a trend, making it popular and attracting many customers. The average visitors are young people from the millennial and Gen Z generations who enjoy hanging out and gathering at cafes.
Do you want to build an Instagrammable cafe with an aesthetic outdoor space? Check out some recommended Instagrammable outdoor cafe designs in this article.
Instagrammable Outdoor Cafe Concepts that Make Cafes Popular
1. Instagrammable Outdoor Cafe Design with Decorative Lights
The use of dim yellow lights that illuminate during the night will create a serene and romantic ambiance, making visitors feel comfortable.
To create a classic and unique impression, use long wooden tables and benches. However, also provide couple tables and chairs for visitors who come with their partners.
Additionally, you can offer a cozy gazebo for visitors who want to relax with their families in the cafe's outdoor area.
Since it is an outdoor space, you can adapt other design elements based on the cafe's conditions. For instance, if the outdoor space is on the second floor, you can consider using concrete flooring, gravel ornaments, or synthetic grass.
On the other hand, if the outdoor area is on the ground floor, you can have a ground covered with stones along the path to the tables/chairs or gazebo, which will enhance the outdoor cafe's Instagrammable appearance.
With an appealing outdoor space, your cafe business can continuously thrive as it attracts a large number of customers...
2. Industrial Outdoor Cafe Design
The industrial outdoor cafe design is minimalist and natural. Surround the outdoor area with a few large trees and green leafy plants for decoration.
Ensure adequate lighting to create an aesthetic dim atmosphere.
For tables and chairs, choose wooden ones with classic designs, or you can opt for bamboo or rattan chairs.
Add soft cushions on the seats to make visitors feel comfortable during long periods of sitting.
To prepare for the rainy season, you can provide a collapsible canopy, which can be installed at each table when it drizzles or rains.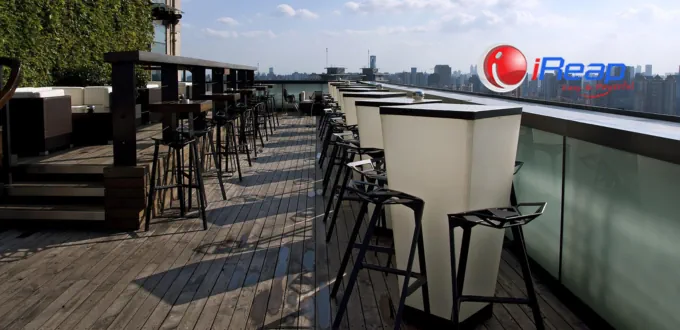 3. Mini Outdoor Cafe Design with High Chairs
This is a unique and Instagrammable cafe concept suitable for those with limited space.
You can create a small room in one corner of the courtyard, for example, in the form of a container with one open side to serve and deliver orders to customers.
On the outside of the container, place high chairs for visitors to sit while watching the cafe's staff prepare and serve food/drinks.
Don't forget to provide 2-3 long wooden tables and chairs as well, so visitors who don't want to sit at the mini bar can choose to sit in this area.
Surround the cafe area with trees to create a cool ambiance. You can also use decorative lights such as hanging bulbs, lanterns, and more to illuminate the cafe.
4. Outdoor Cafe Design with Unfinished Concept
Many Instagrammable cafes in various cities in Indonesia use this concept. Considering that many people enjoy hanging out at cafes with an unfinished concept, taking photos against interesting backgrounds, and sharing them on their social media.
To create an unfinished design, you'll need high-back chairs painted in white with tables shaped like tree roots, for example. Add cushions to the seats for comfort.
In addition to offering various coffee variations, you can also provide complementary food. You can find examples of food menus that are currently popular here: Best-Selling Trendy Foods.
5. Minimalist Outdoor Cafe with Classic European Concept
If you want to stand out, try creating a cafe with a classic European concept. The design characteristics will be visible in the cafe's walls, which use unpainted red brick without plaster. You don't even need to paint the walls to maintain a natural impression.
For the outdoor area to appear Instagrammable, use a sitting-on-the-ground concept, where visitors can sit on grassy areas with cloth cushions, and in the middle, there are small round tables with short legs.
To create a European vintage atmosphere, use small hanging lamps for lighting.
6. Outdoor Cafe Design with the Latest Table and Chair Trends
This Instagrammable outdoor cafe concept has a semi-modern approach. The outdoor cafe uses various types of tables and chairs. For example, one side can have four single tables and single chairs.
On the other side, long chairs with three single tables can be used. For the outer side, you can have tables with only two chairs.
To make it more appealing and refreshing, create a plant fence around the cafe. Installing a lightweight steel roof that is transparent will provide a comfortable atmosphere.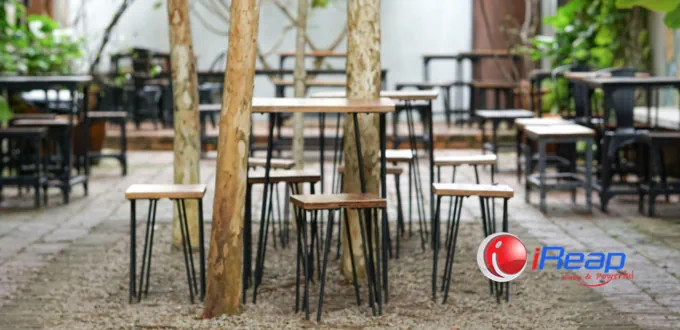 7. Outdoor Cafe Design with Home Garden Concept
The concept used in this Instagrammable outdoor cafe design is quite fascinating. It has a simple appearance, an open area with a lightweight steel framework, without walls but with a transparent roof.
Add climbing plants that entwine the framework pillars and surround the roof. Let some of the plants dangle from the roof to create a solid natural atmosphere.
You can adjust the selection of tables and chairs according to your preference, such as using geometric-shaped tables of various sizes and models. The flooring can be made of classic coral.
8. Outdoor Cafe Design with Green Light Decorations
This design concept is suitable for those who want to open a cafe but have limited space.
This concept features a mini cafe with green umbrella decorations, resembling the shabby chic style, which saves space.
Use chairs made of tin cans with small round tables. Add small decorative plants around the cafe to enhance the ambiance.
9. Saung Sawah-style Outdoor Cafe Design
The rural atmosphere can be a unique concept for an outdoor cafe. Usually, these cafes are built near paddy fields, creating a refreshing ambiance with a green panoramic view.
Construct small gazebos for cafe visitors to enjoy their meals while appreciating the scenery.
You can also use tables and chairs with large umbrellas to provide shade for visitors during sunny days.
Out of these 9 concepts, which one would you consider adapting for your cafe? Once you've made your choice, start implementing your business. Running a cafe business can be promising, provided that you manage it well. To facilitate cafe management, you may consider using specialized programs like a cashier program. Check here for tips on selecting the best cafe cashier program: Tips for Choosing the Best Cafe Cashier Program.