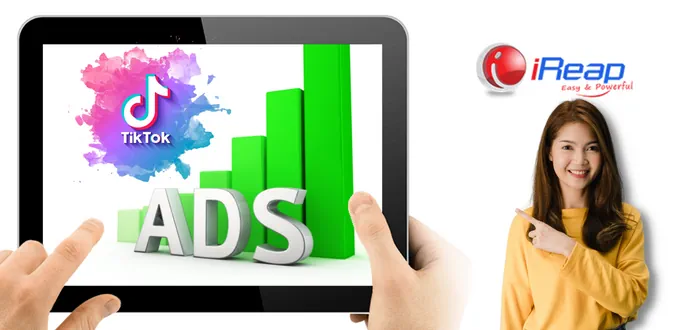 TikTok ads is a tool for advertising available on the TikTok application. Why should you use TikTok ads? Installing TikTok ads through creating exciting content can help you increase brand awareness and increase the chances of product sales.
So, how to place ads on TikTok ads? Let's find out more about why you need TikTok ads, how to advertise on TikTok ads, and how much it costs.
Why TikTok Ads?
Installing TikTok ads through creating exciting content can help you increase brand awareness and increase the chances of product sales, especially if your target market is young women.
TikTok is available in 150 countries with a predominantly Generation Z audience (born 1995-2010). Based on data from Hootsuite, the number of active TikTok users worldwide reached 1 billion as of September 2021.
Of these, 43% of TikTok users are 18 to 24 years old (young adults), with 24.7% female users. Engagement on TikTok is also high because young adult users spend approximately 80 minutes per day accessing TikTok.
The number of TikTok users that continues to grow makes Hootsuite predict that TikTok ads can reach an audience of 18 years and over 825 million. Promoting your product or business on TikTok can reach a broader market.
Types of Ads on TikTok Ads
In-Feed Video
This type of in-feed video ad will display your promotional content on the homepage of TikTok users, precisely among TikTok's FYP (for your page) content, after they have scrolled through the range several times.
Your promotional content will appear full screen, and TikTok users can interact (like, comment, and even share). This type of ad usually attracts more engagement on the content.
If your target is to advertise on TikTok to increase sales turnover, there's nothing wrong with trying this type of video in-feed ad.
Brand Takeover
How can TikTok ads increase brand awareness? You can choose the type of brand takeover ad. Brand takeovers are advertisements that appear on the user's screen when they first open the TikTok application.
After serving for a few seconds, the ads will turn into in-feed video ads, and users can choose to skip ads (skip ads). These ads can be in the form of still images, GIFs, too videos that direct users to visit a page according to your settings.
TopView Ads
To help the target market on TikTok get to know your products and brands better, you can use to view ads on TikTok.
This 5 to 60-second ad will appear on the top page of the homepage or your page after the user has opened the app for 3 seconds.
The ad duration on this full-view ad is longer, so you can use it to create more detailed and attention-grabbing video ad content.
Branded Hashtags
Ad types using specific hashtags will appear in the top position of the discovery page (search page). You need to choose a hashtag that shows your brand identity.
In addition to creating brand awareness, branded hashtags will encourage more audiences to engage with the brand.
For example, you create a particular challenge related to products and brands. This challenge will make TikTok users interested in creating content according to the provisions and using the same hashtag.
So, when a user visits that hashtag, TikTok will display a collection of video content that uses the same hashtag.
Branded Effects
You can also increase TikTok user engagement through branded effects ads. This TikTok ad allows you to create custom filters and use them on promotional content.
So that TikTok users are interested in using your filters, create filters in the form of effects or stickers that are funny to aesthetic.
How Much Does Ads Cost on TikTok?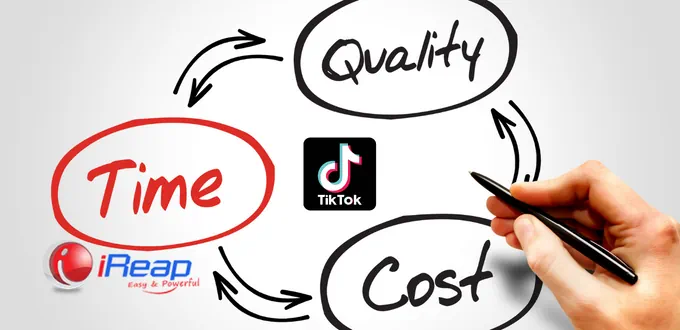 The cost of advertising on TikTok ads depends on the goals and budget you choose. There are two types of ad budgets in TikTok ads, namely:
Daily budget is the maximum amount you spend to promote one content (campaign) or several ad contents (group campaign) every day.
Lifetime budget is the maximum amount you want to spend on a campaign or group campaign as long as the ad runs for a certain period. However, the average daily budget is not necessarily evenly distributed.
Based on these two budgets, there is a minimum budget that you need to provide every day. For campaign-level advertising, the daily and total budget for lifetime advertising must be more than US$50. But for an advertising budget that can encourage users to install applications, you need a budget of more than 100 dollars per day.
For group campaigns, the daily budget must exceed 20 US dollars, and the lifetime budget is calculated as a daily budget with a minimum of 20 dollars times the days you schedule.
For example: if you schedule 31 days, the minimum budget for group campaign ads is 20 dollars x 31 days = 620 dollars.
How to Start Advertising with TikTok Ads Manager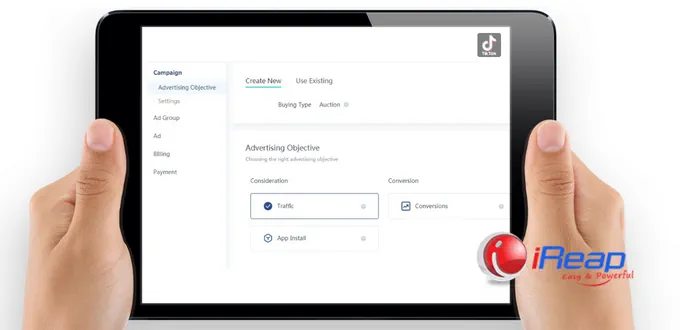 Create an Account First on TikTok Ads
Visit the site https://ads.tiktok.com/i18n/signup to create a TikTok ads account. You can sign up using your existing business email or TikTok account.
Define TikTok Ads Campaign
You can go to the account dashboard if you already have an account on TikTok ads. Select the campaign menu and create to start making TikTok ads.
Determine the main objectives of the campaign that you want to get, such as increasing traffic, generating conversions, installing applications, or attracting more new potential customers to create sales.
Targeting and Ads Details
After selecting the campaign objective, you must define the target market and advertising details. This target market consists of choosing a specific audience or similar audience.
You must determine demographics (gender, age, location, language) for custom audiences, interests and behaviors, devices, and targeting.
For ad details, you can place ads only on the TikTok platform or serve ads on other platforms, such as BuzzVideo, NewsRepublic, and others.
After that, fill in the display name of the ad, image, category, and others. You can also add a 20-word app or website description to make your ad clearer.
Budgeting and Showtimes
At this stage, you need to set your ad budget and schedule. You can schedule ads for only one day or a week.
The budget issued is, of course, by your advertising schedule, with a balance according to your choice of budget (daily or yearly) and the type of campaign (campaign or group campaign ads).
Payment Method
There are two ad payment options on TikTok: prepaid and auto pay. For prepaid, you will provide a balance in the amount according to the selected budget.
This payment means you don't have to bother calculating the duration of TikTok ads showing. Ads automatically stop when the balance runs out. For automatic charges, you can debit the balance from a debit card or credit card after the ad is displayed.
TikTok ads is a tool for advertising available on the TikTok application. Advertising on TikTok using TikTok ads will help increase brand awareness and sales. You can choose the type of TikTok ad and the budget according to the purpose of the ad. After knowing about advertising on TikTok, let's also find out about other types of Digital Marketing Ads that can help you grow your business and increase sales.