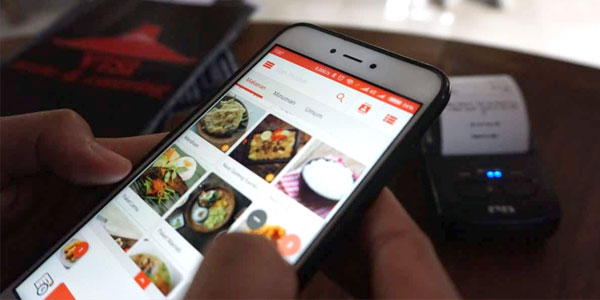 Qasir's reputation as one of the trusted Point of Sale applications has been proven by many parties, especially by those who come from SMEs.
Initially, Qasir.id, which was established in 2015, was only managed by three people from the second floor of a house. The development began when they took care of several projects once they joined the Definite digital agency in Jakarta.
In 2017, Qasir.id was officially introduced and used by the closest people before finally entering the MSMEs in 2018. Now, Qasir.id already has around 12,000 users.
Read also: Cashier Application Functions for MSME Businesses.
So, what are the features they offer to make your business easier?
Practical and easy to use

It has become the main requirement for the application or platform to be easy to operate. Qasir also ensures that their interfaces and features are not difficult for users, especially for those of you who are not familiar with the Point of Sale application.

Print or digital receipt

The receipts that you take care of through Qasir.di are also available in two choices, namely print and digital. For the second version, a receipt will usually be sent to the user's e-mail. That way, you also indirectly save paper.

Can be used when the internet is dead

You can still use Qasir.id even if the internet connection is lost. All data, such as customer orders and transactions, will be stored in the Qasir system. Then, when the internet is reconnected, all the data will move automatically.

Manage products in a few clicks

Not only managing transactions, but Qasir.id also provides features that make it easy for you to manage your product in a few clicks. You can add, subtract, or delete products that are in-store displays.

Monitor staff to outlets

Furthermore, you can monitor the performance of staff who work, both through data collected in the system, work locations, to their transactions with consumers. Similarly, when you open a branch in another city, Qasir.id will facilitate monitoring online.

Order goods faster

Need goods from suppliers, but unable to come to their place? You can place an order online by relying on Qasir. Make sure the distributor concerned is already cooperating with Qasir.id.
Qasir and iREAP POS as PoS applications for SMEs
Qasir.id is one of the many PoS applications that can be used by MSMEs. If you need an alternative, there is Ireappos who has quite a long experience in the Point of Sale sector.
Not much different from Qasir.id, iREAP POS also makes it easy for you when you have to manage stores in various places without making a direct visit.
Another reason that makes Ireappos friendly for MSMEs is that they provide a free version with adequate features for those of you who haven't been able to buy the PRO version.
So, you will not have any difficulties when comparing it with the Qasir application.