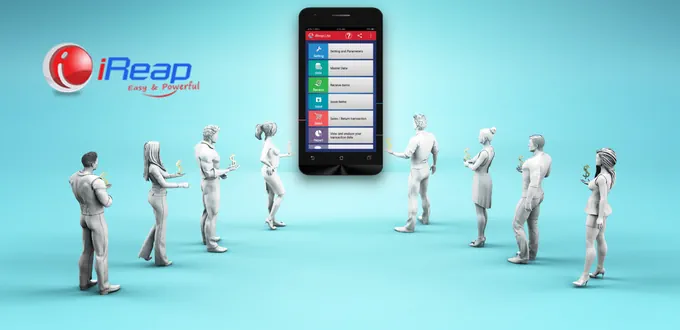 What is a cashier app? The cashier application is software that can help process business transactions like a cash register in a medium and large-scale retail business. Currently, even small businesses can use the cashier application using only a smartphone so that business operations can run smoothly and efficiently. What are the free cashier apps? Is there a paid cashier application with a low monthly fee? Come on, read this article to know the answer.
1. Free Cashier App iReap POS Lite
What is the iReap POS cash register application? iReap POS is an acronym for integrated retail application point of sale. The iReap POS cashier application was designed and developed by PT Sterling Tulus Cemerlang to help businesses organize and run business or store operations, from the process of recording transactions and sales to a stock system (managing inventory).
Suppose you are a small business owner, such as a grocery store, mini market, online business owner, food depot, craft business, coffee shop, or even a hairdressing business. In that case, using the iReap POS lite cashier application can be an option. Why? Here are some of the advantages of the iReap POS Lite cashier application: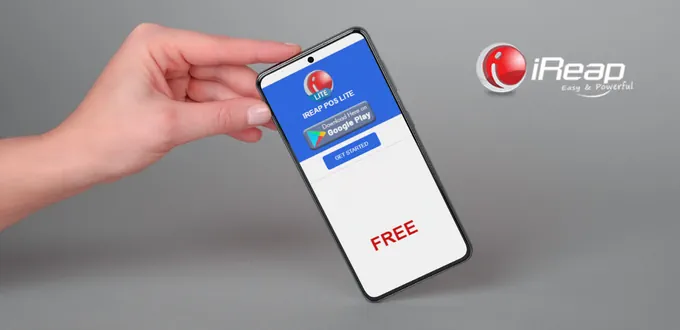 ..
A free cashier application that is easy to use and helps record transactions in detailed reports on the stock of goods, and even provides complete financial reports.
It can be accessed for life using an android phone at least version 4.1 and above and is available in 4 languages, namely Indonesian, English, French, and Russian.
The iReap POS lite cash register application can be used for free without ads and data limitations. You can add multiple products to the master data.
Serving customers can be faster, and recording sales transactions is more accurate because you can only use a product barcode scan with a smartphone camera. You can also use a special barcode scanner connected to the gadget.
Proof of transaction can be printed or sent to the consumer's email. For printed sales receipts, business people can connect a smartphone or tablet to a printer that has a Bluetooth or WiFi connection feature.
In the iReap POS lite cashier application, there is also an inventory management feature that helps you manage the inventory of incoming and outgoing goods (sold). You can immediately find out when stock is running low and place an order before it runs out of stock.
The calculation of the price of goods is done automatically. In addition, sales profit reports for each product or transaction can be known in real-time.
Data of goods, products sold, and categories of goods do not need to be entered individually. You can import a CSV format file so that the process of inputting goods data is faster.
The iReap POS lite cash register application can be used offline without an internet connection.
It supports graphical reports of point of sale sales transactions and reports sent via email with attachments in CSV format.
Backup & restoration of data to and from Google Drive and Local Drive is available
In the free cashier application iReap POS, there are six main menus: settings and parameters, receipt of goods, sales transactions, master data, expenditure of goods, and reports.
Want to try the free cashier application yourself and feel the various benefits? Just download the free cashier application iReap Pos Lite here.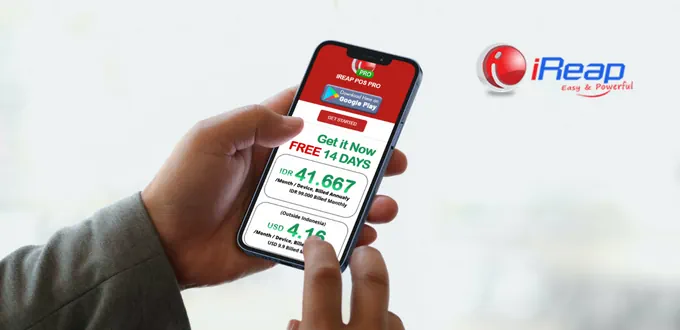 2. iReap POS Pro Paid Cashier App
If you are currently developing your business by opening many branches and having several cashiers in one store, then you can choose the paid cashier application iReap POS Pro. The iReap PRO cashier application is a cashier or point of sale application with an online & full offline system because iReap has cloud and local database storage. This application will make it easier for you to monitor multiple stores in real-time.
Some of the advantages of the paid cashier application iReap POS Pro include:
There are no product, transaction or advertising restrictions. You can set product sets (products containing recipes or formulas for raw materials, such as food in restaurants), customer price lists, and special prices for each store. Branch stores can be integrated into the centre, so they can request goods from the head office
Can print sales receipts, use barcode scans, set item prices, profits, offline access, backup data, and more.
If it's your first time using the iReap POS Pro cashier application, you can use it for free for 14 days before deciding to make a payment.
No need to enter credit card details when doing the free trial for 14 days.
After the 14-day free trial, you will need to pay a very affordable subscription fee. The subscription fee for the iReap POS Pro cashier application is only Rp. 41,666 for one device with a one-year direct payment. Meanwhile, for monthly payments, the price is Rp. 99,000- There is also a choice of payment methods for three and six months.
Using the iReap POS Pro cashier application allows you to register more than one store, use more than one device for one store because the iReap Helper feature is available, and manage up to hundreds of stores and multiple cashiers in one store.
It is possible to add users so employees who work on shift systems can use the same device but with different user accounts.
You can add more diverse payment methods other than cash and credit, such as OVO, GoPay, QRIS, and others.
Already integrated with various accounting applications, such as Jurnal.id, Zahir, SAP Business One, and SAP Business One version for SAP Hana Cloud.
It makes it easier to evaluate employee performance because the iReap POS Pro cashier application also supports recording team performance and sales team attendance directly in the application.
Using the paid cashier application iReap Pos Pro makes it easier to record transactions per user. In addition, it makes it easier for you to monitor sales per day, per store, per item, per cashier, and sales team.< /li>
If there is a problem with the registered device, you can change the device, and the master data can be retrieved. Meanwhile, when the device is lost, you can unlink the old device and connect it to the new device.
New devices will get free use of the app for 14 days. All master data will be instantly synced to the new device, including the last stock amount.
Want to try the iReap POS Pro cashier app and take advantage of its 14 days of free usage? Just download the iReap POS Pro cashier application.
Free and paid cashier applications will help small businesses record goods' stock, check the availability of goods, record sales and purchase transactions, and even provide complete and detailed financial reports. You can choose one of the android cashier applications iReap POS Lite or iReap POS Pro, according to your needs.