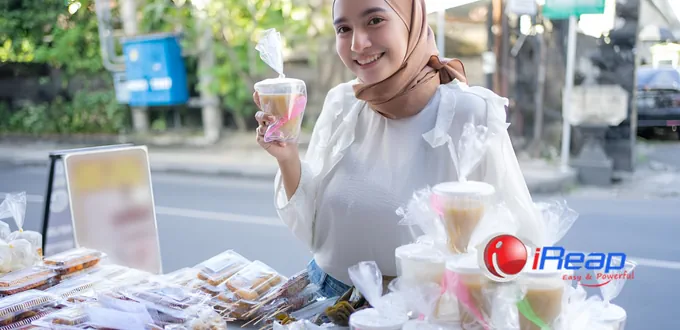 If you want to start a business and are wondering which sales suit the fasting month, you can begin selling exceptional food like fresh drinks, takjil, fried food, or pre-dawn catering.
You can also sell religious paraphernalia (such as prayer beads, Al Quran, mukena, sarongs, etc.) and hampers or fasting month parcels. In this iReap article, 21+ selling ideas for the fasting month are in demand and profitable. Come on, read it to the end.
21+ Selling and Profitable Fasting Month Sales Ideas
1. Typical Fasting Month Foods
Many types of food are usually sold well in the fasting month, such as compote, ketupat, purple sweet potato compote, satay padang, chicken or salted eggs, and others. All types of food are always a favourite and are hunted by many people.
If you have a talent for cooking, you can make special fasting month food menus and then sell them yourself. Meanwhile, if you want to make only some of these food menus yourself, you can work with others who can make them. So, you have to sell it.
2. Fresh Drinks & Takjil
After a day of fasting, people want to drink fresh drinks or enjoy legit takjil. That is why types of new beverages and takjil can be sales products in the fasting month, which will bring in quite a profit.
You can make several variations of fresh drinks, such as fruit ice, grass jelly ice, coconut basil ice, etc.
Some types of takjil are also in demand: marrow porridge, compote, brown sugar pearl porridge, green bean porridge, and many others.
Pack these sales products in closed containers, and easy to carry. Then, sell it in front of the house or on the side of a busy road.
3. Fried and Market Snacks for Breaking the Fast
The next fasting month selling the idea consumers have sought is selling fried foods and market snacks, such as round tofu, fried bananas, crispy cassava, meatballs, cilok, lemper, donuts, cucur cookies, etc.
You can prepare several variations of fried foods and market snacks, then sell them individually based on the wishes of consumers. Another way is to pack several types of snacks in boxes or plastic containers and sell them at a package price.
4. Bento Iftar
Bento is a Japanese word for lunch which contains rice and side dishes. In general, bento is packaged in a practical and easy-to-carry container. Recently, food for breaking the fast in the form of bento lately is also popular and becoming a trend.
To ensure that your sales are selling well, market your bento to office workers, afternoon shift health workers, or the general public, who may break their fast at work.
For example, by distributing brochures that already display product photos and include telephone numbers that can be contacted. Later, you have to wait for someone to call to order a Bento.
Another way to sell iftar bento is by opening a kiosk in front of the house, leaving bento to be sold by other food vendors, or selling it online on social media.
5. Sahur Catering
The time for sahur is short, and only some have time to cook their suhoor. This could be an opportunity for those of you looking for ideas to sell during the fasting month.
How to market pre-dawn catering, first, list the week's menu, complete with the types of side dishes and delivery times. Then distribute this menu list to student boarding houses, to people's homes around where you live, or to office centers.
Later you will make a catering meal based on the number of orders. Try to create a practical delivery system with its catering delivery fleet so that consumers can receive all catering meals on time.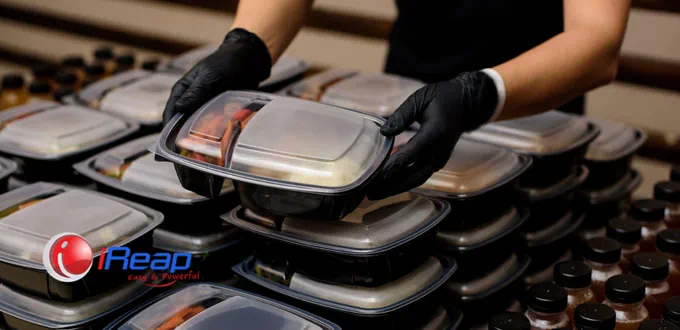 6. Cookie Jars/Packaging for Cake Sellers
The idea of ​​selling this one is the target market for cake sellers. Look around the house; how many cookie sellers need attractive cookie jars or packaging? Then, prepare the jars and packaging they need.
Another way to market cookie jars and packages is to sell them online on social media or in e-commerce.
Some strategies that you can apply to sell online on social media, for example:
7. Catering Pre-Order System
Almost similar to selling bento or pre-dawn catering, the idea of ​​selling the fasting month as pre-order system catering is to prepare catering based on orders only. So, you don't need to stock a lot of food menus every day.
It would help if you announced the available food menu, schedule, and delivery area then started taking orders.
Try to prepare a different menu every day for different needs. For example, only for the iftar menu, sahur, or specific events, such as an iftar together at the office.
Apart from that, you can also prepare catering for special needs, such as a low-carb diet catering menu, a vegetarian menu, and a healthy catering menu for people with diabetes. You can even cater to patients being treated in the hospital.
8. Food Delivery Services
In the review above, you can see many catering business opportunities or selling food with a pre-order system. However, not all of these food vendors have delivery vehicles.
This could be an opportunity to open a food delivery service. All you have to do is take the package from the seller who uses your services and deliver it to the customer's address.
9. Selling Worship Supplies
Selling religious equipment is also a business that is in demand during Ramadan and approaching the holidays. Most consumers will look for mukenas, prayer beads, prayer rugs, sarongs, the Koran, etc.
You can sell worship equipment offline or online. Then to make buying and selling transactions easier, especially for making sales receipts, you can use a free cashier application.
10. Pastries
Pastries are among the most sought-after foods, especially before Idul Fitri or Eid. You can sell cookies with a pre-order system or produce cookies in large quantities and then open a reseller system.
Oh yes, to understand what a reseller is, just read the following articles:
11. Hijab and Hijab Accessories
Approaching the fasting month of Ramadan and approaching the holidays, the Muslim fashion business will experience an increase in consumer demand for hijab and hijab accessories.
If you are good at sewing, you can produce various hijabs and make accessories for them. But if you still need to, you can buy wholesale and then sell it again.
Several types of hijabs are in demand, such as rectangular, triangular, pashmina, and Bergo hijabs. At the same time, hijab accessories generally in the order in the market include inner ciput, scrunchies, and jewelry items such as necklaces, bracelets, and brooches.
12. Ketupat wrapping business
Opor ayam and ketupat are two typical food menus for the fasting month and Eid. However, because not everyone can weave and make ketupat wrappers, many people become lazy to cook ketupat.
If you are skilled at making ketupat wrappers, grab this opportunity. Make and produce as many ketupat wrappers as possible starting from the beginning of the fasting period. Then to market it, you can work with sellers in the market.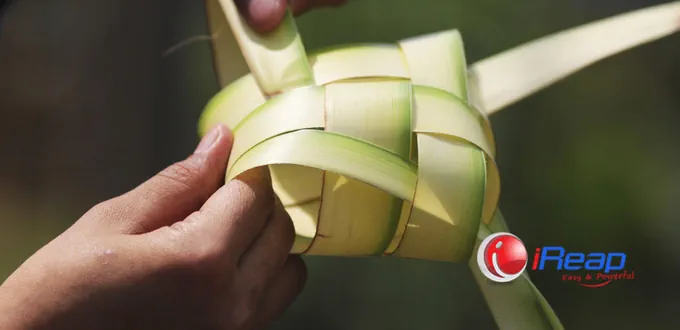 13. Home Decoration Services
Many people want to decorate their homes as soon as the fasting month or Eid al-Fitr approaches. This could be a home decoration service business for those with decorating or interior design skills.
14. Selling Frozen Food
Frozen food is one of the most needed frozen products during the fasting month. The reason is that it will facilitate preparing a meal or food for breaking the fast.
If you are good at making various side dishes, such as yellow spice fried chicken, ungkep chicken, homemade fish nuggets, dumplings, or dim sum, make them frozen. Marketing can use a reseller system, drop shipper, sell yourself online, or entrust your frozen food products to other sellers.
15. Fresh Fruits and Vegetables
During Ramadan, sales of fresh fruit and vegetables will increase, bearing in mind that these two types of high-fiber foods can restore energy and nourish the fasting body.
You can buy fruit and vegetable wholesale, then resell them. You can also sell fresh fruits and vegetables as parcels or hampers. Apart from that, selling fresh fruit and vegetables can also be done through social media.
16. Hampers business
If you have the skills to make knick-knacks, wrap gifts, and so on, start a hampers business. The contents don't have to be homemade products.
You can sell hampers containing prayer items, Muslim clothing, pastries, fresh fruit and vegetables, eating and drinking utensils, skincare, and even make-up tools. Make unique and attractive hampers or custom hampers according to customer orders.
So, as a reference for running a hampers business for those who want to try it for the first time, you can read the following references:
17. Selling Muslim clothes
Selling Muslim clothes can also be an idea for marketing during the fasting month, which can potentially bring in big profits—for example, selling koko shirts, robes, tunics, skirts, and culottes. To promote and market products, take advantage of Instagram, and WhatsApp Business, create an online shop website or sell on TikTok.
18. Selling Dates
One of the sunnah of the Prophet in the month of fasting is breaking the fast with dates. That is why the demand for dates increases significantly during the fasting month.
You can start looking for distributors of good quality dates and at the best prices. Then, pack the dates and sell them, both offline and online.
19. Health and Beauty Products
When fasting, it is essential to maintain a healthy body and skin. Moreover, the lack of fluid intake can affect a person's health and beauty. This makes many people hunt for health and beauty products, such as vitamins, olive oil, or face masks that are specifically used during the fasting month.
20. Fasting Month and Eid Souvenirs
The need for fasting month and Eid souvenirs has also increased since the beginning of the fasting month. Many offices and business places need souvenirs to increase their business sales.
This could be a business opportunity. All that's left is to prepare souvenirs that can print brand names, such as mugs, block notes, pens, agendas, key chains, or t-shirts with unique designs for the fasting month.
21. Gift Business
During the fasting month, people will gather more and stay in touch, either by breaking the fast together or in other events. When visiting each other, they will bring gifts or souvenirs.
You can prepare various types of souvenirs typical of the fasting month, such as multiple types of pastries, snacks, or cakes regular of certain regions, dodol, and so on.
The souvenir business will be selling well closer to the Lebaran homecoming, bearing in mind that many people will shop for souvenirs to bring home.
Another Fasting Month Selling Idea and Ways to Profit Your Business
In addition to the fasting month selling ideas you have read above, there are still many selling ideas you can realize to earn income during Ramadan. Some examples of other business ideas, for example:
Selling fireworks.
Sell ready-to-cook spices for sahur and breaking fast.
Selling takjil in office complexes and shopping centers.
Eid envelope business
And so on.
Then, so that the business can grow and the products sold can bring profit, there are several ways that you can apply, including:
This article's ideas for selling the fasting month can inspire you and help you realize a business that can bring in a lot of money. Happy selling!