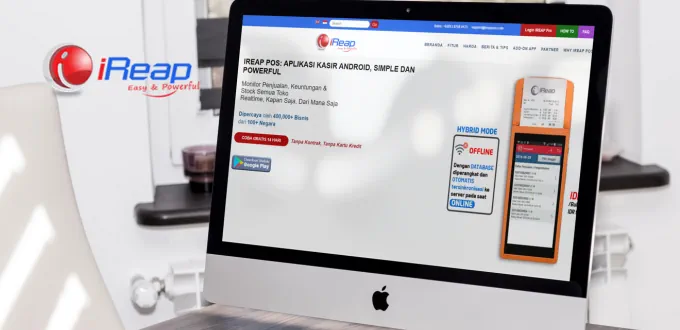 To facilitate the more effective and efficient management and operation of your enterprise, it is imperative that you embrace the employment of a Point of Sale (POS) system. Among the recommended choices, one stands out – iReap POS.
Numerous virtues grace the Point of Sale iReap POS, including its comprehensive features tailored to the necessities of commerce. It expedites cashier responsibilities through its integrated barcode scanner feature. It also orchestrates inventory and stock management while harboring manifold other advantages. Delve into the details!
9 Advantages of the iReap POS Point of Sale
The Integrated Retail Application, also recognized as iReap, unveils itself as a pivotal solution for the orchestration and conduction of business operations. Be it cafes, restaurants, retail establishments, convenience stores, eateries, snack kiosks, salons, workshops, or even service-based businesses – the ambit of iReap's utility knows no bounds.
This distinction arises from the realm of exceptional features enshrined within a commendable Point of Sale application. Within this realm lie cashier applications, Point of Sale modules accommodating diverse payment modes, inventory management utilities, stock administration frameworks, staff attendance and performance monitoring protocols, and much more.
The following list outlines 9 merits intrinsic to the iReap POS Point of Sale, all poised to enrich your business experience:
1. Expeditious Transaction Processing
The Point of Sale iReap POS seamlessly integrates a barcode scanner feature, rendering feasible the swift and error-minimized input of product data by cashiers. Consequently, cashier duties achieve heightened efficiency, and the potential for queues at the cash counter diminishes significantly.
Concurrently, this application stands entwined with inventory data, engendering real-time transaction identification, processing, and recording, all with the added virtue of automatic updates.
2. Inventory and Stock Management
Automatization burgeons as the next distinctive facet of iReap POS. Whenever transactions unfold and products find new homes, the system promptly depletes stock quantities in an automated manner.
Conversely, instances of product influx, stemming from returns or restocks of in-demand commodities, occasion the augmentation of stock quantities in real-time.
Such capabilities proffered by iReap POS resonate as an asset in product tracking, facilitating vigilant stock monitoring, and preempting the depletion of high-demand items. This augments the expediency of decision-making concerning procurement, as well as the formulation of superior sales strategies.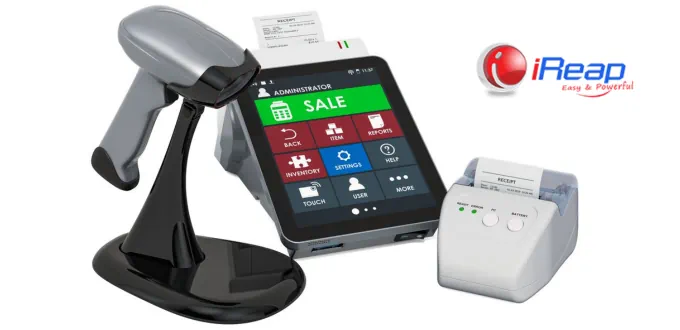 3. Multifarious Payment Methods
In an epoch characterized by advanced technology, customer preferences concerning application usage and payment modalities exhibit a rich diversity.
Some patrons lean towards credit cards, others favor debit cards, while certain individuals prefer transactions facilitated by e-wallets such as OVO, Gopay, and QRIS.
By harnessing a POS application, you acquire the capability to proffer a spectrum of payment methods, harmonizing with the varied inclinations of your clientele.
4. User-Friendly Interface
Another forte intrinsic to the iReap POS Point of Sale lies in its innate user-friendliness, transcending even the barriers of technologically uninitiated users.
The interface of iReap POS epitomizes intuitiveness, fostering rapid mastery of the system sans the necessity for specialized training.
Should guidance be sought, a comprehensive manual elucidating iReap POS usage resides in the "How To" section of this website.
5. Available in Free and Paid Versions
For nascent businesses endowed with modest inventories, the iReap POS Lite beckons as a suitable introduction. The gratis utilization of iReap POS Lite facilitates business management without incurring subscription costs.
As your enterprise blossoms, encompassing a broader spectrum of products with escalating complexity, the iReap POS PRO beckons as the preferred avenue. The cost of subscription remains eminently reasonable, at Rp99,000 per month. To amplify cost-effectiveness, opt for annual payment, reducing the monthly fee to Rp41,667 per device.
6. Comprehensive Financial Reports
In the context of pivotal business decisions, accurate data assumes paramount importance. It is at this juncture that the iReap POS's virtue becomes manifest, as it unfailingly furnishes comprehensive financial and sales transaction reports. This includes the provision of analytical features, spotlighting the evolution of your business over time.
Daily, weekly, or monthly sales reports and individualized analyses of product and personnel performance are at your disposal.
These troves of information empower you to discern trends, seize opportunities, and surmount challenges, facilitating informed actions conducive to business growth.
7. Versatility Across Industries
The Point of Sale iReap POS extends its embrace across a gamut of business niches, ranging from restaurants, retail stores, salons, small convenience shops, and cafes, to laundry services and professional offerings.
The features embedded within iReap POS can be tailored to accommodate the distinctive prerequisites of each business. A compelling illustration is the Recipe Bank feature.
The Recipe Bank proves especially invaluable to restaurant proprietors, enabling the seamless integration of recipes with raw materials and stock inventory. It comprehends the costs entailed in recipe preparation and culminates in an ensemble that exalts the management of eateries, rendering it both efficient and effective.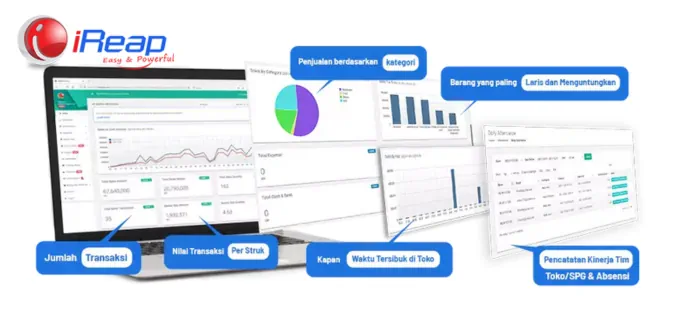 8. Customer Support and Periodic Enhancements
The iReap POS support team remains poised to extend aid, addressing technical quandaries or inquiries concerning system usage. This assurance guarantees assistance at your beck and call.
Moreover, the iReap POS application undergoes regular updates and enhancements in consonance with user feedback and the progression of cutting-edge technology.
One such novel feature, accessible to iReap POS users, encompasses the loyalty program, designed to nurture and retain a larger customer base.
9. Crafted and Developed by Experts
Another virtue characterizing the iReap POS application resides in its developmental genesis. The developers responsible for shaping the iReap POS Point of Sale are individuals fortified by an extensive background within the domain of retail.
This wealth of experience underpins the creation of an application that tangibly streamlines the operations intrinsic to your enterprise.
Contemplating the wealth of advantages that permeate iReap POS, one might be tempted to embark upon a firsthand experience. If so, feel free to download and immerse yourself in the application by clicking on the banner below.